Introduction
The Macro Themes
Farming – What Sort?
Something To Eat
Food and Farming in Jersey – New Models
The Natural Environment
Rediscovering wheat diversity for the public good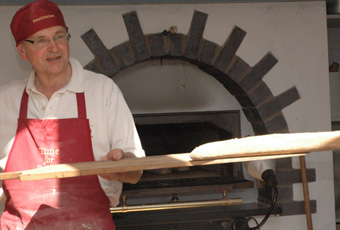 By Andrew Whitley
From the Corn Laws to Brexit: Britain has had a love affair with the world market.
In 1846 – as we were taught at school – the British parliament repealed the Corn Laws. Henceforth, it was decreed, the colonies and the rest of the world, not its own farmers, would supply Britain's bread corn. 170 years later, some participants in the Brexit debate have tried to rekindle our old love affair with free trade and world markets. In early Victorian times, the promise of cheap food may have seemed irresistible – as a guarantee of bodily subsistence or an excuse to pay low wages, depending on your 'station', as they used to say. But there were losers. Not, in general, the large landowners and farmers whose political representatives had argued long and hard against Repeal. Its deep capital pockets make the privileged class adaptable and survival is its historic mission.
The main casualty, surely, was bread itself – first, its quality (understood as its capacity to nourish) and second, the people who most depended on it, which was the great majority of the working population in the 19th Century. It is worth remembering, for example, that in Manchester in 1800 a typical family spent 24 out of the 28 shillings a week earned by its members on bread. In 1833, a Factory Commission report alluded to the reasons why people were so dependent on the first 'convenience food', i.e. bread: 'too often the dwelling of the factory family is no home; it is sometimes a cellar, which includes no cookery, no washing, no making, no mending, no decencies of life, no invitations to the fireside.'
A Board of Trade enquiry in 1904 and a Royal Commission on the food supply in 1905 found that the average British diet still contained a large amount of bread – 6.7 pounds per person or 46% of their total weekly intake. That's almost five times as much bread as we eat today.
However, given that it was feeding a rapidly expanding urban population at the centre of a rich and powerful British Empire, in what sense can we possibly say that bread was a casualty of Globalisation Mark I?
In addressing the theme of 'the future of food and farming', I hope to show how past decisions affecting where our bread comes from and what it's made of have had momentous consequences for the health of the nation and the biosphere and to suggest how we are now at a historical juncture – perhaps as significant as 1846 – when we can, if we choose, genuinely 'take back control' of our bread supply, for good and all.
The Scotland The Bread project may be a model for communities to secure their food supplies with better bread, happier farmers, more skilful bakers, healthier citizens and a more diverse environment.