Introduction
The Macro Themes
Farming – What Sort?
Something To Eat
Food and Farming in Jersey – New Models
The Natural Environment
A Centre for Rural Education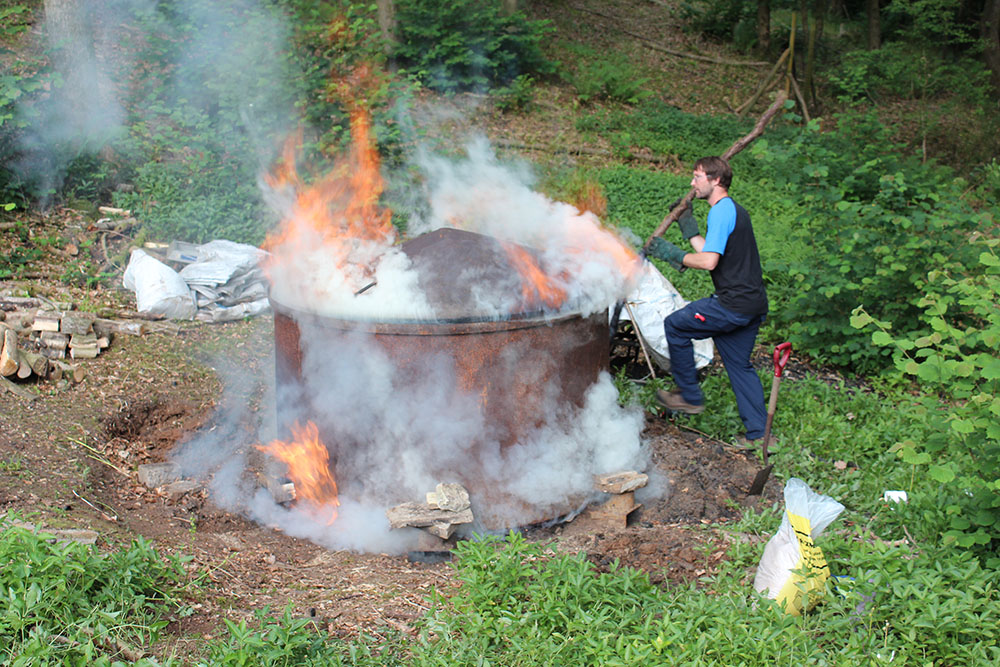 By EDWARD BONN 
It's a cold, still day in autumn with trees blazing in a riot of colours and shades, the fading yellow of beech leaves adding a softer tone to the canopy of trees. At the crest of a steep sided valley, several trunks lie horizontal on the damp, sweet smelling earth.
I am in a privately owned woodland a few miles from city streets, with dense foliage and sheer inclines conceal the proximity of pavements, carparks and street lights. This sense of a remote, rural location is intensified as a rough-haired, nut brown horse tows one of the felled trunks up the slope to more level ground, its driver walking behind the sledge suspending the trunk on thick chains.
Whilst this experience might seem more akin to The Woodlanders, in particular Hardy's detailed portrayal of the many working horses with which his characters interact throughout the novel, it also has a more recent provenance in the Rural Skills programme which I manage within a protected landscape. Participants in the range of courses offered by this programme have the opportunity to gain practical, hands-on experience of traditional working techniques under instruction by local experts, through restoring features that have an association with rural lives long before Hardy lived and wrote.
As well as horse logging, other courses include dry stone walling, hedge laying, coppicing, scything and blacksmithing on a forge fed with charcoal produced annually in a wood only a few miles away, using timber dried in stacks for over a year.
The relationship between landowner, instructor, trainees and the educational programme, is a beneficial one, ensuring that landscape features that can run the risk of neglect are conserved. The active engagement in learning the skills necessary to do so ensures that the knowledge and techniques are kept alive and constantly developing, instead of becoming obsolete. Our scything courses, for example, use a light weight Austrian scythe, rather than the heavier and arguably more traditional English version, as a recent development of this ancient tool and which is very effective for restoring meadows without fuel tanks and heavier strimmers.
Agricultural heritage
Interestingly, there are parallels between the rural landscape managed by these courses and Jersey, however unlikely the connection between a landlocked, inland region and an island in the temperate waters of the Channel might initially seem. Both areas have a strong agricultural heritage that forms a significant aspect of their current identity. The importance of the agricultural industry for both areas generates a connection that brings me to the point of this essay. The role of the agricultural industry in preserving the Island's environment for its population is clear. An interesting proposition would be to develop environmental projects that benefit Jersey's landscape, habitats and species through the introduction of a Rural Skills training programme.
Its impact would be easy to see: extensive sections of traditionally laid hedgerows, coppicing rotations, licenses for using modern technology such as brush cutters and chainsaws and the restoration of dry stone walls are all examples. Having delivered a broad variety of courses that constitute an ecosystem service for agricultural businesses, owners of private woodlands, local smallholders, and large estates managed by bodies such as the National Trust, I feel that setting up and running an educational centre for teaching rural skills and working practices, would benefit the Island.
It is at least an interesting prospect to consider, not only for Jersey, but also in parallel areas of rural Britain that have an agricultural heritage. But let us explore in more detail how such a centre could be initiated and developed in Jersey, as an example of more general principles. 
The practical details involved in an enterprise of this nature are crucial, ranging from a base which combines classroom facilities with access to landholdings that either support landscape features such as hedges, woodlands, and wildflower meadows required to run courses that teach relevant skills, or have the potential for these features to be developed through appropriate planting or cultivation. 
However, the foundation that underlies such detailed, concrete elements is essentially human – the relationship between landowners, instructors and participants in the learning opportunities offered by the centre itself. This relationship is a far more complex, nuanced entity, perhaps best described as a symbiotic partnership offering different benefits to those involved in it.
These benefits would range from a resource for landowners to draw on when engaged in conserving an estate for future generations, opportunities to develop the various skills required for a career in the countryside sector, or demonstrating that traditional practices have a role within more intensive operations, to deliver farming methods that promote nature recovery, for example.
Case study
To offer a brief case study at this juncture, let us take the instance of developing a traditional coppice rotation within a woodland. As wood is harvested on a cyclical basis with sufficient time for re-growth, it creates opportunities for wildlife to regain its footing. As light floods in and a greater diversity of tree ages develop, woodland flora that has been held in suspended animation by excess shade begins to grow.
Dense scrub in the first few years after cutting provides cover for nesting birds, whilst wood piles constructed from coppiced material offer habitats for invertebrates and reptiles. Charcoal burning can be introduced to offer a high quality, local product that includes a commercial application to the transformative process of improving the quality of a wood and enhancing its biodiversity. Using horses to shift the larger trees felled as part of the coppicing rotation offers another working process characterised by its low impact, sustainable method of extraction.
The techniques thus briefly summarised – namely coppicing, charcoal burning and horse logging – are three options for courses that the hypothetical training centre considered by this essay could offer. When viewed collectively, the courses offer a woodland management approach delivered to a landowner at no cost as a training programme that also yields proven environmental benefits.
There are many other working practices, however, that could be offered in a similar manner to coppicing. Scything in order to manage wildflower meadows, combined with green wood working and the construction of hay rakes might combine with seed harvesting and would offer unique wildflower seed mixes from the cut material to distribute throughout other sites.
To conclude: the relationship identified as the foundation for any educational centre with a focus on rural learning involves a connection between landowners, instructors and course participants. There is, however, a simpler, more significant relationship that underpins this key operational requirement: the link between people and the environment they inhabit, which successive generations will inherit. 
Escalations in environmental activism by young people throughout the world, debates about the scale of greenhouse gases emitted by farming and forestry through soil degradation, an independent review of the current system for protected landscapes – they are all recent developments that demonstrate the vital and deeply-felt connection between people and their environment.
Developing a centre for rural learning in Jersey (or elsewhere), that combines traditional knowledge and current science, practical delivery and data about the environmental and social benefits of its educational programme, offers an opportunity for development at this time of growing awareness about this charged, complex link between humanity and the planet sustaining our collective existence.