Introduction
The Macro Themes
Farming – What Sort?
Something To Eat
Food and Farming in Jersey – New Models
The Natural Environment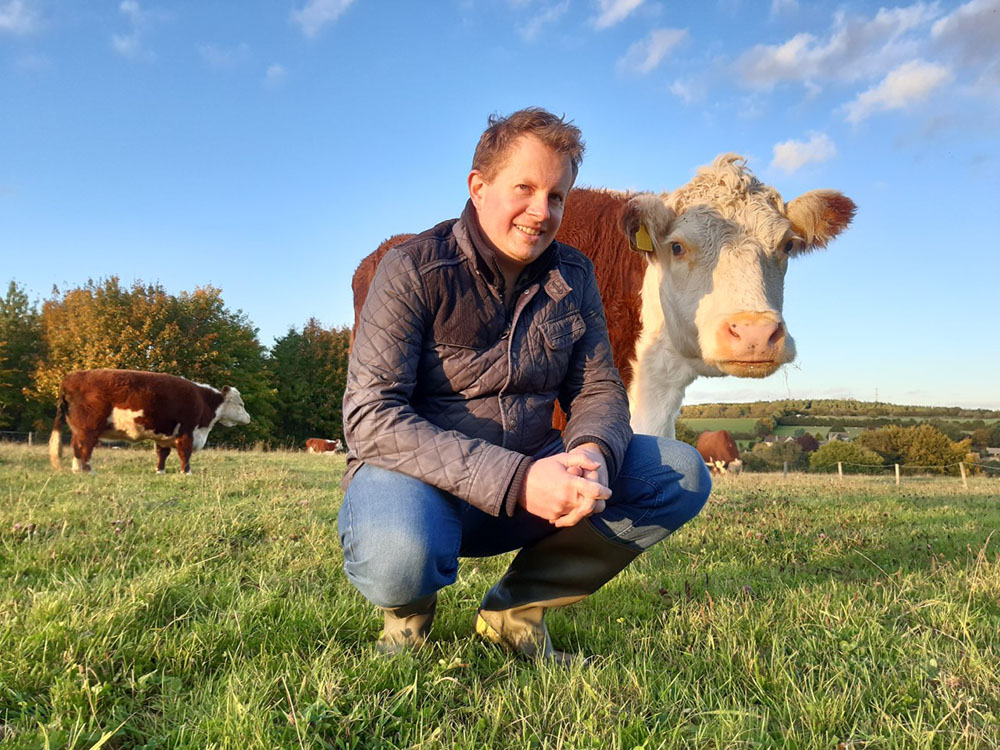 Inspiring change in agriculture and rural areas – my own journey
By Russ Carrington
IN trying to achieve truly sustainable land management we can learn a lot from nature, and currently two-thirds of the UK's landscape is grassland.  This is predominantly what the land is naturally suited to and it provides a great deal of wildlife habitat and biodiversity, as well as a carbon sink and water storage facility.  But a grassland ecosystem can only self-sustain itself with the help of specialist ruminant animals like cattle and sheep with four stomachs. 
These ruminants fill a unique ecological niche by harnessing the power of anaerobic digestion to metabolise low energy fibrous green leafy material (that the human digestive system cannot process) into human edible foods and clothing like meat, milk, leather and wool.  In grasslands these animals return dung and urine to the soil which fertilises the regrowth of plants.  This system has existed in equilibrium for millennia and has even been fundamental to creating soil in the first place – examples of whichcan be seen on the Great Plains of North America where Bison once roamed and the Serengeti, where many ruminants still roam today.
However, nowadays most grassland and many domestic ruminant animals are not managed in this way.  In the USA alone at least 97% of cattle are now fed human edible grains for some or all of their lives, and across the world these animals are being increasingly removed from fields and confined to barns or feedlots where the feed is shipped into them and their waste shipped out.  This method throws into disarray the natural carbon cycle that these ruminants should be a part of, and as a result of a reliance on fossil fuels drives up the carbon footprint of beef, lamb and milk.
In 2011, I and a few other farmers established the Pasture-Fed Livestock Association to champion an alternative – one where animals were returned to fields and fed only on fresh grazed or conserved pasture.  Over time more farmers wanted to join us and felt at home with this approach.  We went on to establish a certification mark for produce from animals reared on a 100% pasture-fed diet and called it 'Pasture for Life'.  We used the term 'pasture' rather than 'grass' to recognise the many varied pasture species (of which grass is only one family of species) that make up a natural balanced diet for ruminants.
We discovered that as well as making sense from a sustainability perspective, pasture-fed farming also benefits the bottom line for farmers, enhances the environment, provides high animal welfare opportunities, and provides a healthier product for humans to eat.  Among a whole host of nutritional advantages, pasture-fed meat and dairy contains much higher quantities of Omega 3 fatty acids compared to its grain-fed counterparts.
The Association now boasts 600 members with nearly 100 of them operating to the Pasture for Life standards and selling produce to a growing consumer following.  Although still a niche product, demand is clearly increasing as more and more citizens are making conscious decisions about the food they eat.  This trend is being mirrored around the world and promises a lot of hope for genuinely sustainable land management and low carbon protein.
This shift in livestock agriculture that I have been advocating is a result of a similar shift in my own life.
I graduated with a Masters degree in Civil Engineering from Cardiff University in 2008.  A career in engineering seemed to be the next best thing to pursuing life as a farmer and taking over the family business in Herefordshire.  The family farm could only support one generation to make a living from the land with a traditional mixed farming approach. As I grew up, prospects in agriculture were also not very promising and so I was urged by my mother in particular to pursue other interests and gain a good education in areas where I had a natural aptitude.
Engineering was a good fit for me: I have an analytical mind and like solving problems, but I also have a curious mind that prompts me to think about the future.  At university I was taught about climate change and sustainability, and how engineers must design and prepare for the challenges this may bring, for example, planning how to pave roads without fossil fuels and how buildings will be recycled at the end of their lives. 
Early into life as a graduate engineer however I decided to take some time off to travel the world a little: to see what was out there, understand more about the planet and its people, and see how climate change was being approached.  For added adventure I thought I would attempt to circumnavigate the globe without flying to keep my carbon footprint to a minimum.
The tales from the subsequent 10-month trip were many but in the end, the ultimate outcome was that I arrived home with an urgent enthusiasm to address the sustainability of food and farming.
At first it was difficult not to feel deeply concerned following my trip: I had seen so much destruction to the natural world and it felt like there was an impending doom that no one else was talking about, especially in agriculture.  I was scared for the future.
Around that time I became captivated by the Transition Town initiative founded by Rob Hopkins in Totnes in Devon, which worked to address a move towards more sustainable living through community action.  This had become a very successful movement with groups in towns and cities around the world getting together to reduce their reliance on fossil fuels and increase their local resilience.  I wondered if the same model could be applied to agriculture and rural areas…
I floated the idea of a Transition Farming initiative with a friend and together we decided to convene a meeting involving not just farmers, but a broad spectrum of people and organisations involved with rural issues across Herefordshire.  Crucially we wanted to centre the meeting around a meal as the sustainability of food production was the very thing we all had in common and wanted to address.
Fourteen people attended the first meeting and dined on a meal made almost exclusively from produce from within the county.  It was a great success: the mixture of people and conversations expanded our collective horizons and inspired everyone to commit to taking particular actions, such as cutting their carbon footprints and changing the way they farm.
We hosted a further nine meetings over 18 months and other people hosted their own meetings too.  The initiative really kick-started a greater awareness of climate change and fossil fuel dependence in rural Herefordshire, and showed that by working together, rural communities could explore opportunities to adapt to these future challenges in a positive way.
For me personally it provided a much-expanded network of like-minded individuals and subsequently a steppingstone back into agriculture.  Many people thought it was an unwise move to turn my back on a career in engineering, but it felt like the right thing to do and I was bringing with me lots of additional skills and a new perspective.
At the same time as running the Pasture-Fed Livestock Association I have continued to maintain a link with the Young Farmers movement, having joined my local club as soon as I could drive at the age of 17.  I realised that this movement was not only a good place for me to develop my own skills, but a place where others could develop theirs, where new ideas could be spawned and where rural youth could have a voice.  Keen to play a role in strengthening this movement I took on voluntary leadership positions such as chairing the Agricultural & Rural Affairs Committee for England and Wales, and later chairing the board of Rural Youth Europe which works across 20 countries and represents half a million young people from rural areas.  Through this I gained incredible insight into young people leading amazing projects and innovations in the countryside.
I remember fondly during my visit to Jersey meeting several of the young farmers in the Island and learning of their work to develop their farms, create new business models and find new ways of working to better suit the changing needs of society.
The recent uprisings and movements like 'School Strikes for Climate' led by Greta Thunberg, show just how motivated the youth are to see change happen.  With 40% of the world's population now under the age of 24, they are gaining the power to not just drive change but also implement it in the new world we now face.
I believe that the input from youth is to be welcomed and encouraged.  This might mean structuring our businesses differently and making local decision-making bodies like parish councils more inviting to young people from the countryside.  I think the best solutions come when all generations work together to co-create shared visions for communities, businesses and projects.  In agriculture I believe this means we will see more partnerships and share farming arrangements where wisdom and youthful energy can work together for mutual benefit in the future.
With fresh perspective I've understood how change in agriculture can be facilitated by working together and supporting one another; I've seen the benefits for humans, livestock and the environment that come from a naturalistic approach to land management and observed how vital youth leadership will be to achieve all of this at scale.  I'm not scared any more… I'm increasingly hopeful.