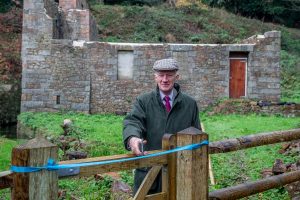 In December, La Gigoulande Mill in St Mary, which has been in ruins since the Occupation, took a further step towards ending its decades' long slumber, tucked away among overgrown scrub woods and weeds off the St Peter's Valley road near the Granite Products Quarry.
At least, the area of woodland around it has been pruned and tidied and a path laid around it for the benefit of walkers; the old mill pond has re-emerged from the silt and scrub that had been blocking it and a new sluice gate has been installed.
On a recent rainy morning a party assembled by the old ruined mill to welcome the Lieutenant-Governor, Air Chief Marshal Sir Stephen Dalton and Lady Dalton. He had come to cut a ribbon at the start of the restored woodland path and to plant a weeping willow by the edge of the mill pond.
Much of the work had been coordinated by the recently retired Receiver General, David Pett. In a short speech before the ribbon cutting, Mr Pett thanked all those who had contributed in one way or another to the restoration project, 'whether by expertise, advice, or actual physical work'. Included in the thanks were Andy Le Marrec and his Community Services team, who had cleared vegetation and made the site presentable.
Also thanked were Jersey Trees for Life; he said that the president, Gerard Farnham and the Jersey Trees for Life team had done a huge amount in maintaining the woodlands here. 'If you look at photographs of the 1930s,' he said, 'there are no trees on the hillside. It was colonised, mainly by oak, but they have been doing a sterling job, including half a dozen trees in the area immediately in front of the mill that were taken down.'
Jersey Round Table were thanked for doing the work in getting the pond 'sorted out.'
Once the ribbon had been cut, the party went for an inaugural walk along the footpath: up to the leat above the mill and through the woodlands. It is hoped, that with the land owner's permission, the walk can be continued up the side of a meadow to the pond.
The restored pond will have some life in it once again and will be a conservation area. 'Look out for your boots,' said Mr Pett, as the party viewed the area of glutinous clay mud that is due to become a grassy verge and picnic area.
'This is just the first stage of restoration,' Mr Pett said, 'but it is a good stage to have reached, because now we can see the end in sight.'
The story of La Gigoulande Mill and the plans for its full restoration form the subject of an article in the Summer 2020 issue of RURAL. To see it on-line, go to www.ruraljersey.co.uk/past-issues and scroll down to issue 31