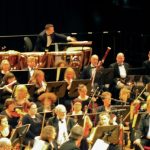 NO CHRISTMAS CONCERT FROM THE JSO
The Jersey Symphony Orchestra has postponed 'with immense regret# its Christmas Concert next Sunday, 19 December until Christmas 2022.
The president of the JSO, Nick Cabot MBE, said that over the past two days the Omicron variant raging in the UK had caused ten of the 30 visiting players to have to withdraw from travelling to Jersey for the concert, with the remaining visitors feeling very concerned.
He added: 'Given the rapid spread of the variant we expect the problem to get worse rather than better and thinking of our own local population's safety we must reluctantly postpone the very exciting 'Christmas with a Latin American Twist' programme devised by guest conductor Natalia Luis-Bassa until 18 December 2022.
'Ticket purchasers will be contacted and re-imbursed as quickly as possible. Postponing the concert just five days before it was due to take place is a devastating blow for us. We thank everyone for all their efforts in preparing for the concert, in particular the hosts of the visiting musicians who were prepared to open their homes to the visiting players in what are exceptional times.'