By the Horticultural Secretary of the Royal Jersey Agricultural and Horticultural Society, Rachelle Robinson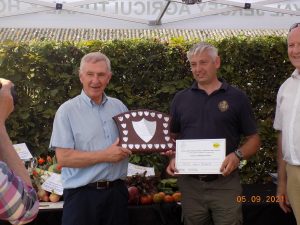 Following the postponement of the annual Plot Competition in July 2921, this was held in conjunction with the anniversary day on Sunday 5 September to celebrate the opening of the FJ Ahier Country Gardens 12 years ago, with plot holders, members and their families and friends invited to attend.
Colin and Paulette De La Haye kindly judged and sadly there were only three entries this year. Following an inspection of the plots, they found their overall winner as Kevin Roberts, his double plots winning the Team St Lawrence trophy.
Ernie Le Feuvre Ltd very kindly sponsored the competition again this year with vouchers to all the class winners.
Colin and Paulette also measured the sunflowers entered into the tallest and widest head and after measuring all the entries, Tony and Carla Maia won both classes with the tallest 98 inches and widest head 15 inches.
Lastly, Colin and Paulette judged the mini produce competition, which is a fun competition for plot holders to put forward what they have grown on their plots and following deliberation, the judges decided their overall winner as Tom Robinson's look, winning the John Brennan Memorial Trophy.
After a presentation to all competitors, our Chairma,n Martin Preisig, also presented our President Rob Perchard and his wife JoAnn a card to celebrate their 40th wedding anniversary with a ruby wedding rose to follow. Martin also wished Martin and Marguerite Rouault and Graham and Phyllis de Gruchy best wishes for their 50th wedding anniversaries.
It was then time for everyone to enjoy a sandwich lunch with lots of homemade cakes!
A wonderful day and thank you to our judges Colin and Paulette and our sponsor, Ernie's. Also thank you for all the plot holders that entered the competitions – well done to you all.