By Hannah Curnock, spokesperson for the 'Save St Helier Fields' campaign
When the revised Island Plan was published in April this year I read with horror that the agricultural fields at Mont à l'Abbé had been earmarked for up to 76 affordable homes.
The three adjoining fields specifically are strategically highly important for dairy farming and the farmer leasing Field 1198 has spent years tending it so that it is an organic field. He has one of only two organic dairy herds in the Island and his herd will be lost and the supply of organic milk to the Island will be affected.
Surely in these days of health consciousness, climate change and protecting our environment, these are the things that we should be encouraging, not denigrating by building over them so that St Helier is fast becoming an urban sprawl.
There are also hawks that roost in the oak tree in Field 1198; where will they go? Slow worm and bats are in abundance in the surrounding areas and nesting birds in the hedgerows. The Jersey cows for which Jersey is so unique and famous are losing yet another space for them to graze and rear their calves. I understand that there are a few people who will make a lot of money out of all this building but to what cost to biodiversity and the environment?
After heading out of St Helier, this is the first green space to be seen, following rows and rows of houses on Queen's Road.
The iconic Jersey cows grazing in the fields, people walking dogs, families just enjoying fresh air and the tranquillity of the area… this has been particularly noticeable since lockdown.
Fast forward a couple of years – St Helier stretching half way to Sion? This beautiful Island will not remain beautiful if all this building goes ahead.
There has been an amendment to the Bridging Plan lodged by Deputy Mary Le Hegarat, who is very concerned for the dairy industry in Jersey. Nevertheless, after consultation the Environment Minister, John Young 'was not minded' to withdraw the proposal.
Yes, people need homes – but surely not to the detriment of the environment?
It is more important to focus on the issue of the ever-growing population, air pollution and strains on the water supply and sewerage treatment on an Island that is already over populated and with far too many cars.
There will be flats on the Apollo Hotel, flats on the Mayfair Hotel and many other places too numerous to mention here. How many more homes do we actually need? The results of the recent census haven't been collated yet and a Population Policy is still being written.
There are other sites which can be utilised rather than losing agricultural fields. After all, once it's gone, it's gone and can never be returned.
Please sign the petition that can be found at https://petitions.gov.je/petitions/200686. We are most grateful for your support.
Text of a letter written by Mrs Curnock to HRH The Prince of Wales in his capacity as heir to the Queen, the Duke of Normandy: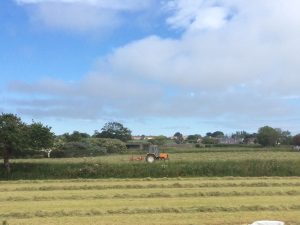 HRH, The Prince of Wales
Clarence House
London
SW1 1BA
Sir,
I am a resident of Jersey, Channel Islands and I am writing to you as the future Duke of Normandy and to you to seek your assistance in a matter which I think will interest you.
Over the years I have taken a great interest in everything you have achieved with organic farming and unfortunately we are having rather a battle over here in jersey.
There is what's called 'The Draft Bridging Island Plan,' which will shape the future development of Jersey. One of the schemes in this Plan is to build up to 76 houses on prime agricultural land. Three fields which are deemed strategically highly important for dairy farming have been earmarked for affordable housing. The tenant farmer has spent over four years making these fields organic for his Jersey dairy herd and within a few years this could all be concreted over and he will lose his livelihood.
His herd is the oldest established herd in the Island and he provides half of the Island's organic milk supply. There are only two organic farms in the Island and this is one of them. Surely this is what we should be protecting, not building over? There is also an abundance of wildlife in these fields with hawks, bats and wild flowers. People come up from Urban St Helier to walk and enjoy seeing the cows, rural landscape and tranquillity of the area, which is important for mental health and wellbeing
This would be an absolute travesty both for sustainability and the heritage of Jersey, with its iconic cow.
I have set up a petition on our government website: https://petitions.gov.je/petitions/200686 and so far have over 800 signatures. We also have a Save St Helier Fields campaign group. The Jersey Farmers Union and the Jersey Milk Marketing Board are understandably against this desecration of land but our government seems hell bent on building houses before our population policy has even been written.
I am hoping that a response from you may enable our Jersey government to see common sense and find an alternative location on a brownfield site to build these houses.
I have the honour Sir, Your Royal Highness, to be your humble and obedient servant.
Hannah Curnock
Spokesperson for Save St Helier Fields