The £1.5 million restoration of Morel Farm has begun, following a successful bid for fiscal stimulus funding by The National Trust for Jersey.
Local contractors will be on site within the next few weeks to start the careful repair and refurbishment of the historic farmstead. The property is now vacant and selective stripping out has started to take place including old carpets and modern fittings such as kitchens/bathrooms.
In keeping with the Trust's obligation to create a sustainable future for its properties, the Trust has also recently submitted two planning applications in relation to the project. One for change of use of the main house to self-catering and the second for conversion of the former potato store colloquially known as "the chapel" to a one bed self-catering unit.
There are no planning applications for glamping approved by the Council and any future developments would be subject to consultation with key stakeholders and interested parties.
These revised plans will ensure that Morel Farm not only has a sustainable future but also delivers continuing public benefit and access. Following the likes of the Landmark Trust and Jersey Heritage, Morel Farm will now provide crucial and unique self-catering accommodation for Jersey's visitor economy.
Regrettably its lack of modern infrastructure and very limited landholdings means its days as a small holding have come to an end, but this alternative vision will ensure that Morel Farm continues to be a valuable part of Jersey's economy and culture for generations to come. In this respect the Trust is extremely grateful to fiscal stimulus and the general public for giving this much treasured site a much needed and welcome new lease of life.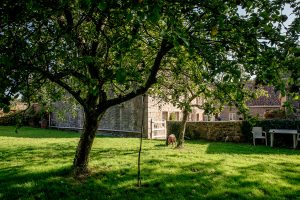 The Trust is hoping to hold a number of open days during the project so that the public can see at first hand the repair works taking place as well as learn more about the history and future plans for the farm
Morel Farm is just one of many projects the Trust has undertaken over the last 12 months as it continues to work hard to protect and conserve Jersey's natural beauty and built heritage. Some of the key highlights include:
(i) A 33% increase in membership to over 4,000 members
(ii) A further 10 miles of hedgerows planted and maintained
(iii) A further 2,000 trees planted for the Le Mourier Valley woodland project
(iv) Field 80 in St Clement acquired and permanently safeguarded
(v) La Fevrerie – extensive external repairs and redecoration undertaken
(vi) Power Rangers educational programme launched