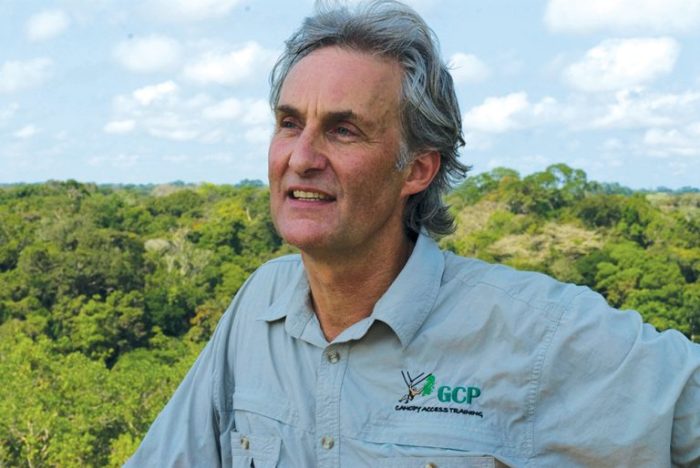 The founder of the Global Canopy Programme, Andrew Mitchell, has been awarded the Royal Founder's Medal of the Royal Geographical Society. It is part of a series of awards that recognise extraordinary achievement in geographical research, fieldwork, teaching, policy, and public engagement.
There are two Royal Medals, which are of equal standing and have been approved by His Majesty the King. They are among the highest honours of their kind in the world. They have been presented since the 1830s and past recipients include Sir David Attenborough, Dame Fiona Reynolds and Lindsey Hilsum.
Andrew Mitchell is awarded the 2023 Founder's Medal for his lifetime's contribution to protecting tropical rainforests and combating climate change. Professor Felix Driver receives the 2023 Royal 'Patron's Medal' for his contributions to historical geography and to the Society.
Nigel Clifford, president of the Royal Geographical Society said: 'The fact that "ecosystem services", "natural capital" and "nature-based solutions" are now commonplace concepts is in no small part thanks to Andrew's efforts. His tireless work to protect the tropical rainforests of the world means he wholly deserves this honour. For over 40 years, Andrew has embraced every opportunity to achieve his objective as he moved from the world of scientific research into policy formation, and subsequently tackling the flows of money powering the deforestation economy.'
Andrew Mitchell said: 'I am delighted to accept this honour and dedicate it to every leaf, and every branch, and every creature that calls towering trees their home. In the face of deforestation and changing climate, our commitment to preserve these living giants and their diverse ecosystems has become ever more critical. I thank the Royal Geographical Society for catalysing leadership in research and debate on the biggest environmental issues of our time. This award will catalyse me to continue doing the same.'
Andrew grew up on a Grouville Farm; his brother, Ian, is a past president of the RJA&HS. He is an international thought leader on natural capital finance and tropical forests. Founder of Equilibrium Futures, he provides strategic advice on natural capital to the finance sector; he is also Senior Adviser to the Oxford think tank, Global Canopy, which he founded in 2001. As Founder and Senior Adviser to the Natural Capital Finance Alliance, he helps to design natural capital tools for banks, investors and insurers and is Senior Adviser to Mirova Natural Capital, a global impact investment fund.