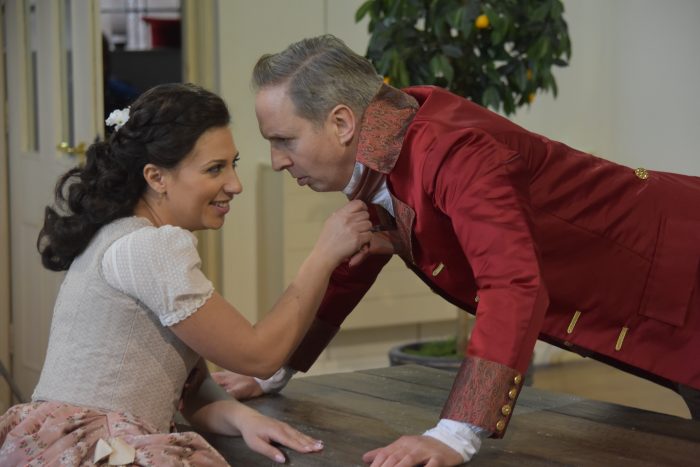 Monday 10 July – L'Elisir d'Amore, by Donizetti
Tuesday 11 July – Rigoletto, by Verdi
Wednesday 12 July – Opera Gala, followed by dinner
This will be the 35th season for the Diva Opera Company's annual opera festival at Domaine Les Vaux, St Lawrence, Jersey. It is also their 27th season as Britain's leading chamber opera company.
Diva's inimitable mix of superb singing and acting, beautiful costumes and sets and outstanding performances from Bryan Evans on the piano bring the operas to life in a highly enjoyable and memorable way. Performances in the round give everyone the thrill of opera up close. Audiences old and new cannot fail to be enchanted and moved by this approach to opera.
Festival director Anne Binney has said that as a 'special Coronation gesture' she is
extending the discounted 'early bird price' until 10 May: a £15 discount per ticket on the full price. For full details about pricing or to request a festival brochure, please contact Anne on anne.binney@aol.com. Bookings can be made via Eventbrite or directly with Anne.
She said: 'I do hope we will see you at one or two of the performances which promise to be as stunning and wonderful as ever with the magic of Diva Opera at the heart of the event. We are hoping for three gloriously sunny evenings!
The opera festival continues to support the essential work of Jersey Zoo, both here and abroad. Last year it raised £25,000 to create a new exhibit for the amazing Two toed sloths Rio and Terry, who are now happily established and attracting lots of adoring fans to their enclosure. The Jersey Sea Scouts were its second charity and the Opera Festival helped with funds towards essential safely equipment for their adventures at sea. This year the festival is supporting the very important work of Trees for Life in Jersey.
Champagne and smoked salmon sandwiches are served in the interval. Guests are welcome to bring drinks and picnics to the car park and the garden before the performances begin. Dress code is black tie.