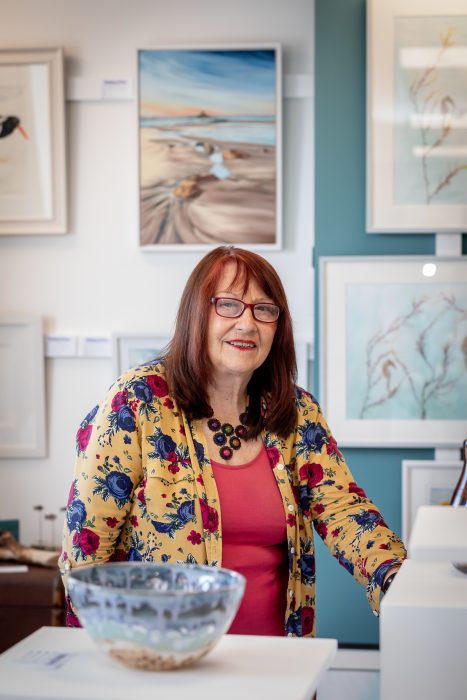 After 20 years on the quayside at St Aubin, The Harbour Gallery has changed harbours. Pat Robson is the director of the Art in the Frame Foundation, which manages the gallery. She showed Alasdair Crosby around the new premises at Commercial Buildings, St Helier
Earlier this year, an office building that had been part of Norman's at 19, The Quay, Commercial Buildings, became 'The Harbour Gallery' – a name that has become synonymous with arts and crafts in Jersey.
It used to be at The Bulwarks in St Aubin, but it closed late last year at the end of its lease. Throughout the first four months of 2023 the Gallery packed itself up and moved: it is now a bigger gallery facing a larger harbour – it's now beside St Helier Old Harbour.
Also synonymous with Jersey arts and crafts is Pat Robson, the director of the charity, Art in the Frame Foundation, which runs The Harbour Gallery. She has been just a bit busy during the move: 'I'm working 15-hour days at the moment, seven days a week,' she said. 'There's always something that needs doing. As long as you don't stop, it's fine.'
She continued: 'It's been a struggle being closed for four months. We need people to support us in every way they can, to get us through this first year, because of all the extra bills we've got in connection with converting our new home from offices to a gallery. There have been planning issues and building issues, but fortunately we've had the most amazing carpenters, electricians and plumbers – I can't praise them highly enough. They have been very kind to us.
'Now that we are open to the public, we are trying to persuade as many people as possible to come and see our new home and all the art and craft workshops that we have here.'
On the ground floor, there are four artists' studios and an outside yard area, which is mostly under cover, so suitable for workshops during warm weather. On the first floor is their wool shop, a seated area, the Genuine Jersey Market Place, art materials, two work spaces, and little and big exhibition rooms.
And what can a visitor see?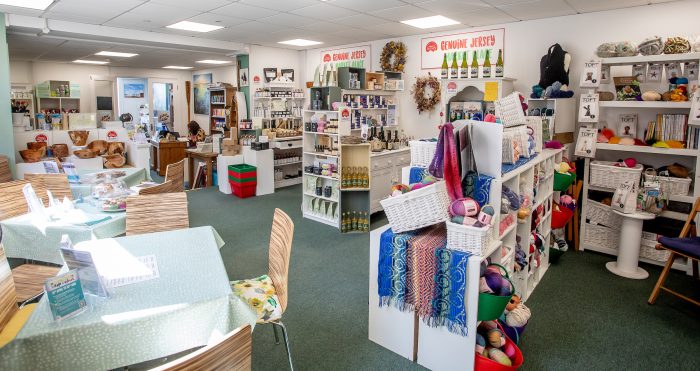 'Items from about 80 different local producers or artists (apart from two from
Guernsey, who have local connections): paintings, 3D work, art and textile materials, graphic art, jewellery, ceramics, woodwork, recycling – everything. There is an enormous variety!'
A new addition is the greatly expanded range of Genuine Jersey produce. Pat sits on the board of Genuine Jersey as the arts advisor and she has made a point of stocking a very good representative selection of many of the association's produce and products.
The gallery, of course, is not just for shopping. There are plenty of workshops to provide scope for people to try their hand at a new skill. They also work with four local charities to encourage people to experience the joy of creative art.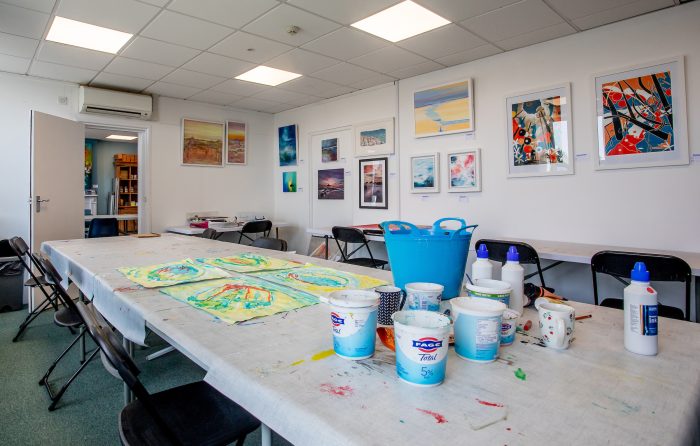 There have been four exhibitions so far since the move, sponsored by Cavendish Fiduciary and Abaris Chartered Accountants.
There is no café, unlike in St Aubin, but they do have the facilities for people to make their own tea and coffee, and to buy cakes.
Along with her team at the gallery, Pat is a volunteer, one of 20; there are only two paid workers. She said: 'I can live on my teaching pension, and I enjoy what I'm doing – what would I be doing otherwise … sitting at home, stressing about how I can spend my time usefully as I cannot just be walking my dogs all day?'
Pat's early years were spent helping on the family farm. Her father was a grower and she was brought up driving a tractor on the beach at La Rocque – she didn't need many driving lessons when it came to taking her test.
Art and textiles were her two best subjects at school: the only ones in which she was really interested. She became a schoolteacher and was Head of Arts at Beaulieu for 22 years before retiring and setting up Art in the Frame with her teaching colleague, Elizabeth Le Gal.
'I felt in those days there was very little opportunity for artists and especially for craftworkers. We just felt we needed somewhere where both painters and makers could display their work and sell it, somewhere where you could run workshops. Having both been teachers, we realised then how important art was, but it was actually quite a small part of the syllabus for many children.
'Then there were older people who were getting on towards retirement age who might have liked doing art when they were younger but stopped because there weren't the opportunities or the jobs. So, we wanted to do some art classes and allow
them to get back into it. That's basically why we started up. We felt there needed to be a hub. It all fell into place quite suddenly.'
Looking to the future, she said: 'We could make this area by the harbour a lovely art-y area; Jane James has her atelier beside us, and Jason Butler's studio is just up the road. Please come down and find us. It's not that far down Commercial Buildings – only three minutes' walk from the Tunnel.
'We're bigger and better than we ever were before.