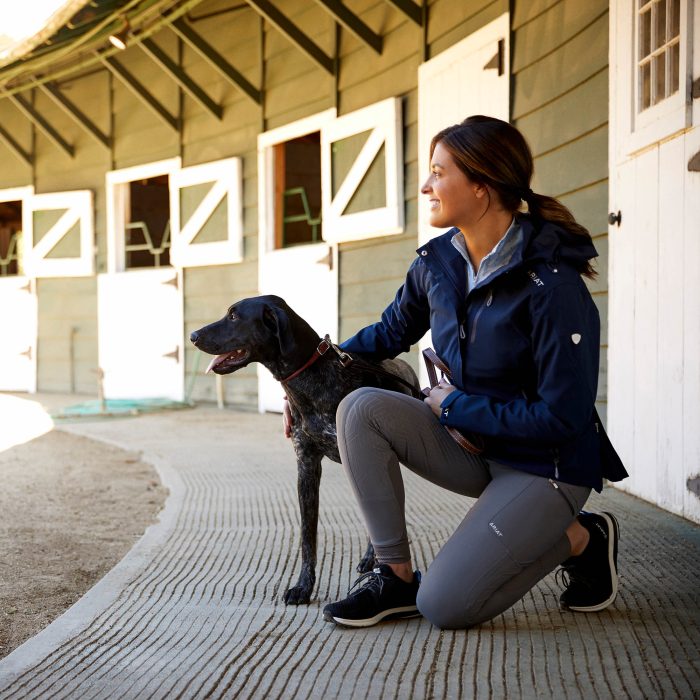 The 'Ariat' range of leisure wear from the JFTU
Ariat is named after the American racehorse, 'Secretariat', the legendary race horse and 1973 Kentucky Derby and Triple Crown winner, widely considered to be the greatest racehorse of all time. As Ariat's founder, Beth Cross, says: 'His athleticism and non-stop competitive spirit make him an enduring inspiration for our company.'
Growing up on a working horse farm in Pennsylvania, she was one of eight children. She spent her childhood surrounded by animals – horses, sheep, pigs, chickens, dogs and cats. She founded the Ariat company in 1993 and Beth has since built it up into one of the top equestrian, outdoor- and work- -wear brands in the world.
Ariat was founded on the concept of 'the new breed of boot,' integrating athletic footwear technology into boots for equestrian athletes. Jersey's footpaths are apt to get very muddy in rainy weather, but wellies are not the easiest boots to wear for taking the dog for a walk. The advantage of Ariat's footwear is that they all have an amazing cushioned footbed and you can go walking for miles in total comfort – and warmth.
Footwear remains one of the strongpoints of the Ariat range but there is a wide range of clothing for all outdoor activities, as well as accessories (also accessories for the dog!) The clothing is seasonal, so at the JFTU you don't see lots of the same product year in year out – and the JFTU are the sole retailers of Ariat in Jersey.
Visit the JFTU at Southfork, Rue du Trot (the road between Midland Stores and La Hougue Bie) or phone Jenny Deans on 733277.