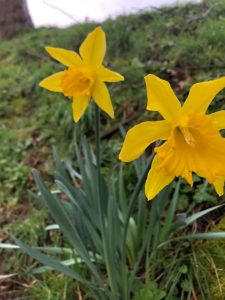 Spring flower displays in town window Shops – 26, 27 and 28 March. By Rachelle Robinson, horticultural secretary to the Royal Jersey Agricultural and Horticultural Society
THIS year the Spring flower show of the RJA&HS will have a new element to it: displays in town shop windows on 26, 27 AND 28 March.
It is something, says the RJAH's horticultural secretary Rachelle Robinson, that will not only help to promote the Society, but will also help foot-fall in town from people viewing the shops and give pleasure to everyone on Island – to see and enjoy something different to celebrate Spring.
It is planned to put up the displays on the Thursday and Friday before the weekend of 27 and 28 March and to take them down the Monday afterwards. The displays will be promoted via social media; radio and television and banners will be put up with a trail around all the shops for people to follow. The public will also be invited to vote for the best-looking window.
Rachelle said: 'I have received a fantastic response from 14 town shops so far who are very keen to participate as they too think it's a fantastic idea during these hard times.
'This is open to everyone and I hope you, your friends and family will all join in to provide displays for the shops.'
The Spring Flower Show will remain a virtual show this year, following the success of the three virtual shows held last year. This will be kept separate from the displays in town with photos received sent to the judges, as per previous virtual shows held last year.
The closing date for entries is Monday 22 March.
This show is open to members and non-members, 10 years of age or over, except in the Children's and Photographic classes, where the ages are stipulated separately. The schedule and entry form are also available from the society's new website on the Horticulture Shows tab: https://www.royaljersey.co.uk/show-results-1.
Alternatively, hard copies are available from the office – please call or e-mail Rachelle, who will send a schedule to you.