By Nate Blum, chief executive officer of BlüMilo and Sorghum United – an international NGO serving to advance education and markets development for sorghum and adjacent small grains.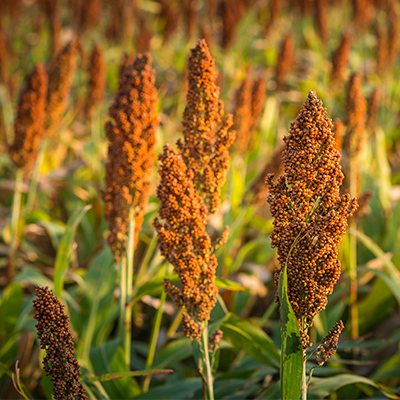 The intensifying climate crisis poses an unprecedented threat to global food security. As climate experts warn of increased drought, flooding and extreme temperatures in the coming decades, the need for resilient and adaptive crops has never been greater. Sorghum, an ancient cereal grain that has long been overlooked, could provide a pivotal solution.
As CEO of Sorghum United, I have witnessed firsthand the remarkable versatility and adaptability of sorghum. For centuries, this hardy crop has sustained communities across Africa, India and other arid regions. Unlike many grains, sorghum thrives across a wide range of environments, from the scorched plains of Sudan to the humid farms of Alabama. Multiple sorghum varieties can withstand drought, aluminum toxicity in acid soils, and temporary waterlogging. The crop performs reliably in high temperatures and low-rainfall areas where other staples like maize or wheat would perish. This innate tolerance makes sorghum a critical climate change adaptation strategy.
Beyond resilience, sorghum delivers significant economic advantages, especially for arid and semi-arid regions. It generates comparable or even higher yields than other grains across moisture-stressed farmlands. The resulting grain and biomass can provide vital food, animal feed, fiber and even biofuel. In fact, sorghum is already a dietary staple sustaining over 500 million people globally. Its rising use as a bioenergy crop also creates new income opportunities for farmers struggling with weather disruptions. Investing in sorghum cultivation could unlock climate-smart agriculture and drive prosperity in some of the world's most vulnerable places.
The UK, while less vulnerable to climate change than tropical regions, also stands to benefit from expanding sorghum production. This hardy crop can diversify farm revenues during erratic weather patterns that threaten other grains. Sorghum's high biomass yields can supplement livestock feed needs amid potential shortages. Specialty sorghum syrup and spirits also create niche market opportunities for British farmers. Most compellingly, sorghum offers highly efficient feedstock for bioenergy production in the net-zero push. Dedicated "energy sorghum" varieties developed by our scientists at Sorghum United can deliver remarkable biomass yields across UK climate zones. With proper support, British sorghum farming could strengthen rural economies and advance renewable energy targets.
Advancements in sorghum research have also led to remarkable progress in developing climate-resilient varieties tailored to local conditions. Our scientists at Sorghum United have bred hybrids that mature in as few as 60 days, enabling successful cultivation across wider climate zones. Ongoing genomics research also holds exciting potential for enhancing drought and pest resistance. Nigeria's ICRISAT has developed improved sorghum cultivars that can withstand drier conditions and poor soils. With expanded funding, such innovations can be adapted worldwide.
Realizing sorghum's immense climate-smart potential, however, requires stronger policy support globally. Governments must ramp up research funding for stress-tolerant sorghum varieties. Crop insurance can help farmers mitigate weather risks when transitioning to sorghum. Blending sorghum flour into national food subsidy programs can also drive nutrition-sensitive demand. I also urge public-private collaborations to optimize sorghum farming techniques and lower value chain costs. With smart interventions, sorghum can cement its place as the climate-smart crop of the future.
The intensifying climate crisis demands bold, out-of-the-box solutions. As an agribusiness leader, I believe sorghum can answer that call. From the Sahel to São Paulo and Suffolk, this ancient grain could sustain food supplies amid climate disruptions. But realizing its potential requires recognition from policymakers, researchers and consumers worldwide. The future of climate-smart agriculture is already here – it's called sorghum. We must cultivate it before it's too late.
About Nate Blum: he is an expert on grain sorghum production and marketing, with a focus on value-added agriculture processing for sorghum-based products.
Email: sorghumunited@gmail.com
Website: www.sorghumunited.com
Mr Blum has represented Nebraska producers in Chile, Argentina, Uruguay, Vietnam, Germany, France, Switzerland, Italy, Jordan, Great Britain, Scotland, Australia, Japan, the United Arab Emirates, and the United Nations FAO. He has also worked with international stakeholders in regard to the United Nations' Sustainable Development Goals, hosting an Independent Food Systems Summit (August 2021). Mr Blum served as the Executive Director of the Nebraska Grain Sorghum Board and the Nebraska Sorghum Producers Association from 2019 to 2023