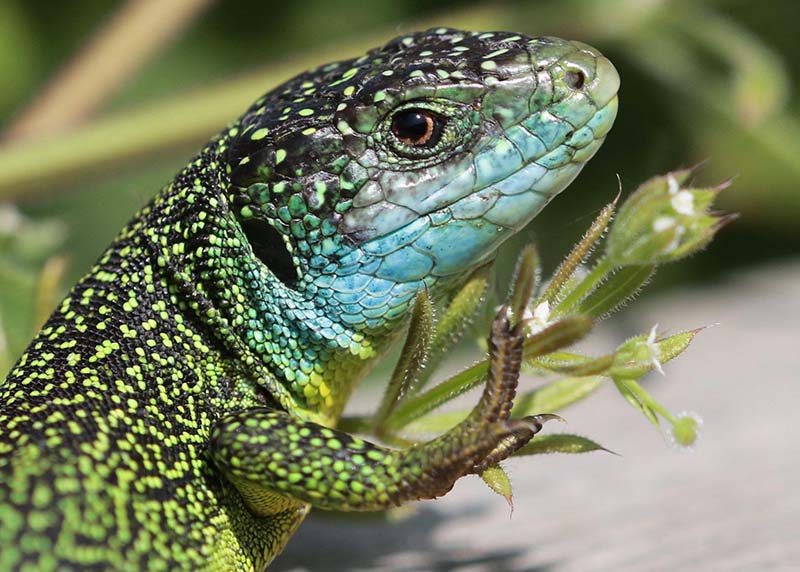 With spring on the way, Jersey's iconic green lizards will start to re-emerge from their underground burrows after months in hibernation. Take a walk along the coastal footpaths and dune areas in the west and southwest of the Island, and you might catch a glimpse of these vibrant reptiles as they dart among the vegetation. 
Jersey is the only area in Britain where green lizards (Lacerta bilineata) occur naturally. They inhabit dunes, cliff slopes and coastal heathlands. For the best chance of seeing them, explore the sand dunes of Les Blanche Banques around St Ouen's Bay, or visit Ouaisne Common – these areas are thought to have the largest populations.
Males are easiest to spot, with their bright green scales, blue throats, and small black spots on their back. They grow between 30-40 cm in length, making them one of the largest lizard species in Europe. Females are smaller and slightly less vibrant in colour. Look out for the distinct creamy-brown lines that run down their body, and their yellowish-green throats.
Come April, green lizards will start to breed, with males often fighting to establish territories. Females lay loose clutches of up to 20 eggs, which they bury in sand or soil, or hide in vegetation. The young usually emerge in late August or September.
If you spot a green lizard, remember that all of Jersey's reptiles are protected under the Wildlife (Jersey) Law so don't disturb the animal or its habitat. You can report your sightings to the Jersey Biodiversity Centre, which holds wildlife records dating back to the 1800s.