The Kennel Club of Jersey team of Crufts Qualifiers return to the World's biggest Dog Show. By the club's chairman, Helen Lester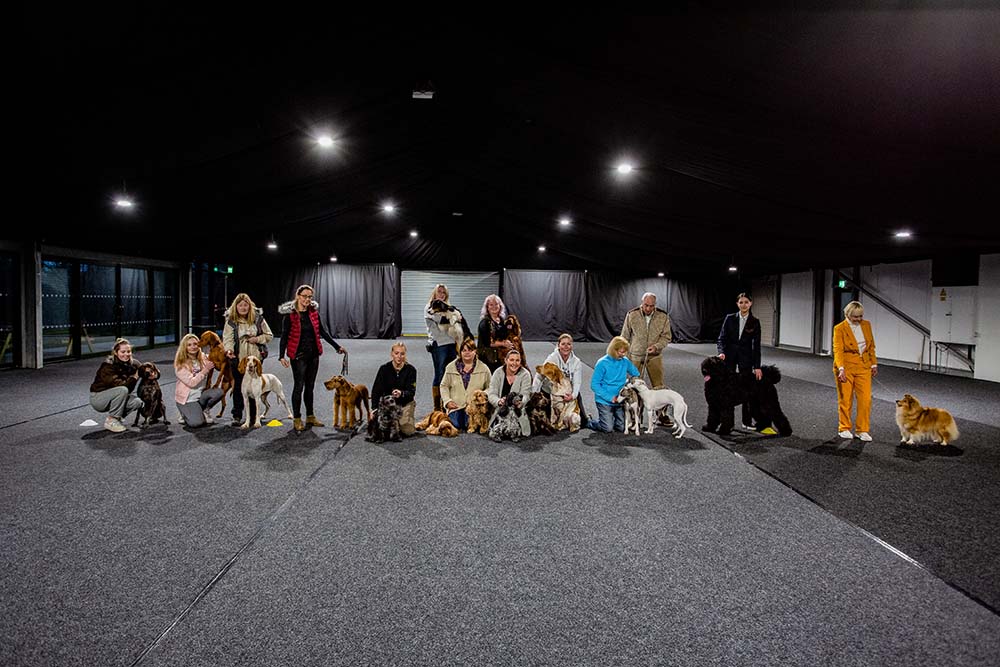 Pictured front row. L-R: Yakira Michel – German Shorthaired Pointer, Helen Dubois and Niamh Whiteman – Hungarian Vizsla and Bracco Italiano, Agata Kucza – Irish Terriers, Emma Parkin- Cocker Spaniel, Rachel Le Masurier – Cocker Spaniel, Claire White – Cocker Spaniels, Kelly Moulin – Cocker Spaniel and Bracco Italiano, Jenny and Stephen Lawson- Whippets, Katya Lynnyk-Ali – Russian Black Terrier, Collette Allen – Shetland Sheepdog.
Back Row left to right: Sara Hart-Bricknell – Australian Shepherd and Ro Cox – Irish Setter.
Photo Credit: Tom White
The Kennel Club of Jersey are delighted that over 40 Dogs have qualified for Crufts 2022, which is starting on Thursday and running until the final 'Best In Show judging this Sunday evening. The enforced Covid break has meant it has been harder to qualify with fewer shows, but we are delighted that we have a bumper entry of dogs representing Jersey.
The standard is particularly high, with so many of our Members continuing the hard work through Covid, and they have returned to the show scene with quality dogs ready to grace the green carpets at Crufts.
Particularly pleasing is seeing the next generation of younger exhibitors who have joined our Club, all very excited about their first trip to Crufts to represent their Club and Country.
We also have several dogs going on the Discover Dogs stands representing their breed, with their owners voluntarily giving up time to explain all about their dogs to the visiting public.
Exhibitors who also qualified for Crufts 2022 are:
Field Spaniels: Elgert Lady Marmalade at Simbarra and Elgert Addicted to Love at Simbarra owned by Natasha Ward,
Lhaso Apsos: Petwalk He's A Cracker, Petwalk Simply Irresistible, Petwalk Infatuation owned by Peter Walker and Petwalk Inspirational owned by Peter Walker and Kim Journeaux
Whippets: Crosscop Cristal On Ice owned by Peter Walker and James Winkley-Balmer
Barnesmore Tigers Eye for Elangeni and Eeri Come Fly With Me owned by Stuart and Pamela Mottershaw, Eeri Catch The Wind owned by Fiona Officer
Leonberger: Lionscourt Duke Kahanamoku Dejerri owned by Ian Hutchinson and Helen Lester
Salukis: Irish Ch Ulmarra Naa and Moonbeam Mercedes Over Elangeni owned by Stuart and Pamela Mottershaw and Fiona Officer
Cesky Terriers: Jsy Ch Lastarean Grace and Favour for Gayteckels, Pd'H,
Idefix Day Break at Gayteckels, Pd'H, Gayteckels Bottoms Up, Pd'H, Gayteckels Sister Act, Gayteckels Bak in the Abbott and Gayteckels Musical Melody owned by Christine Marett
Border Collie: Darian Last Laugh for Tarabish owned by Mrs S Gay and Miss C Mackay
Irish Terrier: Amberville Cassian Royale owned by Sam Le Couilliard