Cathy Le Feuvre, who hosted the event, reports
Around 80 members of the Jersey Women's Institute gathered at St Lawrence Church on Saturday November 19th for the first Jersey WI Climate Change Forum – an opportunity to learn more about the effects of climate change and to discuss what might be done, including locally, to help alleviate the global crisis.
The Women's Institute in the British Isles has a history of getting involved in environmental campaigning, dating back to the early 20th century. Among other things, nationally and here in Jersey, they have led on issues like the sale and use of plastic bags, and the Climate Change Forum was part of the latest national initiative. WI Federations across the British Isles, of which Jersey is one, are tasked with coming together to talk about climate change. Reports from the forums will be sent to national headquarters and will also be used in national and local political engagement.
Jersey's Forum numbers were swelled by members of the public who also came along for a day which included guest speakers and workshops, and an opportunity to meet some of those leading the local fight against climate change – there were stands featuring some of the initiatives being undertaken locally from the likes of the Repair Cafés in St Brelade and Grouville, where items which might dumped are mended and revived, to the local Fairtrade group, information about Dark Green Carbon, and a stand where we all got to sample local honey.
Jersey's Minister of the Environment, Deputy Jonathan Renouf, started the day off with an enlightening rundown of the journey to 2022 and our growing understanding of how climate change is increasingly affecting our world, some of the arguments and insights into the vested interests against climate change, and challenges for the future. Questions followed, including queries about local recycling, alternative power sources, and transport.
Other guest speakers included Nigel Jones from the campaigning group Jersey in Transition, and Jane Burns, Sustainability and Climate Change Engagement Officer for the Government of Jersey.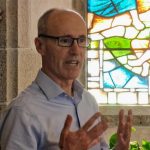 During the afternoon, the delegates had an opportunity to take part in two workshops.
Tim Liddiard, Senior Environment Officer (Environment) at Natural Environment, led discussions about soil status, pesticides, trees, wildlife and the future of honeybees. Those wishing to discuss Food Matters – including food waste, food poverty and the viability of an organic food economy – were in the capable hands of India Hamilton from SCOOP. Jane Burns led discussions about air pollution, beach cleaning, protecting the countryside and coastline and the responsibility of those living not just in the rural but also the urban environment. Nigel Jones had people captivated with discussion about the Green Economy, looking at potential future aims in terms of transport, heating, sustainable housing and our travel carbon footprint. And Louise Carson from Going Zero Waste Jersey got delegates thinking about recycling, fast fashion, and the idea of 'reduce-reuse-rethink-recycle' – with participants getting involved in some fun practical recycling crafting.
Going forward, the Jersey WI Federation will compile a report which will be forwarded to national headquarters and will be available for further local discussions, including with the Government of Jersey and individual Deputies, Constables and contacts. Local Jersey WI groups will be encouraged to appoint Climate Change Ambassadors who will receive appropriate training.
WI delegates were tasked with going back to their groups to share what they had heard and learnt. Those attending were also challenged to sign a personal Climate Change Pledge and to send postcards to their local States Deputies, encouraging further discussion.
And in true WI fashion, there was even an opportunity to take away a knitting pattern for a Climate Change Scarf, based on the Jersey Met Office's rising temperatures chart. Colourful and challenging!