After three years of social distancing during Covid, tails have began to wag again with the return of the Kennel Club's dog shows. KIERANNE GRIMSHAW went to the Royal Jersey Showground in Trinity to see the dogs and their owners in action.
THE Kennel Club of Jersey is back.
The year 2022 has been the first full year of showing since the pandemic. There have been three successful Championship Shows, One Members Show and, most recently in November, an Open Show, sponsored by RURAL magazine.
Chairman Helen Lester said it was a great finale to the showing year and explained how important the Show was to many hopefuls, who were still trying to qualify for the Channel Islands Dog of the Year Show in February 2023.
With over 400 recognised breeds, it was fascinating to see such a variety in one place – from the large Black Russian Terrier to the Pomeranian Toy dog breed. Oksana, Owner of the Russian Terrier, described her dog, River: 'She's a two year old who came over to Jersey at just four months old and is actually from Ukraine – There are only two other dogs of this breed in the Island.' Originally bred for the Russian Military, these terriers like to be given tasks to do and 'River' certainly seemed to be enjoying her role at the Show.
A somewhat smaller breed, Scottish Terrier 'Chessi', was sitting obediently at the ringside. Owner Fiona Whitehead confirmed this breed was once on the official risk of decline as recently as 2019, but is now making a comeback. She said: 'Chessi is 2 years old and has already won her class at Crufts. There's been quite a big gap of dog shows during Covid. It was difficult to meet with the 2 metre rule and dogs definitely missed the socialising.'
One of the most popular breeds present was the spaniel. Well known for being a gentle, kind and loving companion, it was easy to understand their popularity. Some were either sleeping or being groomed at the ringside, obviously enjoying all the pampering and attention. The day ended with the Best in Show. Seven different breeds, all winners in their own individual classes, stood proudly in front of the Judge, Mrs Jenny Miller, who commented on their excellent quality.
Club President Claire White remarked: 'The Show had a lovely atmosphere, with good support from the general public. A great way to finish 2022 on a high! It was also very pleasing to see the Junior members competing so well in the Junior Handling, as they are the future of our Club.'
For some, it was a long day, but tails continued to wag. Fiona Whitehead concluded 'All the dogs go home as pets at the end of the day – win or loose.'
Results below: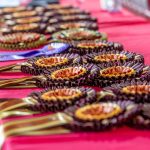 BEST IN SHOW: Scottish Terrier: Miss Anna Pinto & Miss Fiona Whitehead: Berrybreeze Spirit Guide at Mckalay (Chessi)
RESERVE BEST IN SHOW: Spaniel (Cocker): Miss Claire White: Granrose Blue Topaz
BEST PUPPY IN SHOW: Shih Tzu: Mrs Lorraine Stewart- Smith: Forepaws Fury
RESERVE BEST PUPPY IN SHOW: Chinese Crested: Mr Peter Walker: Karamouche My Little Pony for Petwalk
BEST VETERAN IN SHOW: Pomeranian: Mr Julian Schofield: Thelbern Nina Ricci
BEST BRACE IN SHOW: Spaniels (English Springers): Mrs Ro & Mr Nigel Cox