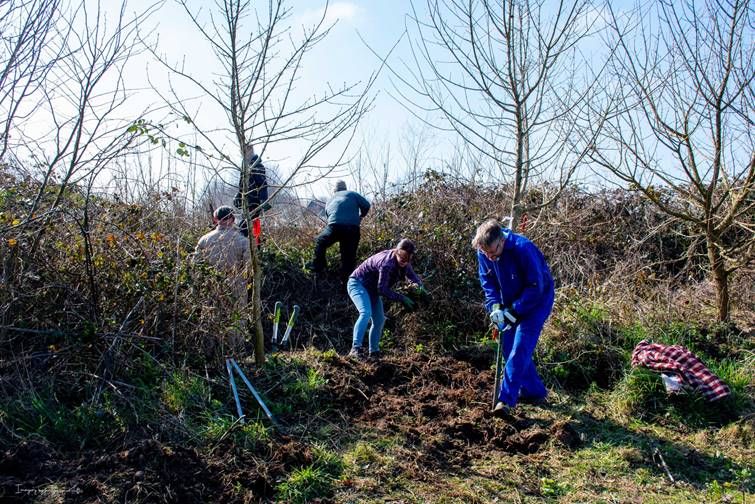 An ambitious, inclusive community horticultural project is being planned for a field in Sion. By Caroline Spencer
'GROW' is the brainchild of Thrive Jersey, a charity that was set up to address social issues behind poor mental health.
Field H1115 covers nearly 13 vergées of land adjacent to Surville Cemetery and GROW is working in close partnership with the Parish of St Helier, which owns the land.
The first step is to plant 150 apple, pear and other fruit and nut trees by the end of this month. Arranged in alleys, the trees will be interspersed with fruit bushes and under-planted with a range of herbs, berries, vegetables and pollinating flowers in line with permaculture design principles. Thrive say that planting alleys will allow crop rotation which plays a vital role in creating a good soil structure, improves carbon retention and reduces soil erosion.
The community garden has been designed by environmentalist Sheena Brockie, founder of The Good Jersey Life business.
'We aim to create Jersey's most inclusive community horticultural project, through the sensitive transformation of agricultural land into organic, sustainable and multi-crop locations, tended by the community for the benefit of those who do not readily have access to sufficient nutritional food,' she said.
'We will aim to make a significant positive impact on the physical and mental wellbeing of Islanders whilst also providing education and awareness on issues such as the climate emergency, sustainable transport and responsible soil management.'
That sustainable transport policy, for example, will discourage any able-bodied person from driving there.
'It's a rural setting and sustainability is at the core of what we are trying to do,' Sheena said. 'We're on a good bus route, we are making maps for safe walking routes from town and looking at safe cycling routes.'
She said that research has identified that there is a real interconnectedness between human well-being and the natural environment. Gardening, she added, is a wonderful community activity, which is important as Thrive have identified loneliness and isolation as a 'rapidly increasing social issue in Jersey'.
Sheena added: 'We strongly believe that every single person in Jersey should have the opportunity to forge a connection to nature.'
GROW is encouraging all Islanders to get involved in different ways, including logistics, client liaison, educational activities, site and crop maintenance and food distribution.To find out how you get involved, contact the project team by emailing enquiries@growtogether.je