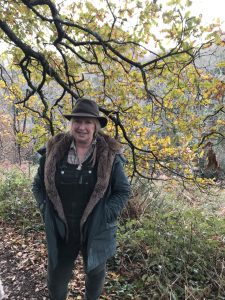 The 2020 lull caused by Covid-19 has been called 'the great pause', something which has given everyone an unprecedented opportunity to slow down and really appreciate what's meaningful. As a trained forest therapy guide, Amanda Bond knows just how important reconnecting to nature is to our health. By Caroline Spencer
'There has never been a better time to walk slowly in nature,' Amanda Bond says, as we stroll through Fern Valley during a welcome break between showers. 'As a nature-inspired practitioner I feel that I hold a vital role during this unprecedented time. Bringing people and nature together in positive, life-affirming ways has never been more important.'
Amanda, the only practising ANFT [Association of Nature and Forest Therapy] certified guide in Jersey, explains that forest therapy and nature connectedness are at the forefront of research on health and wellness globally.
'What I have found is that people get a renewed sense of energy and vitality,' she says. 'And that helps natural healing within the body. It also brings a new sense of appreciation and gratitude.'
We all know that we feel better after going for a walk, but forest therapy is much more than that. Inspired by the Japanese practice of Shinrin-Yoku, or 'forest bathing', forest therapy is more a sensory immersion in nature. And it doesn't have to be a forest. Our sand dunes, beaches and north coast cliff paths can get the same results.
The role of a trained guide like Amanda is key. A session might start by getting your bearings and learning a bit about the land's story. 'No matter what's happened in the last hour or two, people start to become grounded,' explains Amanda, who has been running such sessions for nearly three years.
'We will move along the trail do a bit of visualisation to get connected with the senses, and then there's a series of invitations. For example, I might invite people to walk slowly and in silence. It might be as simple as watching movement, to notice what's in motion. Today there is some wind, but not a huge amount, and if you want to see movement in that tree you probably need to get closer and stop.
'Noticing and listening, noticing and listening. And we come back to a listening circle. Not everyone wants or needs to share something, but some might share a word or a phrase, whatever speaks to them.
'The session ends with some kind of tea ceremony, partly in homage to the Japanese culture. But it's also about coming back to reality. Eating and drinking brings the person back into the body because in these walks you can go into a very different state of being.
'This autumn I started foraging for fruits and herbs and including them in cakes and snacks. And sometimes we make a herbal tea from nettles or camomile flowers we forage along the way.'
Cancer patients and their carers have already started to benefit from forest therapy sessions organised by Macmillan Jersey and funded by Friends of Jersey Oncology.
'Everyone found it very relaxing and said that thoughts of outside stresses dropped away,' Amanda said. 'Quite a number said that they had not experienced nature in this way before. Some found it really quite life-changing.
'It's something that you can't easily describe because it's a really experiential sensory experience.'
The many reported benefits include a sense of calm, being uplifted, and having more energy, a safe release of emotions, so often locked up in the body by the busyness of daily life, and a broad spectrum of health benefits, such as reducing high blood pressure, depression and anxiety.
Amanda, a graduate in mindfulness-based psychotherapy, hopes to collaborate with more people in the coming year and she is setting up a Facebook group for professionals interested in 'green care' in Jersey.
'As a member of a small team of Forest Therapy Guides and a sensory-focused landscape designer, we were accepted by RHS Chelsea to exhibit in their Discovery Zone to showcase an Urban Forest Garden this year,' she adds. 'Now I'm talking with local professionals with the aim of creating one here in Jersey.'
An area of Jersey that Amanda is particularly fond of is Le Sentier des Moulins, the Millennium Walk in Waterworks Valley. 'In the UK and New Zealand I have seen how trails can be enhanced by art, creativity and by offering places to sit,' she said. 'I hope to work with ArtHouse Jersey and others to bring some arts to the pathway.
'Forest therapy is about reconnecting with nature, remembering that we are part of nature and starting to listen with all our body, all our senses so that we can respond rather than react to situations and in all our relationships.
'Something you become aware of is that everything changes, whether that is because of the season, the weather, or the time of day. On these walks, we can start to understand the cycle, that life is a journey.'
*Amanda is on Instagram: @wildedgewalker and on Facebook: Amanda Bond Healing Blue. If anyone is interested in sponsoring future forest therapy sessions, they should get in touch with Pam Aubert at Macmillan Jersey.