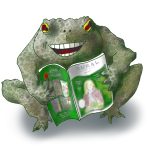 We continue our series of article in Jèrriais – Jersey's own traditional native language.
The 'frouque' in question is a digging fork, rather than a table fork. An English translation follows.
This contribution comes from Ben Spink

Bouônjour et Bouanne Année bouonnes gens!

Pouor ma lettre chutte s'maine, au c'menchement d'eune nouvelle année, j'avais l'idée d'pâler un mio, entouor les rêsolutions d'Nouvel An. Sans doute, ch't' année, comme l'année pâssée, né s'en va êt' si aîsie et j'comprendrais bein s'ous avez décidé d' fliantchi hors vos rêsolutions et tout ch'na! Ch'est absolûment vrai qué ch't' année, la chose la pus împortante du tout, ch'est d'rester sain et sauf. Mais j'pouvons espéther qué ch't' année s'sa miyeu qué l'année pâssée et à cause dé ch'na, p't'êt' ch'est raisonnabl'ye d'êprouver dé promettre à faithe dé tchi pouor amender l'monde à l'entou d'nous, même raîqu' un p'tit mio.

Eh don, tch'est qu'ous pensez? Un vièr diton nous dit qu'les rêsolutions du sé né sont pon les cheinnes du matîn. Av-ous ofûche mangi d'trop duthant la saîson d'Noué, comme mé? P't'êt' bein qu'i faut mangi pus d' rits et d'lédgeunmes et un mio mains d'viande et d'gâches. Ch'est-i qu'tu'es iun d'ches gens tchi font 'l'Janvyi sé' comme nou l'appèle? Jé l'fis l'année pâssée et ché n'tait pon si difficile. Mais ch't' année, ch'na n'm'êtonn'nait pon du tout si les cheins tch'aiment prendre deux d'gouts ont décidé qué r'nonchi lus bév'tonn'nie s'sait un pas trop liain, donné les circonstances!

Av-ous ofûche décidé d'faithe pus d'exèrcice ch't' année? Ch'est vrai qué, tandis qué j'sommes oblyigi d'rester siez nous comme j'sommes achteu, ch'est hardi împortant d'faithe aussi tant d'exèrcice qué pôssibl'ye. Mais ch'n'est pon aîsi dé l'faithe duthant l'hivé et auve touos les gŷmnases et les piscines freunmés, i' faut trouver eune aut' manniéthe dé nos bouogi. J'sommes bein heutheurs d'aver les belles grèves et les bieaux c'mîns ichîn en Jèrri où'est qu'nou peut marchi, mais pouor les cheins tchi d'meuthent en Ville et tchi n'ont pon d'gardîn ch'n'est pon si aîsi.

Pouor dé mé, j'ai décidé d'faithe dé tchi, mais pon d'grandes choses. Auprès tout, j'crai qu'j'avons assez d'choses à penser dans ches jours là! Tout d'même, ieune dé mes rêsolutions, ch'est d'êprouver à apprendre un mio d'la langue Irlandaise. Véthe, jé l'sais, ch'est un mio fo donné qué j'sis à apprendre lé Jèrriais acouo! Mais, la chose est qu'ma femme est Irlandaise, et j'voudrions qu'not' fil'ye appranne du Jèrriais et d'l'Irlandais, don j'ai creu qu' i'm' fallait apprendre un mio d'la langue étout. Pon si liain d'la pliaiche où'est qu'mes bieaux-pathents d'meuthent, y'a un 'Gaeltacht', tchi veurt dithe un endrait où'est qu'l'Irlandais est la preunmié langue.

Don, à m'n idée ch'est împortant d'pouver pâler un mio d'chutte mangnifique langue et tchiquechose tchi s'en va m'aîdgi, ch'est l'applyicâtion pouor les téléphones dé pouchettes tch'a nom 'Duolingo'. Ch'est raide bouôn pouor apprendre eune langue et ieune dé mes aut' rêsolutions pouor ch't' année ch'est d'faithe tchiquechose dé même pouor lé Jèrriais. Nou vèrra!

Sans autcheune tchestchion, la chose la pus împortante ch't' année, ch'est d'souongni nos fanmil'yes et nos anmîns et ch'est ch'na tchi s'en va êt' ma rêsolution prîncipale, et sans doute ch'est la même chose pouor un tas d'vous étout.

Eh bein, né v'la assez pouor aniet. Comme un bouôn vièr Jèrriais m'a dit dreinement, eune bouanne année et eune bouonne saîson d'patates! À bétôt.



In Translation
Good morning and happy new year everybody!

For my Lettre this week, at the beginning of a new year, I had the idea to talk a little about New Year's resolutions. No doubt, this year, like last year, is not going to be easy and I would well understand if you've decided to throw out your resolutions and all that. It's absolutely true that this year, the most important thing of all is it stay safe and well. But we can hope that this year will be better than last and because of that, perhaps it's reasonable to try and promise to do something to improve the world around us, even just a little bit.

And so, what do you think? An old saying tells us that the resolutions of the evening are not those of the morning. Have you perhaps eaten too much during the Christmas season, like me? Maybe you need to eat more fruit, vegetables and less meat and cake. Are you one of the people who do 'dry January' as it's called? I did it last year and it wasn't so difficult. But this year, it wouldn't surprise me at all if those who like to drink a drop or two have decided that to give up their tippling would be a step too far, given the circumstances!

Perhaps you've decided to do more exercise this year? It's true that, whilst we're obliged to stay at home as we are now, it's very important to do as much exercise as possible. But it's not easy to do during the winter and with all the gyms and swimming pools closed, we have to find another way to move. We are very fortunate to have the beautiful beaches and lanes here in Jersey where we can walk, but for those who live in town and who don't have a garden it's not so easy.

For me, I've decided to do a bit, but not so much. After all, I think we have enough to think about these days! All the same, one of my resolutions is to try to learn a bit of Irish. Yes, I know, it's a bit mad given that I'm still learning Jèrriais! But, the thing is my wife is Irish and we would like our daughter to learn some Jèrriais and Irish, so I thought that I ought to learn a bit of the language too. Not too far from the place where my parents-in-law live, there is a Gaeltacht, which means an area where Irish is the first language.

So, in my opinion it's important to speak a bit of this wonderful language and something that will help me is the phone app called Duolingo. It's really good for learning a language and one of my other resolutions for this year is to do something similar for Jèrriais. We'll see!

Without question, the most important thing this year is to look after our families and friends and it's that which will be my main resolution, and no doubt it's the same for you too.

Well, that's enough for today. As a good old Jerseyman said to me recently, Happy New Year and a good season of Jersey Royals! Goodbye.