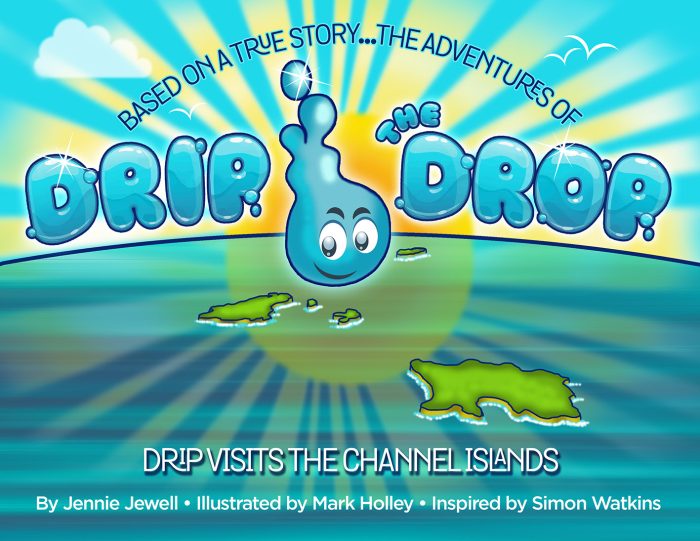 Simon Watkins, who launched Seeker Publishing and Distribution ten years ago, is celebrating this milestone for his business with the launch of a book that brings to life an idea he's been nurturing for over 20 years.
In 2022, Simon signed Lutlye Productions, a business started by Jennie Jewell and Mark Holley, who combine their creative skills to produce beautifully illustrated rhyming books for young children.
Having established a good partnership Simon shared his idea and the three have collaborated to produce 'The Adventures of Drip the Drop' – an engaging tale about the adventures of one small drop of water, from its first taste of freedom, when the glacier it's been trapped in for thousands of years starts to melt. Drip's journey takes him to many places, from the open sea to Jersey's desalination plant,
through underground aquifers and on to Guernsey's Cobo Beach.
I came up with this idea many years ago, said Simon 'and seeing it brought to life by Jennie and Mark is a dream come true. I am fascinated by the way water travels around the globe and how we'reprobably drinking the same stuff the dinosaurs drank! Drip has so far visited the Channel Islands but I have big ideas about where he might go next. What's even more exciting is that although it's accessible
to children from about the age of five, it's perfect for those in Year Four when the water cycle is taught and provides ideas for other topics, such as climate change, ocean life and so on.'
Naomi Watson, who teaches at Mont Nicolle School, commented: 'Children learn about the water cycle in Year 4, and it's important that they really understand it, which they certainly will do from reading Drip the Drop. The story is beautifully illustrated, written in rhyme and full of rich text, which helps children with their literacy skills across the whole curriculum.'
A free book is being offered to all Primary Schools in the Island and a competition is being run for three children to win a free, signed copy.
The book is being launched at a free event at Jersey Museum on Sunday 12 November at 2.00pm with a reading and opportunity to meet Simon, Jennie and Mark. It will also be on sale at various local retailers including WH Smith and Waterstones and via @lutlyeproductions.com
Lutlye Productions is a Genuine Jersey business.
The Eventbrite link is https://dripthedropbooklaunch.eventbrite.co.uk