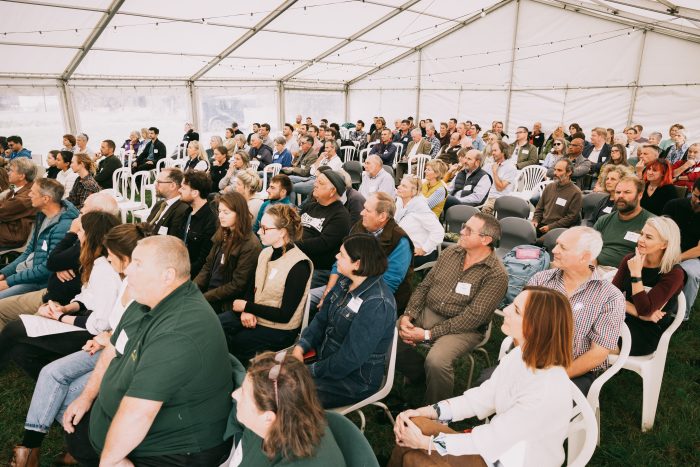 Reprinted with kind permission from the Jersey Evening Post
By Alasdair Crosby
A rural event, titled 'ReGen Gathering', took place in late September. As previously reported, it is set
to become a regular feature of the Island's farming calendar and a forum for innovative ideas.
It is focussed on regenerative farming and the community. Like the 'Groundswell' regenerative agriculture event in Hertfordshire, which started very small and which now attracts thousands, it is hoped that that the Island's Re-Gen Gathering will enjoy comparative growth and success.
It is different to and distinct from the Jersey Farming Conference – postponed because of the storm on 2 November and now due to take place on 10 November. While the Conference focuses on the business of farming, the focus of the Re-Gen Gathering was more on the rural community – its present state and preservation in the future – and suggesting ways in which agriculture in Jersey could diversify and evolve in an era of change and localisation.
It was a free one-day event with panel discussions, workshops and demonstrations about innovative food and farming approaches that brought together a diverse range of people and ideas.
There were over 20 speakers, plus exhibitors and technical demonstrations, building on the work of Jersey Government's Rural Economic Framework, SCOOP (the Sustainable Cooperative) JICAS (Jersey International Centre of Advanced Studies), and members of the food and farming community across the Channel Islands.
Civil servant John Vautier, who is the senior lead for the Rural and Marine Economy in the Island (and a former farmer), said: 'We initially thought an attendance of 20 or 30 people would be a good start – and look what has happened! 300 tickets reserved and standing room only.'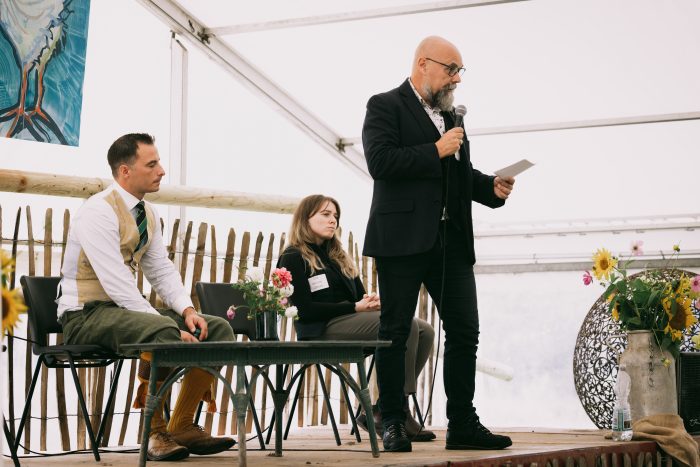 Alan Le Maistre, who, with his brother, Charles and cousin, John, farms as 'Le Tacheron Farm' and on whose land the event took place, said in his presentation at the start of the conference: 'We love the heritage of Jersey. We want to see Jersey continue to farm and continue to preserve its rural environment.
'For us, regeneration is also about regenerating the rural community. We want to be part of a vibrant rural community. We want to work together with large farms and with smaller farms like ours to give Jersey a more diversified farming future.
'We hope this conference opens up a lot of debate; we hope it brings people together, and we hope that it will allow people to look forward positively to how we can operate a more diversified and richer rural community, and bring in that collaboration and that Jersey spirit that has been the foundation of the Island's farming for so many generations.'
The event was organised by Hypha Consulting (India Hamilton) and Farm Jersey (John Garton), together with Le Tacheron Farm, JICAS, SCOOP, (the Sustainable Co-Operative), the Rural Economy section of the Government of Jersey and LEAF (Linking the Environment and Farming). It was sponsored by Norman's, Evelyn Partners and the Bliss Brew Company.
§
And now, a little lesson in Jèrriais (this is important, so don't skip this bit):
La grand' Tchethue: this means 'the big plough'. For its operation, it required not one, but a team of horses – perhaps between five and eight. It required, therefore, not just the implement, not just the animals or horsepower or the manpower, but that other essential element of Jersey's agricultural success over the ages: it required co-operation.
La Grand' Tchethue was a coming together of fiercely independent farmers, in family and neighbourly groups, pooling resources and working collectively to ensure not only their success, but also, at times, their very survival.
Therefore, it was also a colloquial phrase referring to a social event. The modern description, beloved of today's teenagers, is 'a gathering'. This is what the ReGen event was, actually: it was a gathering.
John Vautier said in a short speech to participants at the start of the ReGen event: 'Our aspiration today is that we emulate the spirit of La Grand' Tchethue, in that we come together and discover how we can work better to pursue our collective interest.'
It was also the name of the on-site bar, which emphasised the social nature of the event in a convivial way. There was also music and food and a party spirit in the evening, after the presentations and demonstrations of the day had been concluded.
§
Le Tacheron means 'the team' – usually of three workers working together in the potato fields. Le Tacheron Farm consists of land farmed by three family members united both by a belief in and enthusiasm for traditional local farming, but also in its applicability to farming in the 21st Century: Alan, Charles and John Le Maistre.
Alan told the conference: 'We are a smallholding but we are hoping for a more commercial future. For us, regeneration is also about regenerating the rural community. We want to be part of a vibrant rural community.'
And, as one of the conference speakers said: 'We want to put the fun back into farming.'
That, perhaps, encapsulated what the day was about: farming, community, putting the fun back into farming and farming in harmony with the natural environment.
The full-day programme included three panel discussions, two workshops, live demonstrations, and exhibition stands.
To give a flavour of the subsequent presentations and discussions, these included:
Cultivating success: exploring business opportunities, practical insights, and market pathways for small-scale meat and vegetable farmers.
Among the speakers was Ollie Griggs, a first-generation small farmer in St John, growing a range of organic vegetables. His concern is how to match the produce he grows with the available market for it.
Funding the future of agriculture: enabling rural development, livelihoods, and ecological restoration in landscapes.
Among the subjects discussed here were 'stacking' or multiplying ways in which neighbouring small businesses can cooperate for mutual benefit.
Exploring the intersection between farming, culinary sustainability and public health: crafting menus with local flavours.
Nurturing innovation: farm diversification and business growth in the Lake District
Harvesting legacy and sustainability: 30 years of Pipers Farm (near Exeter) – a journey through grasslands, family values, and biodiversity.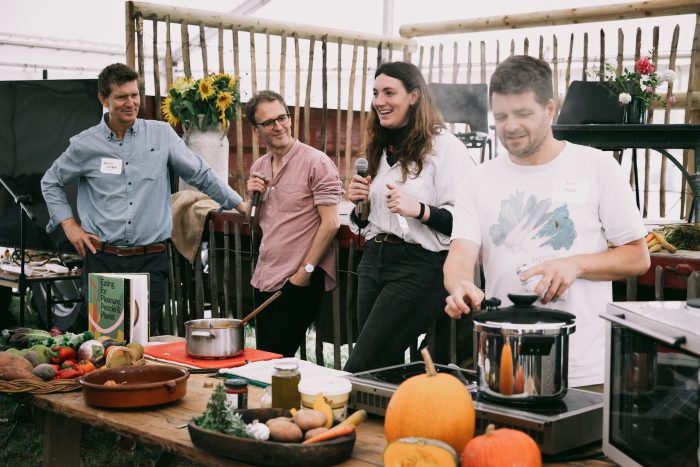 This final talk of the day – and a very amusing talk it was, as well – was given by the farm's owners, Peter and Henrietta Grieg, whose family farm has become a sophisticated on-line marketplace for sustainably produced British meat, dairy and grains.
In addition, there was a demonstration of sheep shearing and also of 'unveiling soil health from ground to app.'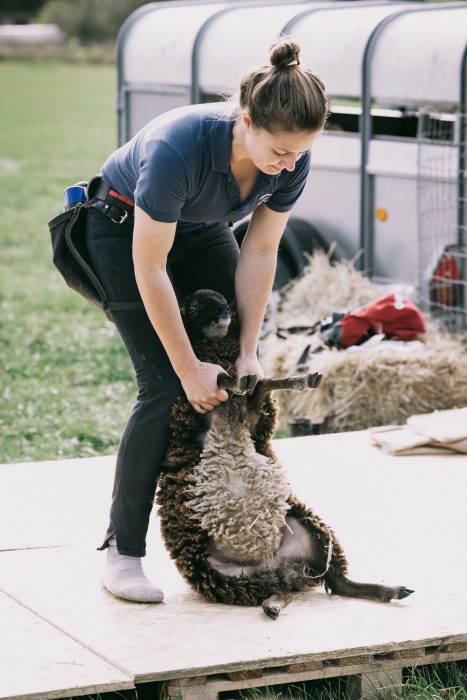 So, plenty of food for thought, as well as plenty of locally-produced food to eat (from SCOOP, the Sustainable Co-Operative).
This event in Jersey is very much part of a growing farming culture worldwide that emphasises small-scale local farm businesses, diversification in farming, the importance of developing local community and providing 'local food for local people'.
At the same time as the Jersey event was taking place, a much larger conference event was taking place in Bristol, organised by 'Local Futures', the organisation founded by the author and activist Helena Norberg-Hodge. It is a pioneer of the worldwide localisation movement ,which raises awareness about the power of 'going local' as a key strategy for restoring ecological, social and spiritual wellbeing. Then there is the Groundswell annual event, which has been described as 'the Glastonbury of the farming world.' The annual 'Real Farming Conference' is run at the same time as the more orthodox 'Oxford Farming Conference' and now challenges it in terms of public interest and visitor numbers.
In other words, the Jersey ReGen event is by no means alone in delivering its message, and Government's agricultural policy in Jersey is also broadly in favour of small-scale regenerative farm enterprises, as a way of restoring local food production, in the wake of Woodside Farm having to stop its provision of local food and a packaging and delivery service.
But as Alan Le Maistre said: there is room for all sorts of farming in the Island, for export-led potato growing and for the dairy sector as well as for innovative crops and ways of farming. Le Tacheron Farm started off as a hobby, almost, and they are becoming more commercial so as to provide them with more of an income for their efforts.
And come what may, there was an encouraging sense of optimism in the future – even excitement – in the air at the ReGen event, which is not something that is universally evident in mainstream farming events.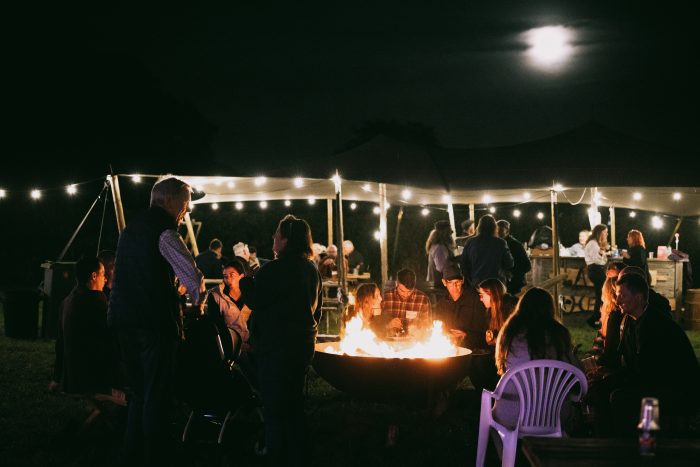 Needless to say, the majority of Islanders would not benefit too much from the present volume of food supplies provided by a number of smallholders, each cultivating a few vegetables and selling these and perhaps some free-range eggs in an honesty box at their gateway. The success of this re-orientation in Government policy will only be successful if a hub can be established to facilitate collection, packaging and delivery to retail outlets.
But there again, the ReGen event was chock-full of ideas about farming futures. The concept of La grand' Tchethue provides a thoughtful analogy for ways in which the farming sector can cooperate to bring change about – and regeneration of farming, land and community.