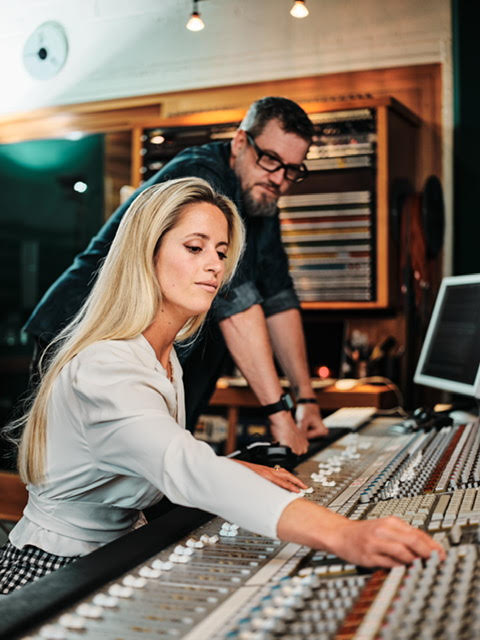 By Georgina Sutton, a Jersey concert pianist
Pastiche is a 5 track classical crossover EP that I have created, consisting of my own panoply of arrangements by Elton John, Bastille, Adele, Billy Eilish & Clean Bandit.
The EP was recorded at the Gilbert O'Sullivan Studios with producer & sound engineer, Wilson Nash, generously supported by ArtHouse Jersey.
Pastiche is a vibrant blend of two genres showcasing my style as a classical artist with a contemporary modern edge using polyphonic textures, live piano loops and multilayered instrumentals to create a colourful sound world. My aim for the EP is to 'provide the full experience of the original pieces through a unique pianistic version'.
I was incredibly lucky to work with Wilson, who has been a rock throughout the entire process – recording, post-production, mixing and mastering the tracks. I can't thank him enough as he opened my eyes to the world of sound engineering; it is totally mind-blowing, the intricacies of each different stage of professional production. Wilson believed in my project right from the start and did everything he could to make sure I was happy with it. I will miss the Sunday morning coffees and laughs we had (take 72!)
Straying from perfectionism has been a huge lesson for me throughout this project, which is rife in the creative industry, especially in the field of professional classical musicians. With such a reiterative start incurring unexpected twists and turns due to Covid and not being able to record, it organically blossomed into a very raw experimental project with spontaneous adaptations and new creative ideas that emerged live during recording. There is so much beauty in embracing imperfectionism – expressing what emerges in the moment, and just delivering the energy and rawness of emotion felt in a piece of music.
A 'pinch me' moment I will never forget was when I recorded the beginning of No Time To Die on Gilbert's infamous 1974 Fender Rhodes 73 suitcase piano. To work in such an inspirational space with a talented producer who became a great friend in the process is very special. I will be forever grateful to my husband Tom and son Frederik for always supporting me in everything I do, as well as ArtHouse Jersey for their incredibly generous contribution, help and understanding; and to Wilson who made it all happen.
Pastiche is now available to stream and download on Spotify, Apple Music and iTunes.