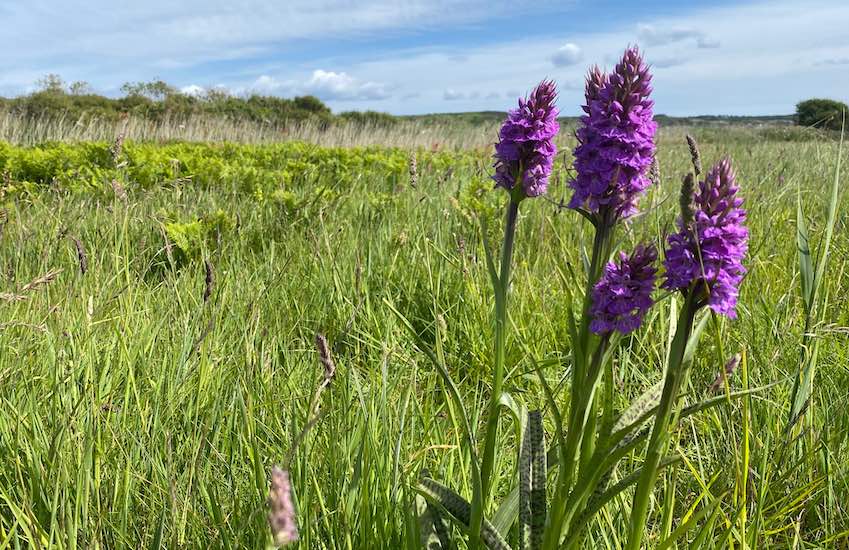 Jersey's wild orchid fields open
During the spring and summer months Jersey is transformed by the vibrant colours of its native wildflowers. Among the most spectacular are the wild orchids found in The National Trust for Jersey's 'Orchid Fields' at Le Noir Pré in St Ouen's Bay and La Blinerie in Grouville.
The Trust are inviting Islanders to come along and see these exotic flowers during its forthcoming 'Love Nature Festival', which starts on Sunday 28 May.
LE NOIR PRÉ AND CLOS DE SEIGNEUR

Le Noir Pré and Clos de Seigneur are wet marshy meadows in the parish of St Ouen. Situated next to each other these meadows are commonly referred to as the 'Orchid Fields'. From May through June the meadows are a riot of colour, as the flower spikes of three species of orchid (and various hybrids) unfurl their exotic petals.
The Le Noir Pré and Clos de Seigneur meadows have become incredibly important reserves for native orchids and have been managed over many years to maintain the exceptional floral diversity present. This is achieved by hay cutting every August after the orchids have flowered and dispersed their seeds and then allowing a small herd of Jersey cows to graze the meadows.
In 1995 there were 1,500 individual orchids, rising to 5,975 in 2000 and at the last could (2020) numbers had risen to 49,200 individuals at Le Noir Pré, attracting botanists and nature lovers to St Ouen's Bay.
LA BLINERIE


The Trust also manages two lesser known wet meadows off Rue de la Blinerie. These lie on the fringes of a larger wetland ecosystem known as the Samares or Rue de Pres wetland, consisting of reed bed, fen and wet woodland. Both Loose Flowered Orchids and Southern Marsh Orchids can be found in the meadows. The latest survey found that there were 15,917 individual flowers an increase from 114 surveyed in 2006.
Information on the Wild Orchids is available on the Trust website https://www.nationaltrust.je/project/orchids/
Le Noir Pré, is on Le Chemin de L'Ouzière, which branches inland from the Five Mile Road in St Ouen's Bay. The orchid field will remain open until mid-June while the Loose Flowered Orchid, Spotted Orchids and Southern Marsh Orchid are in bloom.
La Blinerie, (Le Don Obbard) is only accessible by foot or bicycle along Rue du Coin, which boarders both parishes of Grouville and St Clement. The footpath in the field will also be open until mid-June. Access routes will be signposted.
For anyone who hasn't had the opportunity to see the wild orchids before, now is the perfect time to see these extraordinary wetland habitats at their very best.
This wasn't always the case as up until the 1960's this field was used as a rubbish tip with all kinds of waste ranging from fridges, cars and garden waste being dumped here. Le Noir Pré is a wonderful example of what can be achieved through careful consistent conservation management. It is also an example of the incredible floral diversity that can be found in the increasingly threatened wetlands in Jersey.'
In order for the Trust to open these sites, it asks the public to follow the protocol listed below:
Please use public car parks in the vicinity when available
Please only walk on the marked footpath
Please keep all dogs on leads
Please do not pick any flowers or plants
The Trust also asks people to only visit the fields during open times, when the orchids are in bloom. Entry at other times of the year may inadvertently disturb the protected animal species that this habitat supports and even damage the orchids themselves.