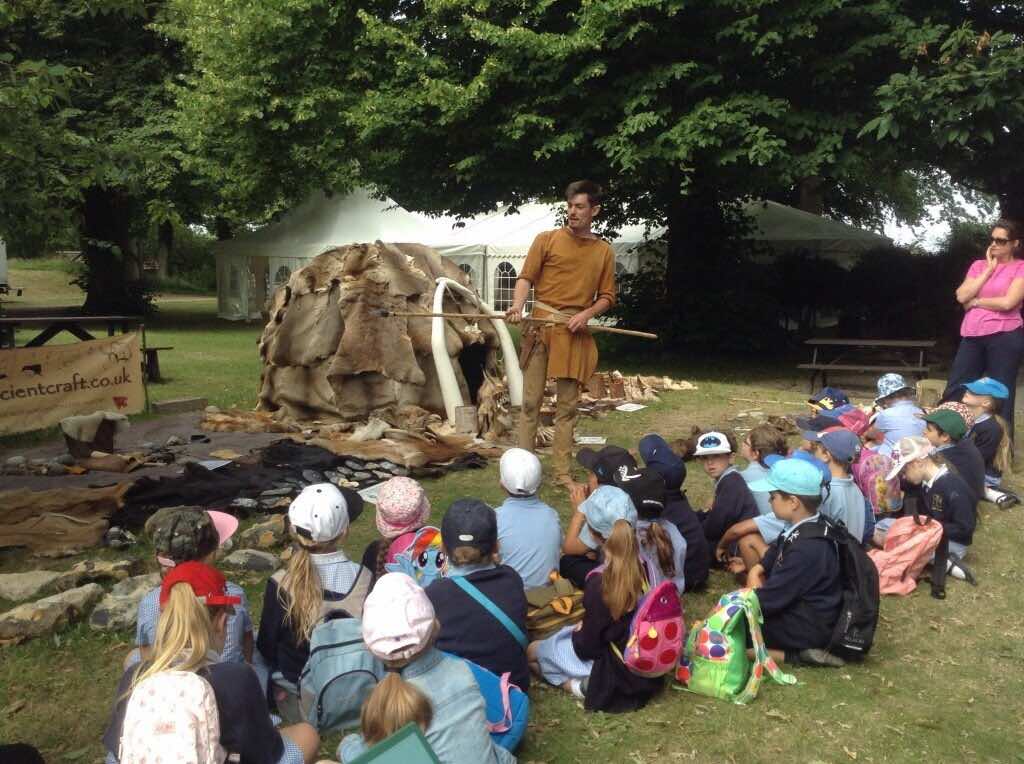 From Jersey Heritage:
Jersey Heritage is celebrating all things 'prehistory' at the end of the month with a week full of activities for different parts of the community to enjoy. 
The prehistory programme of events, which is kindly sponsored by Ogier, involves site visits by schoolchildren, teacher training and lectures. It will culminate with 'Prehistory Weekend – Loving Your History', a two-day event that will give visitors to the ancient site of La Hougue Bie an opportunity to step back in time and watch skills from thousands of years ago in action, including flint knapping and Neolithic jewellery making.
At the centre of all of the activity will be visiting experimental archaeologist Dr James Dilley and Emma Jones of AncientCraft, a company that provides replica prehistoric artefacts and living history demonstrations and workshops. Together, James and Emma will hold the first full living history display at the award-winning replica Neolithic Longhouse since its construction at La Hougue Bie was completed a few years ago.
'Prehistory Weekend – Loving Your History' takes place on Saturday and Sunday, 30 April-1 May. Ahead of this, James and Emma will provide training for teachers to support their teaching of prehistory in the Jersey curriculum in schools. The pair will also share their knowledge and skills with Jersey Heritage's team of volunteers who maintain the Longhouse and give tours and demonstrations to visitors at La Hougue Bie.
Halfway through the week, children's author Penny Byrne will be at La Hougue Bie to launch her new book, 'Charlie and Spud in the Stone Age', which she has created in conjunction with the Government of Jersey as part of the Island Identity project. Penny will give a reading of the book to children from Springfield Primary School.
As well as delivering lectures and carrying out corporate workshops, James and Emma will also head off to various locations in the Island to help Jersey Heritage to create a number of short films about the skills needed during the Neolithic period. These films will provide new learning resources for the Island's schoolchildren.
Helen Otterwell, Jersey Heritage's Learning & Engagement Manager, said: "La Hougue Bie is the perfect setting to bring to life this special part of Jersey's heritage and we are excited to be able to share the living history demonstrations and James and Emma's expertise with so 
many different parts of the community. As well as providing fantastic experiences for the public, our prehistory week will have a long-term impact through the teacher training and the creation of new teaching resources, helping to share and promote this significant time from Jersey's past."
Kate Kirk, Director of Marketing at Ogier, said: "Ogier is committed to supporting education projects and we're continuing our work with Jersey Heritage this year by sponsoring this exciting week of events for schools and Islanders to enjoy. Prehistory is an important part of the curriculum in Jersey and we are proud that a project we are involved in will provide new learning resources for the benefit of teachers and schoolchildren."
As part of 'Prehistory Weekend – Loving Your History', visitors will be able to take in the sight, sounds and smells of life thousands of years ago, before being able to touch replica objects and talk to James and Emma about their lives as "prehistoric people". In addition to the flint knapping and jewellery making demonstrations, they will also carry out a number of tasks that would have been a familiar part of daily life thousands of years ago, such as fire lighting, axe making, wood working, bone and antler carving. Some of the crafts will be open for visitors of all ages to try for themselves.
Usual entry fees to La Hougue Bie apply for 'Prehistory Weekend – Loving Your History'. Free to Jersey Heritage Members and children under six. There will be limited parking on-site over the weekend and visitors are encouraged to walk, cycle, get dropped off or take the bus.
For more information, go to www.jerseyheritage.org/explore/whats-on/loving-history-weekends/