THE prospect of fresh daily milk again in Sark is looking up. Just before Christmas 2019, Chief Pleas agreed to finance a brand-new abattoir. The green light has encouraged Sark farmers about the long-term future of animal husbandry in the Island.
An independent initiative by the Seigneur and others (Sark Community Dairy Charitable Trust) has secured land on which to set up a completely new enterprise. Plans have been approved for a steel-framed, timber-clad building to house a herd of 16, a milking parlour (with viewing gallery), and dairy processing space. This sheltered greenfield site lies between the Seigneurie Gardens and the Island Hall. Access for visitors is a key part of the concept. The Trust will hold the property for the community and tenant farmers will lease it as a dairy business.
A dynamic couple are to be the tenant farmers. Jason and Katharine Salisbury are currently based near Ipswich and turn milk from their Guernsey cows into Suffolk Farmhouse Cheeses. A new local herd will travel from Guernsey to calve in Sark late April 2021.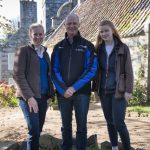 They passionately believe in the future of small farming and artisanal produce. Their vision fits well with the Trust's larger aim 'to preserve the Island's pastoral landscape and farming traditions.'
Following the retirement in 2017 of Chris Nightingale and the sale of his Sark herd, the Island has had to rely on imports from Guernsey, even for its 'Sark cream teas' (scones at La Sablonnerie honourably excepted!). Demand in summer is twice that in winter. To meet Sark's needs – and to remain viable as a business – is challenging. That's why the Trust was formed to shoulder the capital cost for a community-owned dairy. This can put heart into Sark's economy, create jobs, boost tourism, and sustain a unique and precious historic landscape.
The project will cost over £400,000 of which £120,000 has already been pledged. The Trustees are seeking sponsorship for infrastructure that will be publicly owned: a public appeal will be launched in the spring. If you would like to support this important and exciting new venture, please get in touch with Dr Richard Axton, raxton@guernsey.net
A new website has been launched to give more information: www.sarkdairytrust.com