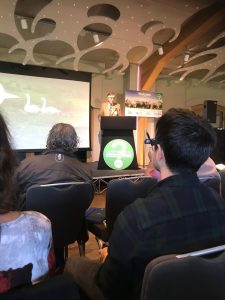 Address at the start of the 2022 Jersey Farming Conference by Andrew Le Gallais, retiring chairman of the Jersey Milk Marketing Board, 10 November 2022
This year's Farming Conference has the very pertinent theme of 'Farming Matters'. I have been fortunate to represent the Dairy Industry for a long time, but I intend to be as broad as I can in representing the views of all the myriad of dedicated rural entrepreneurs who make 'farming matter' in our unique Island.
Many of you will know that I am retiring from the board of the JMMB next month, so this paper is my swan song! As such, it enables me to express my personal views on the current and future position of our farming industry, at what is clearly a very critical point in its long existence as a formative part of the economic, cultural, and innate life within our Island.
As we look out from our coastline, much of the developed world remains entrenched in a policy of cheap food, provided by vast global corporate entities, controlled by individuals who are aeons away from the ploughshare. Food has become a highly processed commodity with dubious health credentials and high levels of wastage, which is frantically trying to acquire sustainable accreditation by whatever means.
Meanwhile in our Island, subtle and determined efforts are being made to enhance the branding of so many of our local food products in a genuine sustainable manner, which I believe will make a seismic difference in years to come. Such is the level of corporate competition though, that we remain in the clutches of an anodyne supply base, which has one major flaw: regularly crossing the English Channel.
Brigadier Nigel Hall, who is extremely well qualified to comment on the Island's strategic and security policies, recently stated that it was high time for us to improve our resilience.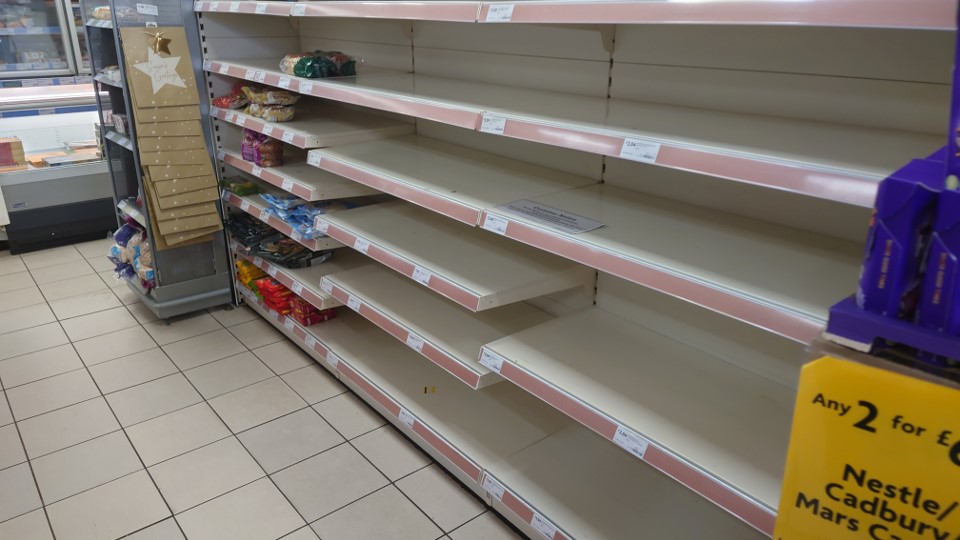 And this is why, in a picture taken last week, which could have been replicated across the Island. Food security in our Island must be taken more seriously because we have taken food, its availability, its cheapness, and its quality, for granted for too long.
This is why 'farming matters' in our Island.
I would now like to outline the main part of my paper which will summarise the reality of farming in our Island at the present time, the challenges that we face, together with the initiatives that we are developing. I then want to explain how our relationship has evolved with Government and the values that we share, before describing how this relationship can develop to meet the sustainable needs of a viable farming industry for the future.
The reason that our farming industry is currently facing such an existential threat is primarily due to factors beyond our control: the legacy of the Covid pandemic, the implications of Brexit, the massive impact of Russia's invasion of Ukraine, and the dramatic consequences of the recent exceptional drought conditions. The key factor to understand is that their ultimate effect is yet to fully materialise. If this is not enough to create 'the perfect storm', recent UK Government policy has accelerated a sharp rise in interest rates with the prospect of a forthcoming recession, whilst our own Government has implemented two increases in the minimum wage over the last 19 months amounting to a 26% rise, with a further undefined increase in 12 months' time.
This table starkly compares the Island's minimum wage increases with those in the UK, as well as identifying the difference in the proportion of the wage cost to Growers compared to Dairy Farmers. I should at this juncture, explain that Peter Le Maistre and I attended a very frank and constructive meeting recently with Treasury Minister, Ian Gorst, along with our Minister Kirsten and senior civil servants, to highlight just what a serious issue these increases mean to the profitability of our farming businesses, and especially to the confidence of Growers of Jersey Royals. I came away encouraged that the message was well understood.
Using operating cost data for the twelve months ending 31st August, for the Dairy and Jersey Royal sectors, the following levels of cost inflation have been incurred for 2022 and are predicted to be incurred for 2023. These show similar levels of increase for each sector but with a significant increase predicted for 2023, reflecting the latest 14% increase in the minimum wage, a 51% increase in fertiliser prices, a 40% increase in imported animal feeds, and most particularly, a full twelve-month effect of the dramatic increase in costs which began in May this year, as a consequence of the invasion of Ukraine. Knowing what is likely for next season is the key reason why confidence in our Industry is at a precarious level, which inevitably leads to the questioning of the future viability of long established businesses.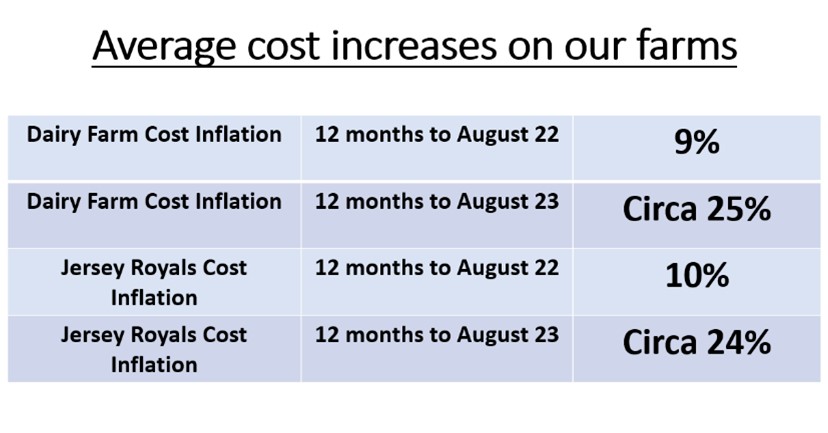 And yet, during the last twelve months, significant advances have been made across our farmed countryside. Triggered by a modest reduction in the area of Jersey Royals grown, land has become available for a wide variety of crops to be grown. Land swopping arrangements over the course of three years, rather than six months, are creating a genuine crop rotation thus increasing the supply of quality forage and cereals for our Jersey cows. The opportunity to experiment with new crops such as lupins and sunflowers, an increase in Aberdeen Angus cross bred animals being reared for quality local beef, as well as the introduction of specialist cover crops for the benefit of soil structure.
Over 10 miles of hedgerows have been established in the last 3 years, and our Farm Biodiversity Action Plans, within the compliance for LEAF Marque, have significantly increased the range of wildlife on our farms, together with our understanding of how they can be enhanced.
Levels of nitrates in the water supply continue to consistently reduce to well below EU levels as a result of many significant husbandry initiatives, led by the Action for Cleaner Water Group, with valuable support from the professional team at Jersey Water.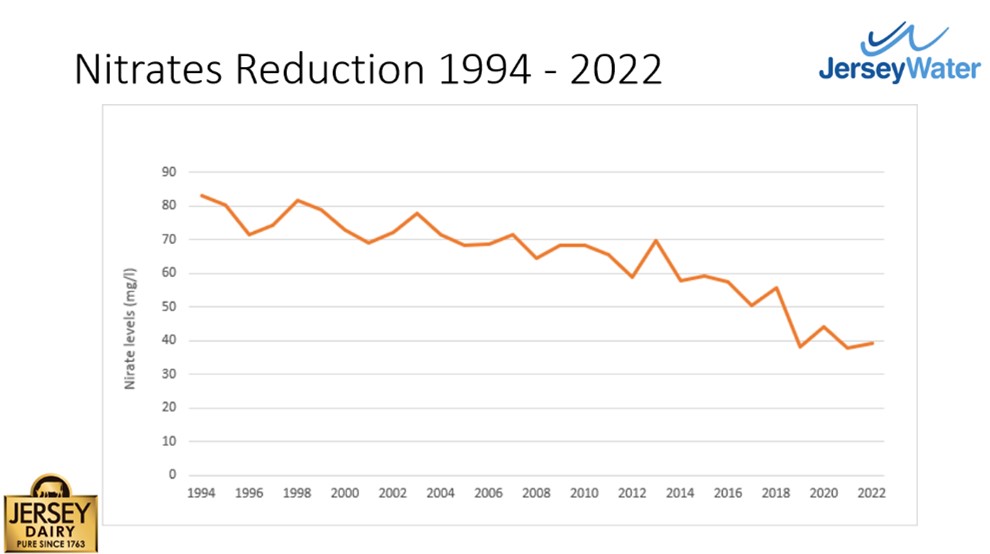 Productivity levels, a favoured metric of Govt, continue to be enhanced: investment in sophisticated equipment has led to a reduced labour requirement in the planting and harvesting of Jersey Royals, whilst the effect of improved genetics in the Island herd continues to improve milk yield per cow.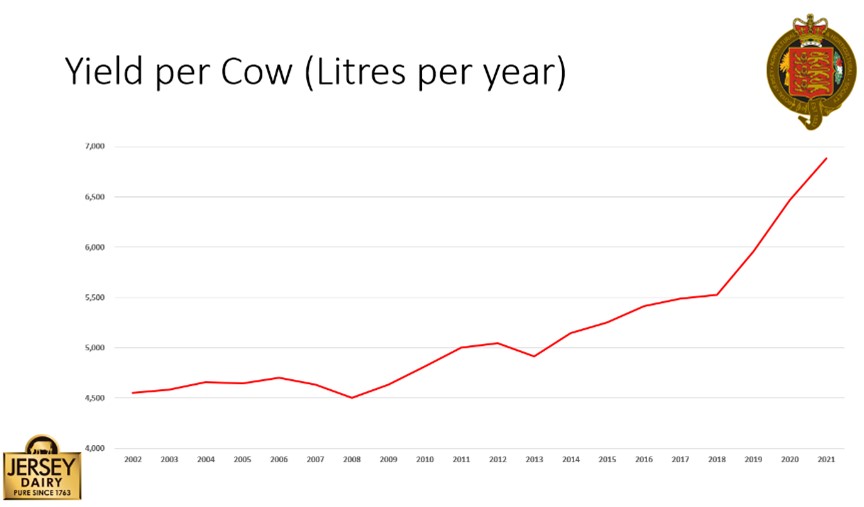 Perhaps the most exciting initiative has been the pan-Industry commitment to engaging Trinity Ag Tech to measure and monitor the carbon footprint on our farms, in response to the Carbon Neutral Roadmap. The real purpose of engaging her company is as much about receiving an accurate and credible assessment of the emissions from our farms and how to reduce them, as it is to be 'on the front foot' in developing the added value benefit within our brands.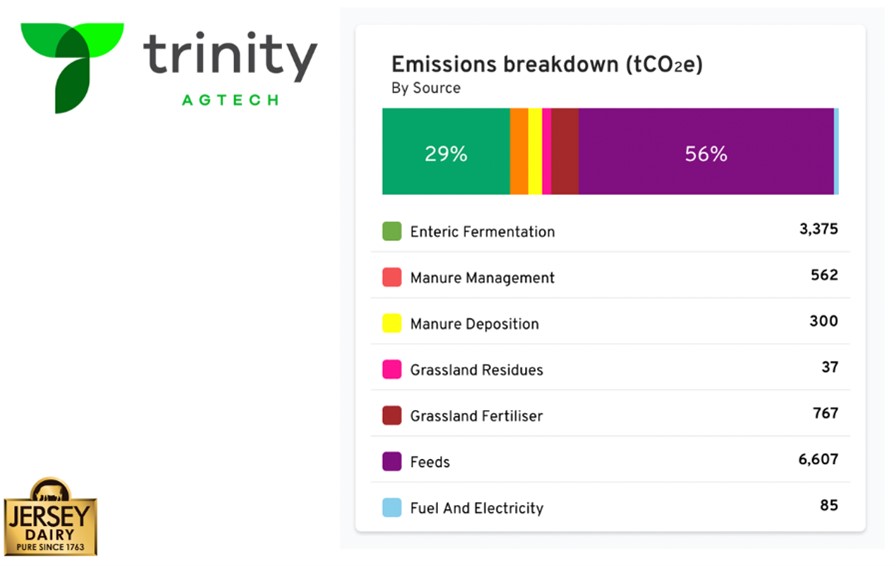 With such a portfolio of demonstrable initiatives, often for the benefit of our wider community, it is, to say the least, incongruous that the future viability of our businesses should be so uncertain.
So, having outlined our challenges as well as our initiatives, I now want to turn to our relationship with Govt and why it is so important, especially at this present time. Whilst some might wish to criticise them for our present ills, let's be very clear, they are ultimately formative to our recovery in many different ways. Let's also recognise that we have a very capable Council of Ministers, who, for want of a better phrase, are not letting the grass grow from underneath their feet!
Whilst networking might be valuable, I fervently maintain that if we are going to have a productive relationship with Govt, a factor that is essential in my mind, then we need to understand what their strategic aims are. Fortunately, we can be guided by some recent succinct and important reports, notably the 100 Day Plan and the Common Strategic Policy 2023 – 2026, which includes in the Annex Jersey's Performance Framework, which was informed by the 'Future Jersey' exercise. If you work in Govt, this is a very familiar reference point, and I am convinced that it is one
that aligns closely with our own strategic aims, perhaps more so than many other sectors of the economy.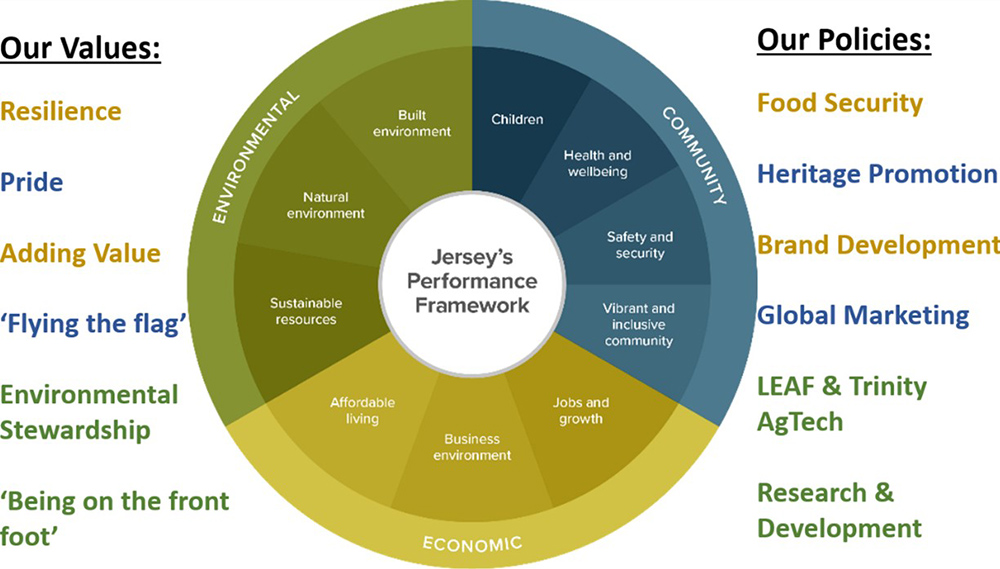 I put this to you today as a potential draft for discussion and development together with more able minds than mine, on the somewhat opinionated condition that you do not ignore it or discard it – this is the key reference point for all future discussions and is one that I know John Vautier used to great effect in his drafting of the Economic Framework for the Rural Environment.
Being of a certain age and having taken part in more rural strategy exercises than I can care to remember, in my opinion this is a formative strategic document and a 'magnus opus' for John and Kirsten. This is our agenda clearly articulated with Govt, in just 62 pages of completely home-grown expertise, which is essential to resolving our present challenges.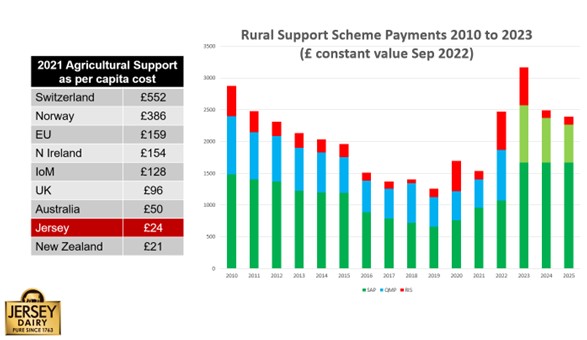 The left-hand table graphically shows the level of agricultural support per capita in different jurisdictions for 2021, with Jersey at a significant disadvantage compared to other countries. It is quite apparent that the reduced levels of funding between 2016 to 2021 have left our Industry in the challenging situation that it faces today. There is huge 'catch up' to achieve and whilst there is significant uplift for next year, it still only equates to a similar level in 2010. Strong lobbying has been made to the Ministers regarding the reduced levels of funding for 2024 onwards, which for a forward-thinking Industry, with low levels of return on capital invested, poses a serious threat to future confidence.
A different style of financial support to members of the Industry, is being launched, which will focus a lot more on the identity of public goods and their value. In my opinion, this will be a landmark achievement giving individual businesses the opportunity to tailor their farming practices in a way that not only meets the needs of the marketplace but also gives credibility to the provision of defined public goods. I genuinely believe that this hybrid system will have the capability of adding further value to our branded products.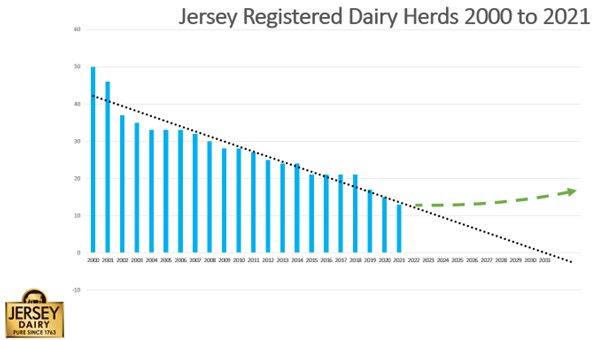 This graph plots the reduction in the number of herds in the Island over the last twenty years and makes the presumption that if the current trend continues then there will be no herds left in ten years' time. It does not show the cattle population, which although it has declined in numbers, has corresponded with a significant increase in yield per cow from 4,500 litres per cow twenty years ago to nearly 7,000 litres per cow today, so that annual milk supply has remained relatively constant in the past 10 years.
What this graph does not portray is the fact that the largest six dairy farmers of the thirteen, supply over 85% of the milk sent to Jersey Dairy, which represents a critical mass for the future. The potential unexpected loss of one or two of the larger herds would have a dramatic effect on the viability of the Dairy and consequently the remaining dairy farmers.
This same issue of reaching a critical mass whereby the actions of a very small proportion of farmers can have a devastating effect on the remainder applies, I would suggest, to all sectors of the Industry and I believe that this is also on the minds of our politicians.
Given that the majority of farms today are family run, for a number of generations, their future has, by definition, depended on family succession plans. However, the conundrum that now exists is that the existing level of profitability is unlikely to be sufficient to attract new entrants to the Industry, as could be expected in other business professions, if a family business ceases trading. Rectifying this clearly requires greater levels of profitability to be achieved, but I contend that it also requires some specific regulation as well.
These four pictures are intended to represent the key elements of an agricultural business in the Island, where the box labelled 'cows' could be replaced by different crops or livestock.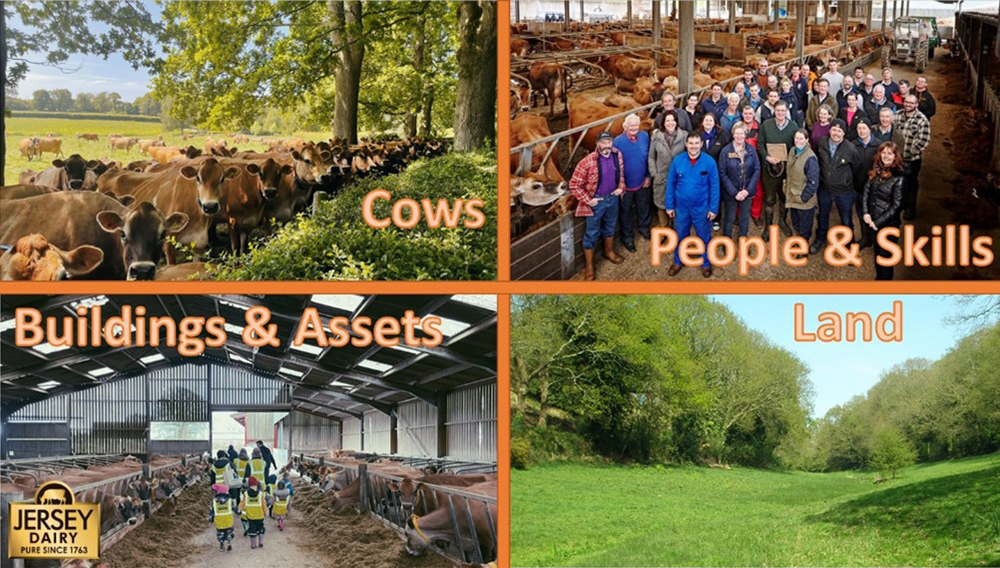 It is fair to state that each of these elements within a viable farm business have been created over a period of time by consistent investment decisions thus creating a capital value. If the critical mass of an agricultural sector is to be maintained, not only must it be profitable, but these elements must not be lost from the Industry because they will be infinitely more expensive to replace elsewhere, even if an alternative site can be found.
I am therefore proposing a set of regulations, which might appear quite draconian, that can be introduced within sectors of the Industry or by Govt to protect their viable assets. The export of cows, or crops, needs to be regulated in order to maintain market demand; modern farm buildings should only be granted alternative use within a public regulatory process, similar to the planning application process; strategic land, such as those fields close to a dairy farm, must be licensed for specific agricultural use only; licenses for agricultural employees must be maintained for sector specific requirements, providing suitable accommodation is provided. Draconian as they might appear, it is important to recognise the implications if each of these proposals were not applied.
It is nearly 70 years since the States agreed the Agricultural Marketing Law as a means of regulating the marketing of agricultural produce in the Island in an organised manner, through the setting up of marketing boards. The 1950's was a time when the formation of agricultural co-operative organisations in the UK was recognised as an effective means of not only regulating the production and supply of home-grown food to the populace but delivering it through collaborative organisations whose purpose was to reward each member in an equitable manner. The Jersey Milk Marketing Board was subsequently formed in 1954 because virtually all one thousand dairy farmers of the day voted for its creation.
It's been a bumpy ride at times, but the Scheme has acted as the foundation behind the organised marketing of a unique, nutritious, and highly perishable product derived from our Jersey Cow in her Island Home, and as such the Board has had a highly symbiotic relationship with the progress and destiny of the Island herd.
In my opinion, the time is now right to explore the creation of new compacts or covenants between like minded farmers and Govt, not in as prescriptive a manner as perhaps the Milk Marketing Scheme, but in a way that gives Govt the confidence to articulate with and sustain groups of responsible and unified farmers who meet Govt's aims and strategies. The crux of this principle is that we need and deserve significantly more funding from Government in the future, but I put it to you, Govt needs the confidence that its public investment will deliver a consistent and perpetual flow of quality food in a united manner. This is the underlying principle of 'Quid Pro Quo' which has always been fundamental to the negotiations that the JMMB has had with Government over many years.
But why now? Firstly, because there is a huge amount at stake for the future of the Agricultural Industry as we know it today. And secondly, that in all my 46 years of farming in this Island, there has never existed the degree of collaboration, respect, and above all trust between farmers, between marketing organisations, and, it must be acknowledged, between politicians as there is today. In our hour of despondency, now is the time to deliberate and organise ourselves for a genuine sustainable future.
Farming Matters – let's keep it that way!!