The RURAL Jersey Landscape and Seascape Awards evening was held on 9 July, as part of the Jersey Summer Exhibition at CCA Galleries International, Hill Street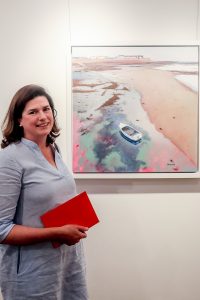 The winning picture in the 2021 –RURAL Jersey Landscape and Seascape Awards was Louise Ramsay's Expanding Peace, La Rocque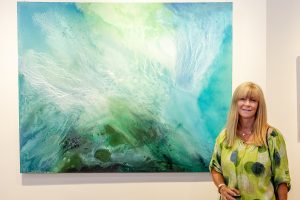 Runner up was Hazel Wynn's Artwork 3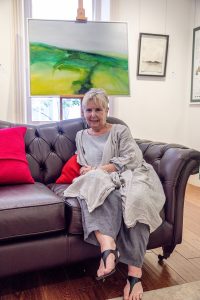 The winner of the third place was Celina Borfiga's, Fields
The competition was sponsored by BCR Law, which sponsored the first prize (£500) to the winning artist and the third prize (£150) to Celina Borfiga. The second prize was sponsored by the National Trust for Jersey, and consisted of a cost-free weekend at its self-catering Le Catel Fort, Grève de Lecq.
The prizes were presented by the managing partner of BCR Law, David Benest, and by the marketing and events manager of the National Trust for Jersey, Donna Le Marrec.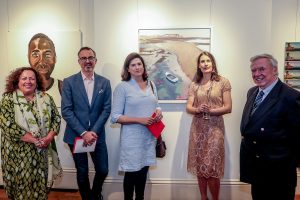 All three artists were at the Awards evening to receive their prizes. The RURAL Jersey Landscape Award is now in its third year. All art works representing traditional Jersey landscapes that have been selected for the Jersey Summer Exhibition are automatically entered.
RURAL magazine's owner and editor, Alasdair Crosby, thanked the sponsors and also the artists who had contributed their works to the Exhibition. Quoting from his speech: 'An exhibition like this reminds us of the corners of the Island that are still "rural", and so it is titled "a celebration" of rural Jersey.' But it could equally be titled a "recessional": a reminder of what Jersey has been in the past, the areas of the Island and its coastline that define Jersey's as a place; a necessary remembrance of the Island's essential characteristics, its history and traditional character as a place and as a community.
'The artists have provided us with reflections of the true character and soul of Jersey; to quote from Kipling's famous Recessional poem: "Lest we forget, lest we forget."'
They are pictured here with the winner Louise Ramsay, in front of her wnning painting.