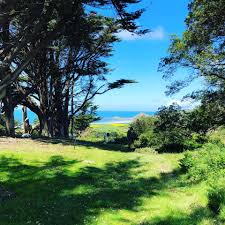 Lay down your blanket, unpack your basket, and lose yourself in the magnificence of the Jersey National Park paired with a feast of authentic local produce…
The Jersey National Park is setting the stage for a dining experience like no other this summer… It's the return of Picnic in the Park, an initiative that promises to redefine outdoor dining throughout August.
Tourists and locals are invited to embark on a gastronomical adventure. Whether reconnecting with family and friends or bonding with colleagues, there's no better setting than the radiant outdoors.

Participants are encouraged to unleash their culinary creativity and craft their own picnic menu, sourcing Genuine Jersey ingredients, or by selecting their favourite pre-prepared picnic using one of the Picnic in the Park partners; The Atlantic Hotel & Ocean Restaurant, Flour Patisserie, The Jersey Grazing Company, Stinky Bay Brewing Co, SCOOP, Clarity AF Wines, Kismet and Love Cake.
In addition, Jersey local personalities will be sharing their favourite picnics, providing a wide range of options and additional inspiration. These individuals will offer their unique perspectives on ideal picnic locations, creative themed picnics, and valuable tips for making the most of the Jersey National Park.
Once picnickers have made their selection, the adventure truly begins… They find their perfect spot within the Jersey National Park, unfurl their blankets, and reveal their culinary treasures, all while basking in the Park's awe-inspiring beauty.
The perfect picnic is just a click away. All the options are now available to view online, and will be available to order from Thursday 27th July.
JerseyNationalPark.com/PicnicInThePark
Marcus Calvani, Co-CEO of the Jersey Hospitality Association, said: "Picnic in the Park is about uniting two of Jersey's greatest assets: our extraordinary culinary culture and our stunning natural landscapes."
He continued: "As you lay down your picnic blanket amidst the breath-taking scenery, you'll be feasting on a menu that truly encapsulates the flavours and spirit of Jersey. It's a celebration of the Island, of our culinary talent, and most importantly, our community."
Jim Hopley, MBE, Chairman of the Jersey National Park, added: 'Now in its fourth year, Picnic in the Park continues to grow and innovate. This year we have put more emphasis on DIY picnics, ranging from simple offerings to deluxe spreads.'
Mr. Hopley concluded: 'Our goal is to see everyone picnicking, either with fresh Jersey produce they've prepared themselves, or sourced from our wonderful local hospitality suppliers.'
To pick-up-a-picnic and reimagine dining this summer, head over to the Jersey National Park website: JerseyNationalPark.com/PicnicInThePark
To kickstart this year's campaign, The Jersey National Park is hosting a series of competitions on their social media platforms and are offering lucky participants the chance to win a free picnic. To learn how to enter, head over to their Facebook or Instagram page.
Everyone is invited to share their favourite picnic spots and moments by posting their photos on Facebook or Instagram and tagging @jerseynationalpark #picnicinthepark #jerseynationalpark. Picnickers are also reminded to follow the Jersey Countryside Code:
Jersey National Park comprises:

• An active network of conservation, land-use and community groups
• Over eight square miles of protected habitat including woodland, wetland, grassland, dune, bracken and marine
• Four offshore reefs and four maritime headlands
• 30 miles of coastline, including 16 miles of undulating cliff paths
• 23 ecological sites and 18 geological sites of special scientific interest
• Over half of Jersey's WW2 historical sites as well as one of the last Neanderthal sites in North-Western Europe.