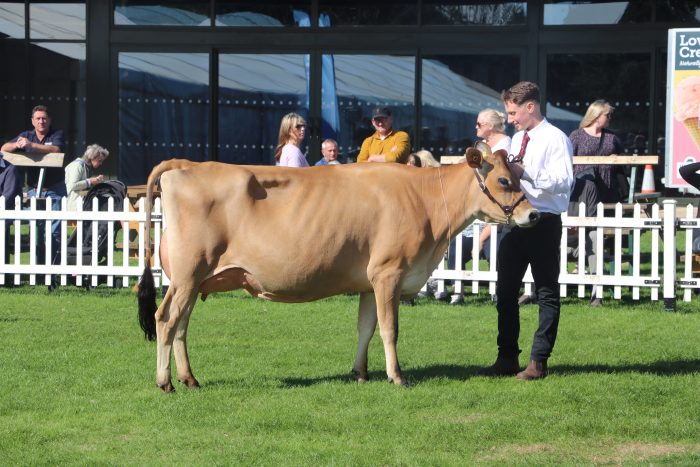 Words and pictures by Suzanne Le Feuvre
The Autumn Cattle Show of the Royal Jersey Agricultural and Horticultural Society took place in warm sunshine on 30 September and 1 October.
Shown above is the Grand or Supreme Champion was John Le Feuvre's Heifer-in-Milk, 'Elite Colton Sunflower' (sire Chilli Action Colton ET). Here she is led by Callum Blair.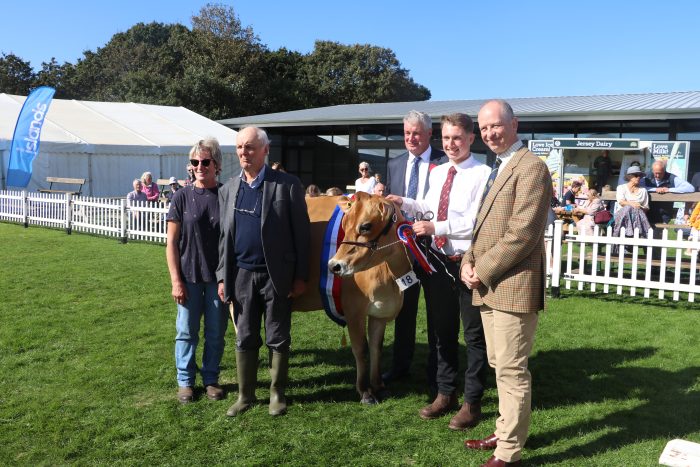 Above: Sarah and John Le Feuvre with 'Sunflower' and the judge, Warren Ferguson, from Ferdon Genetics in New Zealand, then Callum Blair and the Lieutenant Governor, Vice Admiral Jerry Kyd, who presented the rosettes.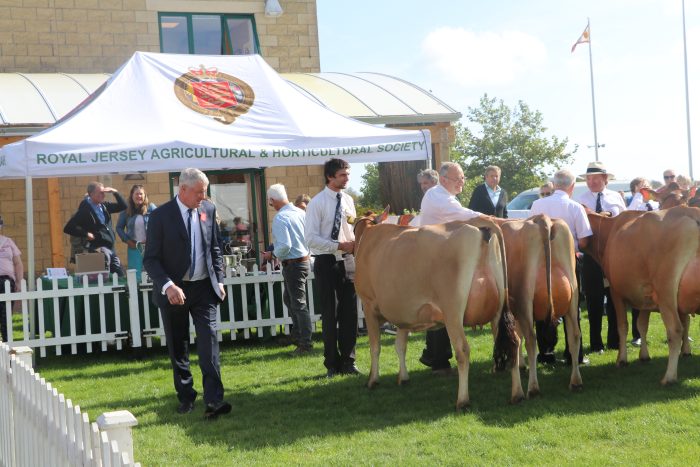 Above: Warren Ferguson judging the first class of the show, the Heifers-in-Milk. John James Le Feuvre is leading the future Supreme Champion 'Sunflower'.
Above: Rob Perchard, RJA president, shows La Ferme Ltd's entry 'Ansom Barnabas High Aim' (sire Jars of Clay Barnabas) in the Young Cow class, she was in 4th place: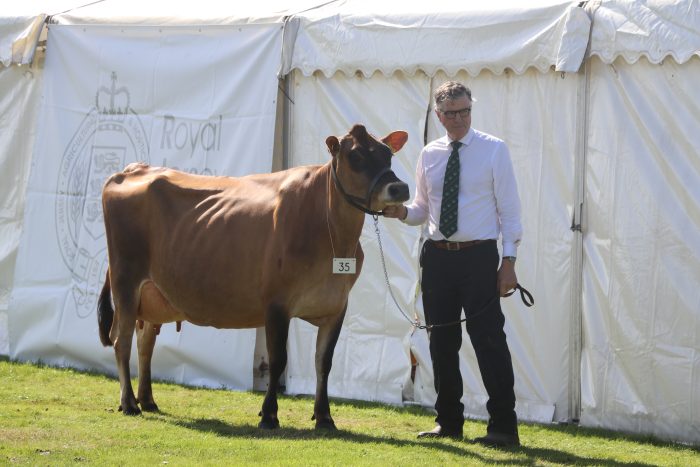 Above: Andrew Le Gallais leading his entry in the Young Cow class, 'Roseland Garant Florentia' (sire VJ Garant DJHB), she was in 7th place in the end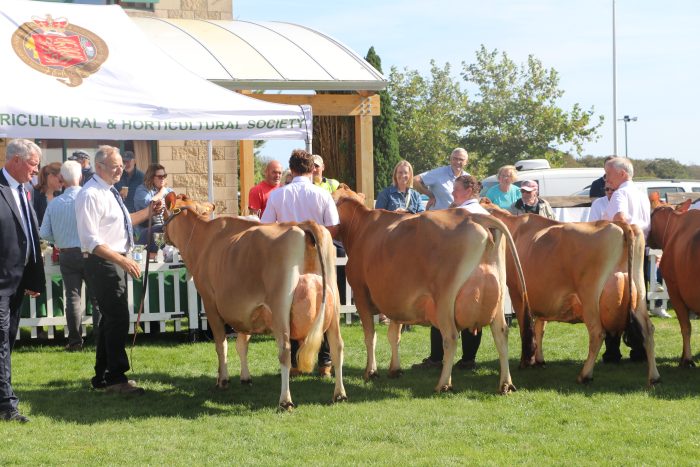 Above: Young Cow class final line-up, Paul Houze in first place leading Becky Houze's cow Gene Countess Chrome Iona' (sire River Valley Cece Chrome ET). 'Iona' was also reserve Supreme Champion:
The other young cows in the line-up here are Tom Perchard with La Ferme Ltd's Ansom Valentino Rose, and then Emma Hefford leading Paul Houze's 'Prides Chrome Special'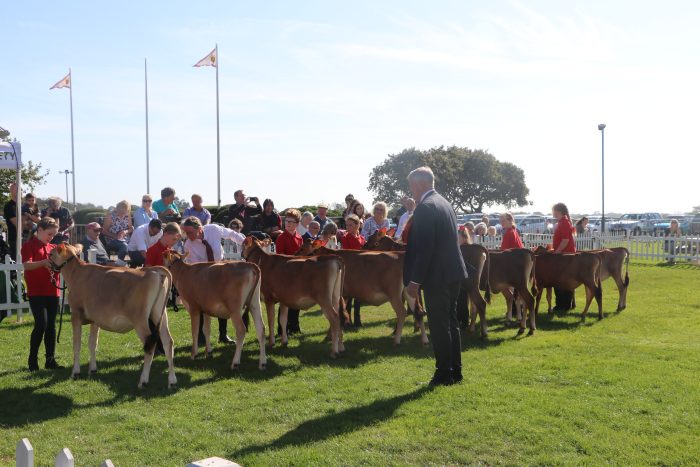 Above: The baby heifers class… the first being judged on Sunday morning, all junior members leading their heifers, except for Vicky Huelin.
1st place is Ellie Morrison with 'Cottage Bontino 37 Noblesse' (sire Cairnbrae Bontino)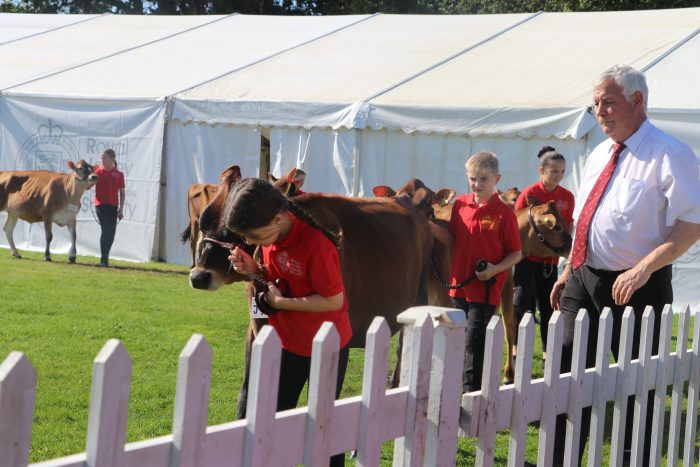 Above: The 6-12 Month Old Heifers class.
Izzy Dauny with 'Westlands Casino Flush' and behind her, Jack Perchard, with 'Ansom Askn Bayli Anemone' – the future Heifer Champion and also Junior Member Champion.
These two later shared the Junior Members Exhibitors Points Cup at the end of the show – this is the Carol Ann De Gruchy Memorial Trophy, presented on Sunday by Enid De Gruchy on behalf of her and her late husband Winter who gave the trophy in memory of their daughter: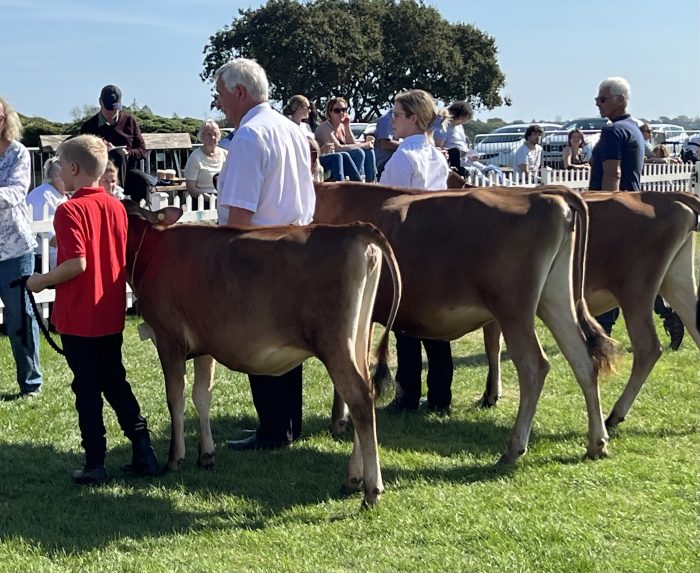 Above: The Heifer Championship from Sunday. Winner is Jack Perchard with 'Ansom Askn Bayli Anemone' (sire Brookbora Valentino Askn AJBS) : she won the 6-12 Months Old Heifer class earlier
In reserve was the earlier winner of the 12-18 Months Old Heifer class, Phil Le Maistre's 'Westlands Major Goldeye' (sire Avonteur S Victorious Major): led here by Steve Le Feuvre.