30 September and 1 October
RJA&HS Autumn Fair – at the Royal Jersey Showground, Trinity.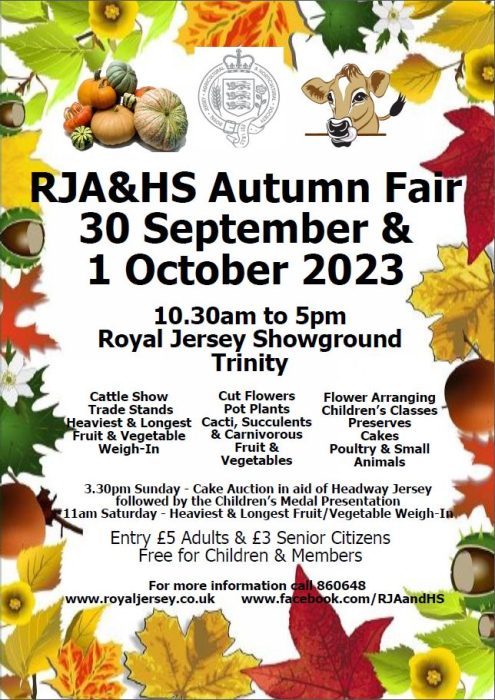 The Show will be open to the public from 10.30am to 5pm both days and is free for members and children 16 years & under with an entry fee of £5 for adults and £3 for seniors 60 years & over. Free parking and dogs welcome.
The Fair will feature:
Cattle Show – Saturday In Milk classes and Sunday Heifer classes commencing 11am both days. Warren Ferguson from New Zealand who will be judging this year's Autumn Show.
Horticultural Fruit, Flower & Vegetable Show – over 500 classes to enter including Pot Plants, Cacti, Succulents & Carnivorous, Cut Flowers, Fruit, Vegetables, Preserves, Flower Arranging and Cakes plus lots of classes for the children.
There is also the Heaviest & Longest Fruit & Vegetable competition with the weigh-in at 11am on Saturday 30 September,
The Cake Auction will be held at 3.30pm on Sunday 1 October and is in aid of Headway Jersey followed by the Children's Prize Giving of trophies and medals at approximately 4.15pm.
Jersey Poultry & Ornithological Society Show – As long as there are no further bird flu outbreaks, the Show will be allowed to have caged birds, pigeons, poultry as well as rabbits and cavies and will be held in the Members Room.