Using the very latest in digital thought transcription technology, Jester Crosby, a cocker spaniel, wonders why, in early autumn walks, his owner seems also to have become quite so interested in hedgerows….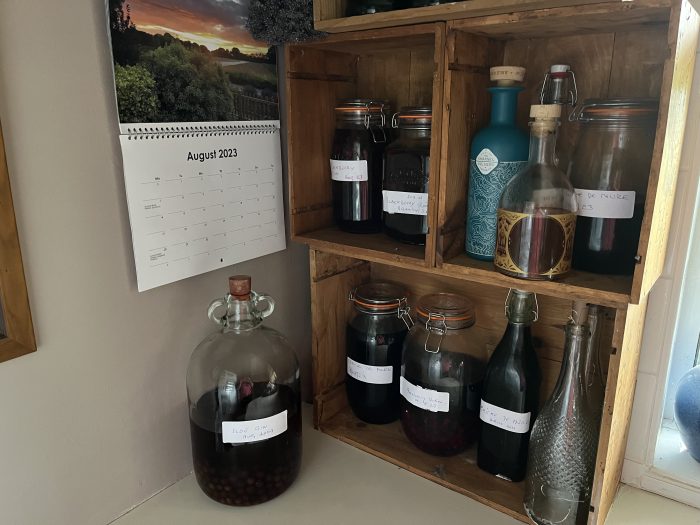 Nobody likes a sniff around in a field hedgerow more than I, but I am beginning to wonder why my owner also becomes quite so keen on this activity at this time of year.
Walks at the moment start off OK, just like our normal daily routine. We have a ride in the car to somewhere on the north coast (my owner has told me not to say where exactly. I wonder why?) The walk begins as usual, and we walk along a footpath. I have a pee or three and I catch up on reading (with my nose) the Jersey Canine Post along the route. Everything is as the familiar jolly routine – and then suddenly, He stops. He has a container in his hand and keeps on picking things from the bushes along the side of the path.
Why is there this impediment to the progress of the walk? I recognise the container – sometimes when we have a family picnic the same container is used to carry my own food, so, to begin with, I am quite hopeful that he will hand down something for me. No such luck. He's putting things into the container and taking nothing out; one or two items drop accidentally on to the ground… of course, I rush to taste them, but they are quite inedible – and for me to say that, I am sure you will understand quite how awful they do taste. No meat in them at all, just all this unhealthy fruity stuff.
I wait for him to move on, but progress is really slow. In the end, I move away a bit, since this lack of activity is pretty boring, to see whether I can find a rabbit…. Ah – perhaps that is what he is doing? It's all clear, now. He must be looking for rabbits. I'd like to see him try to chase one though – that would be really funny to watch.
But it's nice of him to want to imitate me – rather sweet, really. Sometimes I think he is almost canine.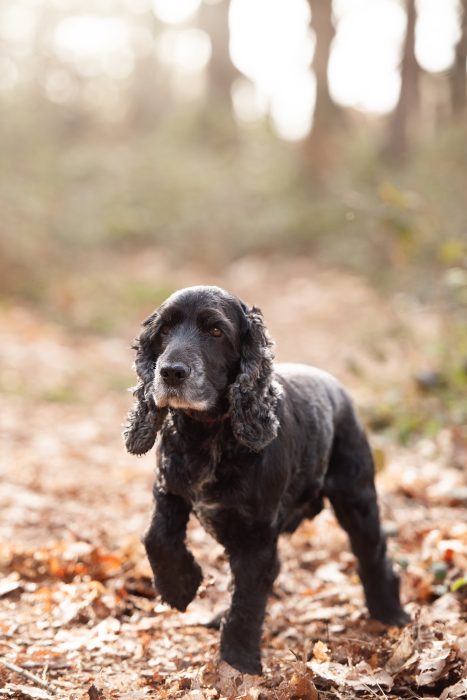 Jester's owner, Alasdair Crosby, picks up the tale (or tail).
As I drew near the blackberry bushes, another blackberry picker, walking towards me, seeing the square, empty soft scoop ice cream container in my hand, said: 'You should have brought a wheel barrow. The bushes are full of them.'
She was right. Lots and lots and lots of big, juicy blackberries. The 2023 season is a vintage year for them – just as it is for sloes. The people at La Mare Vineyards are also having a good year and expecting a fine harvest.
I fill up my ice cream container in no time at all. My hands are very Lady Macbeth-like – but who cares? On my way back to the car I pass some other walkers who realise what I have been doing. I show them my haul.
'What are you going to do with them?' they ask in friendly curiosity. 'Blackberry crumble? Blackberry cake?'
'Certainly not,' I answer, 'forget about crumble and cake. This is going to be Blackberry Vodka.'
They seem surprised – but interested.
There are a wide range of useful things to do with blackberries and sloes. And just in case this activity might draw the attention of the police, they might care to note that I am not making hooch at home – the base spirit is bought from the shops. But the fruit marinades in it for about three months, and then – in time for Christmas – there is a whole range of delightful drinks to enjoy.
The blackberries that I have been collecting this past week will be transmuted – an apotheosis, not just into Blackberry Vodka, but Blackberry Brandy, Blackberry Whisky, Blackberry Rum and Crème de Mûre – that constituent of a Kir: a shot of it can be poured into the bottom of a glass and then topped up with a sparkling wine.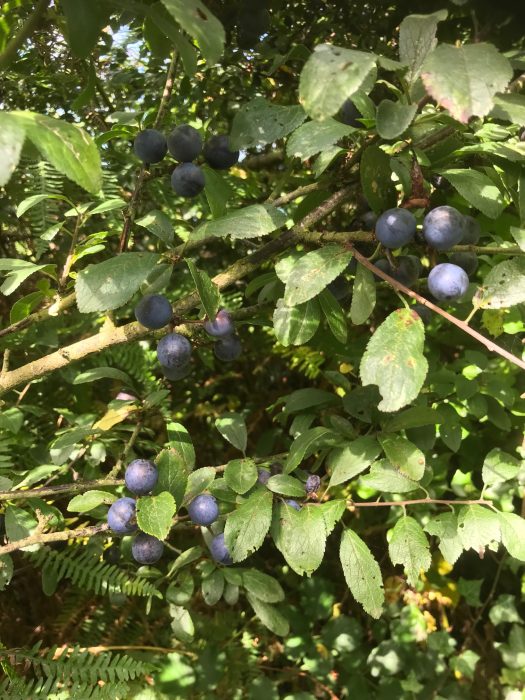 Sloes, of course, are famous as the base of Sloe Gin, but Sloe Calvados is a good drink as well. Then there is the Basque liqueur, Patxaran, made with Anisette. I have rarely seen the bushes quite so full of sloes as I have this year – the little dark blue berries strung out along the bush's branches like notes on a stave of sheet music of a rural symphony. In due course, once you have decanted the liquid off the berries, you can reuse the by now colourless berries by adding red wine, some sugar, and a spot of brandy – and then, after a month or so, guess what? Sloe Port!
The only drawback is pricking each sloe with a needle so as to encourage the juice to be released: 'Sloe, sloe, prick prick sloe', as the saying goes. It is helpful to do this if there is something interesting to listen to on the radio.
I will not give exact recipes for any of these – they can all be found on the Internet (I'm glad it's good for something). Also, I'm not anxious to receive missives from lawyers on the subject of copyright infringement. Basically, for any of these concoctions you need a bottle of spirit and sugar – and a certain amount of will power not to broach the Kilner jars too soon.
In a previous year, when I was also making rhubarb gin and gooseberry gin and crab apple brandy, I seemed to be going down to the local shop every day to buy the cheapest bottle of spirit and a large bag of sugar… goodness knows what the shop assistant thought of me.
Anyway, may I be the first to offer readers a merry and a very festive Christmas – as we will. Also a health and safety warning: once you have had a glass or two, it would not be a great idea to take a walk along a cliff path.
This was first published in the Jersey Evening Post, and is reprinted here with their kind permission.