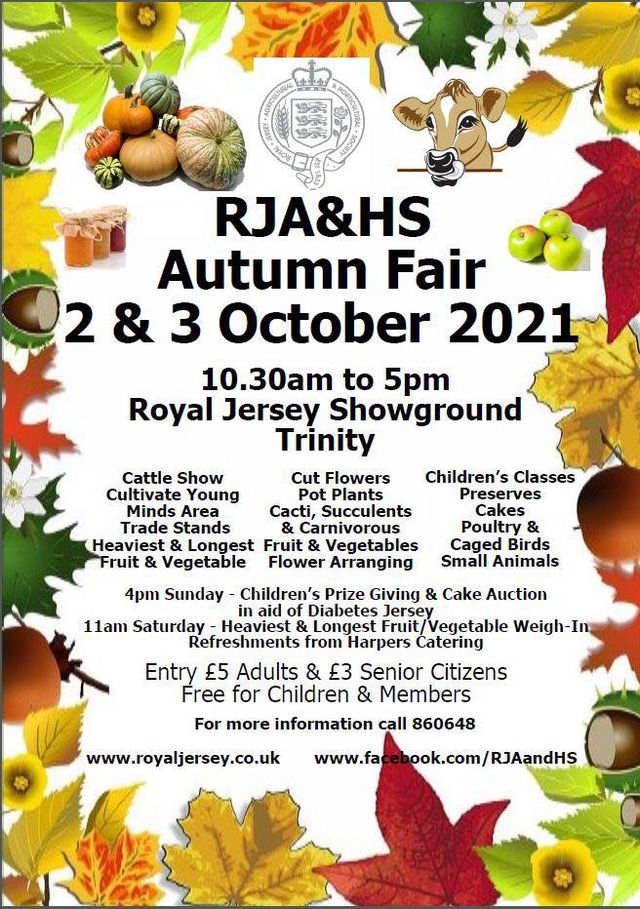 RETURN OF THE AUTUMN FAIR
As a further sign of a gradual return to normality in the Island, we are delighted to report that the RJA&HS Autumn Fair is back, after a gap last year because of Covid.
It will take place at the Royal Jersey Showground in Trinity the weekend of Saturday 2 and Sunday 3 October.
There will be loads of things to enjoy in a beautiful rural setting, and for the first time in two years the Cattle Show is back, with In Milk Classes on Saturday, and the Youngstock Classes on Sunday.
The Jersey Poultry & Ornithological Society will also be there – the Show includes poultry, pigeons, caged birds, rabbits and guinea pigs.
The Horticultural Fruit, Flower & Vegetable Show will showcase over 500 classes including Fruit, Vegetables, Pot Plants, Cacti, Succulents & Carnivorous, Cut Flowers and Floral Arranging, Cakes and Preserves, and classes and opportunities for children and young people to shine.
The weigh-in for the Heaviest & Longest Fruit & Vegetable competition is always fun – make sure you're at the Showground at 11am on Saturday for that!
On Sunday at 4pm there's the Children's Prize Giving and the always popular Cake Auction, this autumn in aid of the charity Diabetes Jersey.
The Royal Jersey Agricultural and Horticultural Society's Cultivate Young Minds will also be at the Show, and there will be a variety of local trade stalls and the Society's shop to browse and enjoy.
Tasty refreshments will be provided all weekend by Harpers Catering.
Doors open to the public at 1030 until 5pm on both days. It's £5 for adults and £3 for seniors, with the free entry for RJA&HS members and children.