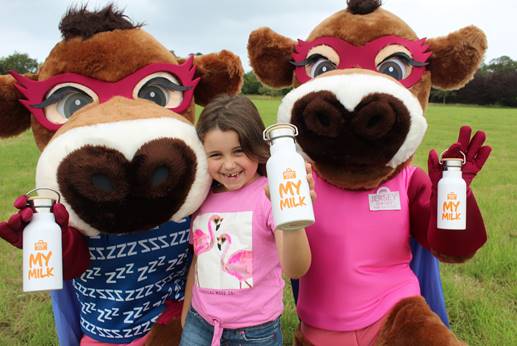 Jersey Dairy has launched 'My Milk' a campaign which is aimed towards local children. They need to collect 25 tokens from Jersey milk cartons in exchange for a keep cool stainless steel My Milk flask. The tokens are found on the side of every Jersey Dairy fresh milk carton.
Eamon Fenlon, Managing Director at Jersey Dairy said: 'The campaign, My Milk, is all about involving the local community and will be a lot of fun for kids. The My Milk flask is a stylish double walled stainless steel bottle. It will keep your Jersey milk cool for 24 hours! Plus, it's 350ml so it fits perfectly in any school lunchbox.'.
To exchange tokens, Jersey Dairy will be hosting fun token exchange afternoons in their field next to the dairy in Trinity. Come and enjoy a Jersey ice cream, meet the CowPow gang, enter the competition and exchange your tokens to receive your cool My Milk flask. You can also download a form and post this in with your tokens to Jersey Dairy. The My Milk form is available at https://jerseydairy.com/my-milk.
Token Exchange Days:
From 1pm-4pm
Thursday 29th July
Thursday 26th August
Eamon continued: 'Jersey milk is natural, nutritious and delicious. It's a brilliant drink to help children get the nutrition they need as it's packed full of calcium, protein and is a good source of several vitamins, which are important for the growth and development of young children. We would love local children to head to our website, https://jerseydairy.com/cowpow and meet the CowPow gang. Learn all about the different milk powers…'brain, muscles, smiling, sleep and hydro power'. Name the gang! And one lucky winner will win a farm trip for them plus 10 friends.'
Links
Jersey Dairy: https://jerseydairy.com