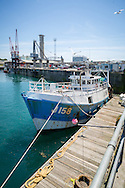 Jersey's External Relations Minister has met, via video link, with EU Fisheries Commissioner, Virginijus Sinkevicius, to discuss the progress being made on the Island's new post-Brexit fishing licensing scheme.
Under the Trade and Cooperation Agreement (TCA), the Government of Jersey is required to issue licences to qualifying EU vessels wanting to operate in Jersey waters and the associated legislation was recently agreed by the States Assembly. The first permits, for French boats which can demonstrate a track record of having fished in the area, are now being issued.
During the discussions, Senator Ian Gorst also set out the administrative difficulties that have been facing Jersey's fishermen landing their catch in France and welcomed the Commissioner's ongoing assistance in this respect.
Senator Gorst said: 'The Commissioner knows that we have a deep and historic relationship with France, and I was glad to convey that Jersey has been able to meet its obligations and issue the first licences to qualifying French vessels.
'We will continue to engage with our French colleagues to ensure that both Jersey and eligible French vessels are able to access the waters and fish them in a managed, responsible way.'
Following the UK's exit from the EU, an interim amnesty arrangement was agreed in January, allowing French fishing boats with a licence under the Granville Bay Agreement to continue to fish in the Island's waters while the TCA licence system was being set-up.
The amnesty period for boats with a Vessel Monitoring System (VMS) ended on 30 April. On the same day Jersey's Environment Minister issued 41 licences to French VMS-fitted vessels. Data relating to 57 boats was submitted in the amnesty period, including 14 applications received by Jersey authorities on the last day of the amnesty. Licensing decisions on those 14 vessels will be made as soon as possible.
EU boats without the VMS tracking technology, but wishing to continue operating in Jersey waters after the end of June, must also have demonstrated a history of fishing in the area. A range of evidence is being considered, including logbooks, previous permits and associated documentation, chart plotters and diaries.
Jersey's Environment Minister, Deputy John Young, added: 'Establishing a system for determining a track record for boats without VMS, generally smaller vessels, has not been straight forward, and we're aware the conversations are continuing between the UK and the EU on this. Hopefully a coordinated way forward can be reached soon so we can arrange the relevant permits for these boats too.
'We want to maintain traditional fishing activity, while clearly at the same time ensuring fish stocks and the marine environment are protected and that fishing in the region is sustainable.'
The Government of Jersey is supporting Jersey fishermen with a series of measures which include financial support, marketing initiatives to promote local produce, and assistance with the logistics and technical requirements of the new trade agreements.