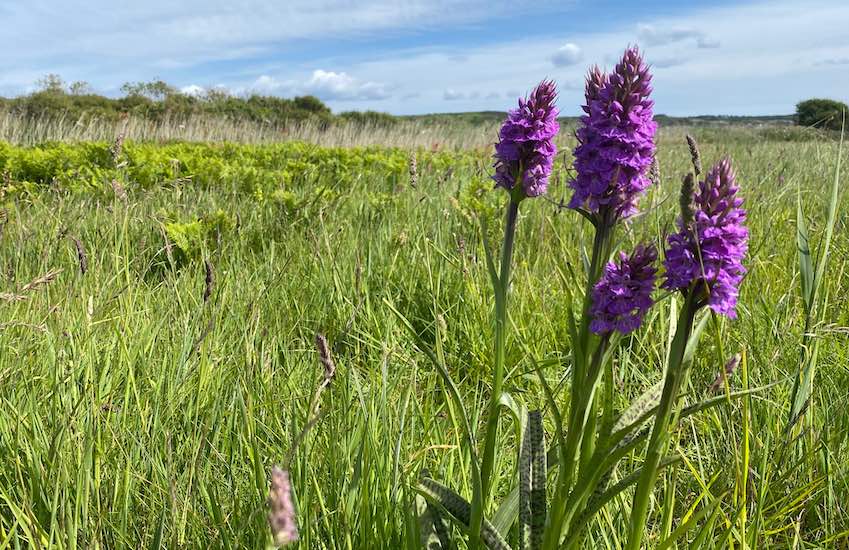 Orchids bloom just once a year so make the most of this summer spectacle with a visit to Jersey's wild orchid hotspots.
There are 10 different species of wild orchid in Jersey, which flower from late spring to summer. Some are bright and bold, while others are soft and subtle. Many of these species are rare but you'll find beautiful displays in local nature reserves where wild orchids are flourishing.
Where can you see wild orchids in Jersey?
Depending on the weather, you can find orchid flowers from May to August. The best sites to see wild orchids are Le Noir Pré and Clos de Seigneur, two adjacent wet marshy meadows in St Ouen's Bay that are managed by the National Trust for Jersey.
Commonly known as the 'Orchid Fields', these sites are a riot of colour from May to June. You'll see three main species of orchid: the Southern Marsh Orchid, the Loose-Flowered Orchid, and the Spotted Orchid. The Pyramidal Orchid and the Marsh Helleborine also grow in the meadows, but flower slightly later in the summer.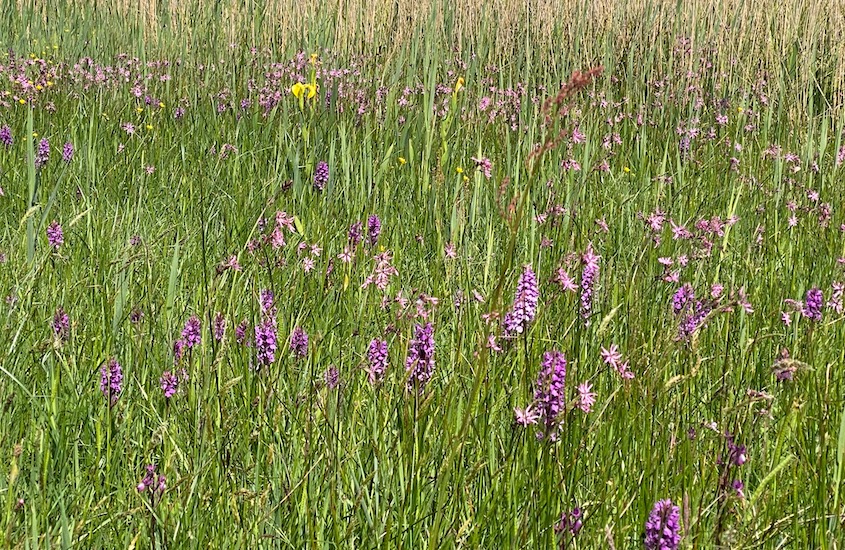 There were 1,500 individual orchids in these sites in 1995 but after consistent management, there are now over 60,000.
The National Trust for Jersey also manages two wet meadows just off Rue de la Blinerie in St Clement where you'll find both Jersey and Southern Marsh Orchids.
Are wild orchids protected?
All wild orchids are protected under the Wildlife (Jersey) Law 2021. This means that it's illegal to deliberately pick or uproot a wild orchid without a licence. So remember never to trample or pick wild orchids.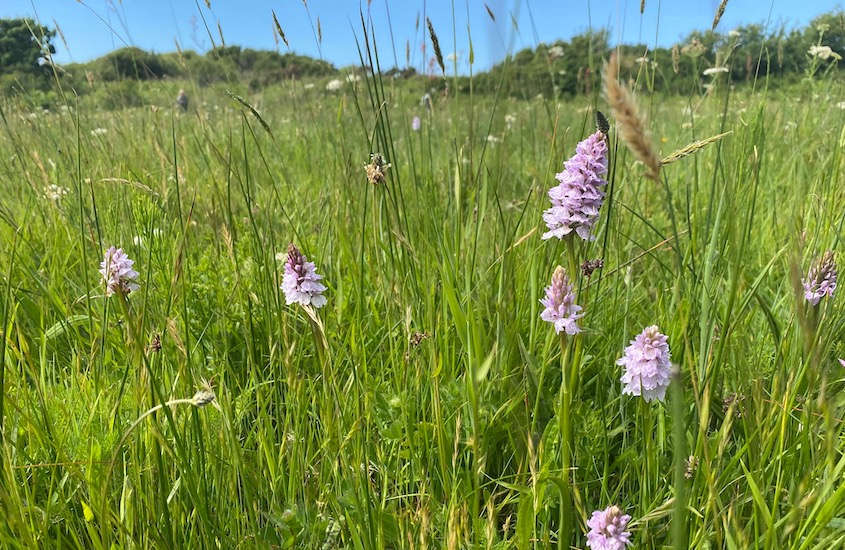 At Le Noir Pré and Clos de Seigneur, there is an easy-to-follow trail around the fields for you to enjoy the orchid blooms without disturbing the wildflowers.
How can I identify wild orchids?
Wild orchids come in an array of shapes, sizes, colours and patterns so are relatively easy to distinguish through their different characteristics. These three species can currently be spotted in the Orchid Fields:
Southern Marsh Orchid (Dactylorhiza praetermissa)
The Southern Marsh Orchid has purpely-pink, tightly packed flowers. The leaves are generally unmarked and the flowers completely cover the upper part of the stem.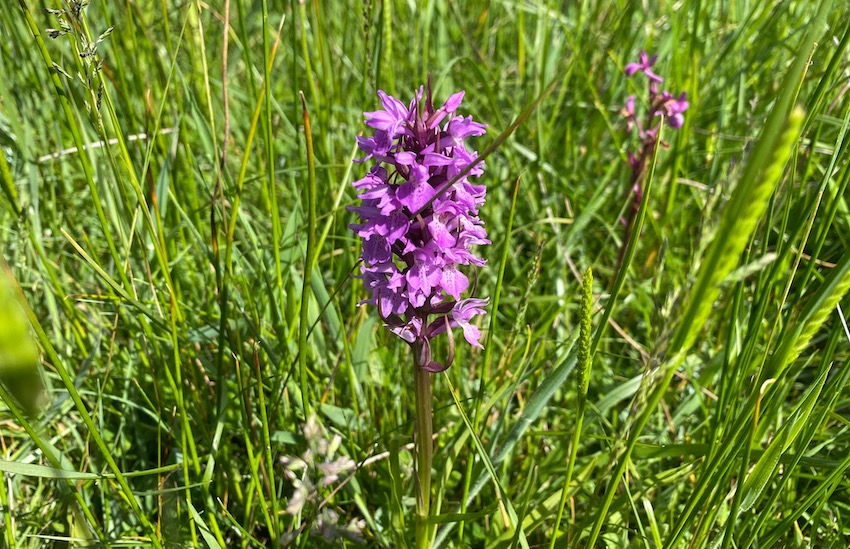 This orchid hybridises with the Common Spotted Orchid, which makes it harder to identify. They grow up to 70cm in height.
(Jersey) Loose-Flowered Orchid (Anacamptis laxiflora)
The Loose-Flowered Orchid, sometimes referred to as the Jersey Orchid, is rare within the British Isles. It has deep purple flowers although white and pink variations are also found in the wild.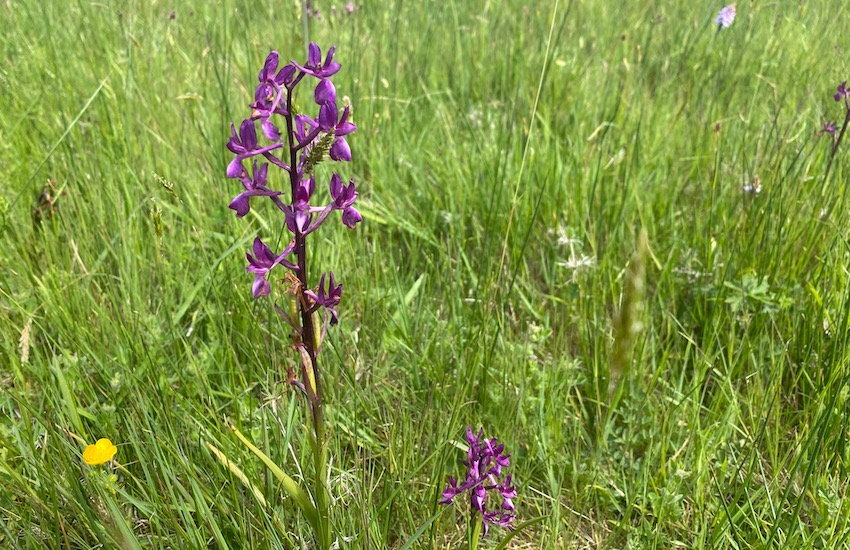 The flowers are much sparser than the Southern Marsh or Spotted Orchids and are spaced out around the stem. They can grow up to 1m in height.
Spotted Orchid (Dactylorhiza spp.)
There are two varieties of Spotted Orchid at Le Noir Pré, the Common Spotted Orchid (Dactylorhiza fuchsii) and the Heath Spotted Orchid (Dactylorhiza maculata). Both have distinctive spotty leaves, pale pink or white flowers, and usually grow in clusters.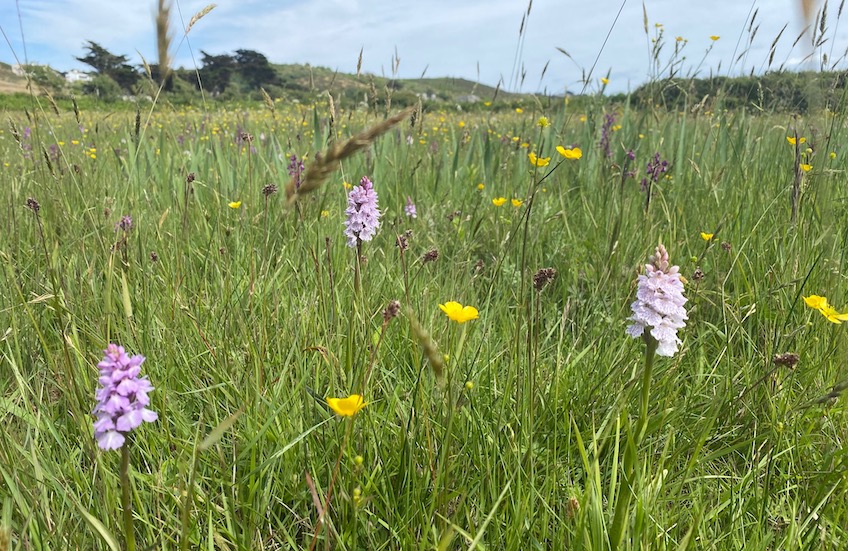 The Common Spotted Orchid can grow up to 60m in height, while the Heath Spotted Orchid is slightly smaller, growing up to 50cm. They can hybridise with each other, as well as with the Southern Marsh Orchid, making identification tricky.
Le Noir Pré and Clos de Seigneur are currently open to visitors. Learn more about the species of wild orchids on the National Trust for Jersey website.