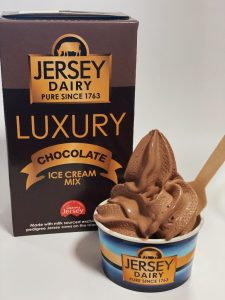 Jersey Dairy has announced the launch of its new Chocolate Soft Serve Ice Cream product which it hopes will be an industry game changer.
The Jersey Dairy Luxury Chocolate Ice Cream Mix is the first of its kind in the Channel Islands and the UK. The premium mix is a result of a unique collaboration between Jersey Dairy and chocolate ingredient supplier Henley Bridge.
Jersey Dairy and Henley Bridge developed the recipe using Jersey Dairy's Luxury Vanilla Soft Serve and a secret blend of Belcolade cocoa mass and deZaan cocoa powder, Jersey milk and Jersey cream.
Steve Carrigan at Henley Bridge explains: 'As the UK's leading independent chocolate supplier, we were in the best position to help Jersey Dairy develop this product, and the results are absolutely stunning.
'The quality and provenance of Jersey cream and milk speaks for itself. With a much higher butterfat content than other milks, the resulting ice cream is smooth, rich and satisfying. With no mixing or measuring required, Jersey Dairy UHT Chocolate Soft Serve could not be easier to use.;
David Ashton, Jersey Dairy UK Sales Manager, added: 'We are delighted to be joining forces with Henley Bridge to launch this exciting new product. Their supreme quality cocoa is a good match for our luxury mix, and adds the right amount of chocolatey richness to create the crème de la crème of chocolate ice creams.'
The popularity of premium soft serve ice cream is on the increase and the industry has been experiencing substantial growth in the UK. Soft serve is an easy-to-use product, extremely versatile and it has proved to be a winner in a wide variety of food service venues. Jersey Dairy's new Luxury Chocolate Soft Mix will open up a whole new world of serving opportunities. As well as being able to offer a single serve of chocolate soft mix, operators with a twin tank machine will also be able to offer vanilla and chocolate swirls.
Jersey Dairy hopes that local ice cream vendors will offer their new chocolate soft serve ice cream to customers in Jersey this summer.
Jersey Dairy Chocolate Soft Serve is available in 1 litre Tetra Pak cartons.