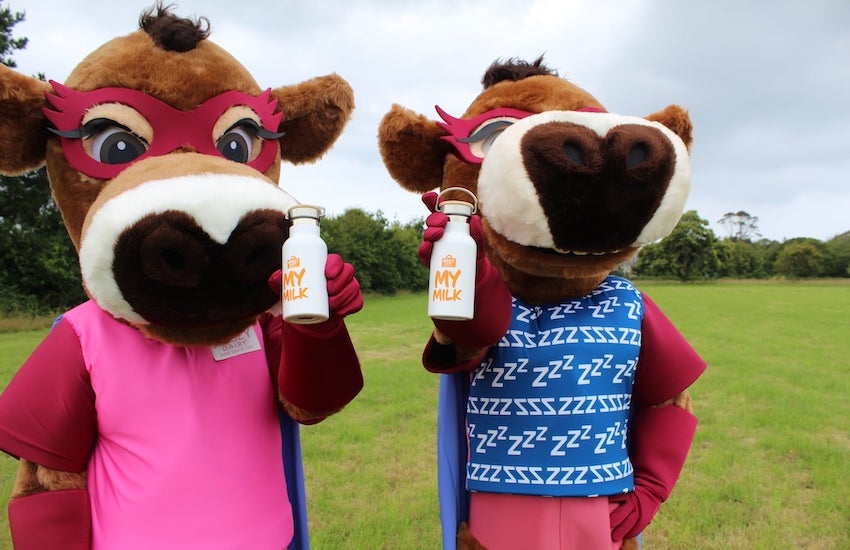 Young Islanders are being invited to collect tokens from Jersey milk cartons to claim a free stainless steel flask as part of Jersey Dairy's 'My Milk' campaign, which is back for the second year running. 
Over the school holidays, Islanders need to collect 25 tokens, found as 'natural – nutritious – delicious' stamps on the side of every Jersey Dairy milk carton.
A token exchange will take place on Thursday 25 August between 12pm and 4pm at Jersey Dairy on La Route de la Trinité, where Islanders can swap their tokens for a flask, enjoy a Jersey ice cream and meet the 'CowPow gang'.
Jersey Dairy Managing Director, Eamon Fenlon, said: 'This campaign is all about involving the local community and we were overwhelmed by the amount of support from last year.
'The My Milk flask is a stylish double-walled stainless steel bottle. It will keep your Jersey milk cool for 24 hours! Plus, it's 350ml so it fits perfectly in any school lunchbox.'
This year, the campaign is supported by the Red Tractor food assurance scheme, which Jersey Dairy says guarantees food is traceable, safe, and farmed with care at every stage of the production process, from cow to carton.
Eamon added: 'Jersey milk is natural, nutritious, and delicious. It's a brilliant drink to help children get the nutrition they need as it's packed full of calcium, protein and is a good source of several vitamins which are important for the growth and development of young children.
'We would love local children to head to our website, https://jerseydairy.com/cowpow and learn all about the CowPow Gang and their super milk powers.'