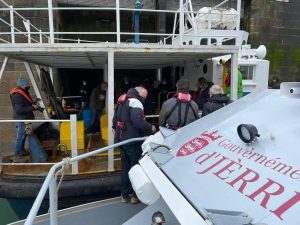 In a statement, the Government of Jersey said that its representatives had met French fishermen and listened to the concerns that led to today's protest.
The 90-minute meeting was between the Assistant Minister for the Environment, Deputy Gregory Guida (a fluent French speaker), Government of Jersey officers, and representatives from the estimated 56 French vessels that had arrived in Jersey this morning.
In order to comply with Jersey's Covid guidelines, the Government representatives used the Norman Le Brocq Fisheries boat, while the French fishermen were on board another vessel.
Jersey's Chief Minister, Senator John Le Fondré said: 'The French fishermen protested peacefully and respectfully, and were able to set out their concerns directly to Government representatives.
'We recognise that there have been challenges in the implementation of the new trade agreement. Speaking directly to the fishermen [as opposed to the existing bureaucratic method of relaying a message from Jersey to Westminster, from there to Brussels, then to Paris and finally to Normandy] has enabled both parties to better understand how those challenges will be addressed, and we are proposing the establishment of a forum which will enable the Government of Jersey to continue to engage with all fishermen in the region openly and constructively.
'I'd like to thank Deputy Guida and all the other parties whose work has enabled the French fishermen to leave Jersey knowing that they had been listened to, and that a step has been taken towards resolving the issues that have arisen during the move to the new trade agreement.'
This upbeat rendition of events is disputed in some quarters, with some of the French fishermen declaring afterwards that nothing had been gained by the talks. However, undeniably the armada has now dispersed and returned to Normandy.
The story will doubtless continue.