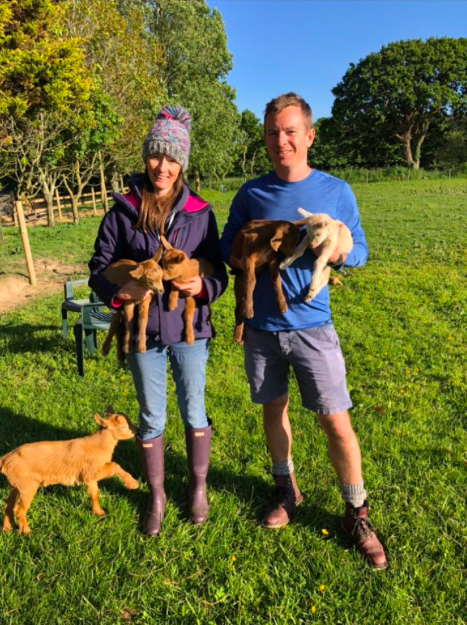 Genuine Jersey members Douet Farm and Jerriaise d'Or have been successful at the 2020 Great Taste Awards, with their goat's milk products recognised as part of the world's largest and most trusted food and drinks event. Douet Farm's goat's milk and cheese both received a one-star rating with Jerriaise d'Or's mature cheese picking up a two-star rating for the second year in a row.
The Island's local produce was recognised out of over 12,777 products sent to the Awards from over 100 different countries. The competition judges not on the size of businesses, packaging or marketing, but purely on the superior taste produce delivers.
Jerriaise d'Or's speciality aged cheese named 'Fluffy Fuhkar' was deemed to be 'above and beyond delicious' with judges remarking: 'A beautifully presented individual ash-coated goats' cheese with a lovely soft and creamy paste. The sweetness was well balanced with the lactic acid notes and salt levels. The aroma was fresh, grassy and goaty.' The cheese is putting Jersey firmly on the culinary map, having also scooped a Super Gold Award at the World Cheese Awards in 2019.
Tim Le Cornu, who owns the Jerriaise d'Or farm with partner Marianne Shaw, said: 'We are delighted that we have been awarded a two-star Great Taste award for the second year running and especially since this is our first award as the new owners. The quality of our product remains our utmost priority and we can't wait to further improve on our cheeses and increasing our production in 2021.'
These were the first awards for Douet Farm's goat's milk and cheese, having both been awarded a Great Taste gold star rating in their first year on sale. Judges found the goat's milk to be a 'very creamy and clean looking milk, with a very subtle meadow aroma. Full of flavour with a rich and indulgent creamy texture.' The farm's fresh cheese was described as 'creamy and versatile' with a distinct 'meadowy' flavour, 'a cheese that would be great in salads, would add a fresh vibrant note and would crumble well.'
Louise Agnès, owner of Douet Farm which has only been producing goat's milk and cheese for a year, said: 'We are delighted to have both of our products recognised in these very prestigious awards, during our first year of production. Our customers love what we're doing, and so do our restaurants, which is a great start!'
The award-winning Fluffy Fuhkar can be purchased from Relish Delicatessen, the La Robeline Cider van at Vinchelez Farm or sampled as part of the Bass and Lobster's gourmet menu. Douet Farm products are available for purchase online at www.douetfarm.com, from all farm shops, independent retailers and the Island's Co-op stores.