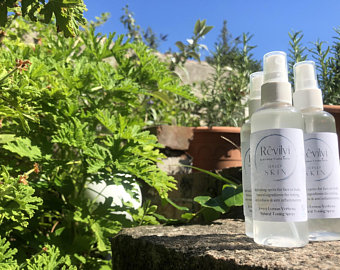 A new range of cosmetics and toiletries using local ingredients has been launched in Jersey.
Jersey Skin, a member of Genuine Jersey, is the brainchild of Benjamin Martin – and it was born thanks to coronavirus. Benjamin's job as theatrical operations manager with Norwegian Cruise Lines was due to start in March. He came to Jersey to drop off his dog and his car, and then lockdown happened.
Faced with being stuck in Jersey with no income, he turned to researching and then making skincare products, which include face creams, body butters, lip balms and shampoo bars. The first six key ingredients were Jersey Apple Pectin, Jersey Seaweed, Jersey Sea Salt, Jersey Lavender, Jersey Lemon Verbena and Jersey Beeswax.
'We are an all-natural and cruelty-free company,' he said. 'We are also totally vegan, except for where we use beeswax, which is sourced Islandwide. Jersey Skin is a family company, based in Grouville where we grow or harvest all our key ingredients.'
He said he gets help from his mother, an Oxford chemistry graduate, and his father, who is a 'green-fingered handyman who grows lavender, lemon verbena and apples'.
Once he had worked out the chemistry, he also had to figure out the branding and packaging and getting his product launched.
'Our ethos is to use sustainable ingredients and minimal packaging and to re-use and reduce plastic as much as possible. We are also ocean friendly as all our ingredients, once used, will naturally dissolve and not harm wildlife,' he said. 'Our product names are all in Jèrriais as we wanted to emphasise that this truly is a product of the Island. For example, our lip balms are called Baîsi which means 'a touch of the lips'.
'There seems to be a groundswell of support from customers who love to buy local. They like that I am using ingredients like local apple pectin and local seaweed, and I am using local names in some ranges, like Bonne Nuit.'
Benjamin (31), who went to St Michael's, Victoria College and Hautlieu, says that, thanks to coronavirus, he has no idea yet whether he will get back to the cruise liners and so his sole focus at the moment is his new business.
'I always thought I'd like to run my own business but it has come sooner than expected. It's worked out well,' he said. 'I found that I really enjoyed the researching of products, and mixing the ingredients to make things work has been quite a process. It's trial and error to get the balance when you are emulsifying and preserving.'
Benjamin has been selling at pop-up shops and craft fairs but he also has his own website, www.jerseyskin.com. Jersey Skin can also be found on Instagram and Facebook.