We have available a small selection of books about the countryside and also about Jersey's heritage, which we recommend as possible Christmas presents. The prices quoted include delivery within Jersey – if a minimum order of £10. Otherwise please add £1 for delivery.
To order: by e-mail: booksales@ruraljersey.co.uk
By Phone: 01534 865334
COUNTRYSIDE AND FARMING
EVERYTHING YOU WANTED TO KNOW ABOUT THE COUNTRYSIDE (but didn't dare ask!)
By Jill Mason
Hardback £30
Reviewed by Alasdair Crosby: I am honestly, truthfully in awe of the range of the author's knowledge about rural Britain. It seems to be encyclopaedic, and the range of contents is vast.
I would not want to kid anyone that I have read the book in detail; my working regime unfortunately does not allow much time for the quiet perusal of encyclopaedias. But the sections that I have read: 'farming, the big picture', cattle farming, country sports, working dogs are all spot on, detailed but well-written, and beautifully illustrated with pictures by her husband, David.
The author's name was previously unknown to me. The cover blurb informs me: 'Jill Mason was one of Britain's first women gamekeepers, a job which she enjoyed for over 30 years. She has lived and worked in the countryside all her life and has written for several country and field sport magazines. She is the author of several books including The Rabbit, The Hare and The Townies' Guide to the Countryside, Rural England, and Away My Lads, Away and The Ennerdale and Eskdale Hunt.
'She lives in Norfolk with her husband David Mason, also a retired gamekeeper.
'David Mason, whose pictures appear throughout her books, is a keen wildlife and countryside photographer whose work has been published in many books, magazines, and newspapers.'
Many, much wiser heads than my own, regularly describe the disconnect that exists between town and country. This encyclopaedia (no other word for it) could do much to bridge that gap.
A really good Christmas present for anyone whose heart is in the country. I hope someone will buy it for me!
THE SECRET LIFE OF COWS
£5
Rosamund Young
Hardback, with a foreword by Alan Bennett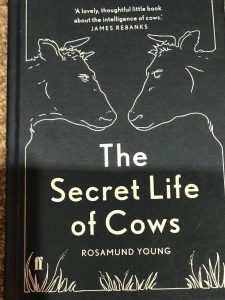 'An extraordinary book about cows and how they live; they have family groups and they certainly have friends. Now I feel that I understand cows and when I see them in the fields, I feel that I can say "Hello!"' – Clare Balding
HOW NOW?
Roger Evans, 'Britain's favourite dairy farmer'
Hardback £14.99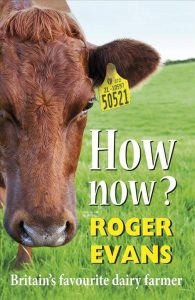 Roger Evans has been an articulate dairy and poultry farmer all his life. From his Shropshire farm, he writes hie diary in a well-informed, realistic and funny way, covering all aspects of his life as a farmer today.
He is widely regarded as one of the best modern spokesmen for the British farmer and has represented them at national level
SIX STEPS BACK TO THE LAND
Why we need small mixed farms and millions more farmers
Colin Tudge
Hardback £10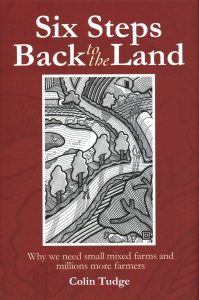 Colin Tudge coined the expression 'Enlightened Agriculture' to describe agriculture that is 'expressly designed to provide everyone, everywhere, with food of the highest standard, nutritionally and gastronomically, without wrecking the rest of the world.' In his book, he explains how we can achieve this, and have truly sustainable , resilient and productive farms.
'Six Steps' will inspire anyone to take an interest in our food chain and make a difference,
MUSHROOMING WITHOUT FEAR
Alexander Schwab
Hardback £20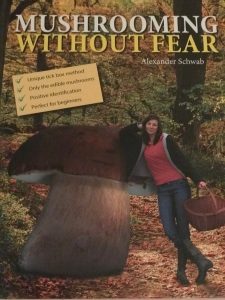 A unique method of positive identification for the most delicious common mushrooms. 'Perfect for beginners'
HEDGEROW MEDICINE
Harvest and make your own herbal recipes
Julie Bruton-Seal and Matthew Seal
Hardback £20
Britain's hedgerows abound with remedies for many of today's health problems. It is medicine for free, and this book will help you to identify it and use it safely.
Hedgerow Medicine offers clear instructions on which plants to harvest, and when, and details over 120 recipes showing how to make thyme into teas, vinegars, oils, creams, pillows, poultices or tinctures. Julie and Matthew explain what aliments can be treated and what benefits can be expected.
HORSES / RIDING
THE TACK ROOM
The story of saddlery and harness in 27 equine disciplines
Pauline Sells
Hardback £30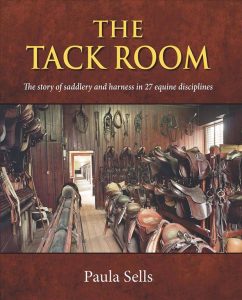 Polo, horse-racing, show jumping. Endurance riding, ploughing, carriage driving. Mining with pit ponies, policing on horseback: all these activities need different tack.
Paula Sells shows how the the tack in 27 different disciplines has become specialised for each one. She describes the tack rooms and their contents, conversations with the owners, meetings with Master Saddlers and the history and current challenges of each discipline.
Tack rooms are treasure houses of traditional and modern, innovative craftsmanship and this lavishly illustrated book showcases the workmanship behind the scenes.
CHANNEL ISLANDS HERITAGE
TITANIC – THE CHANNEL ISLANDS CONNECTIONS
By Alasdair Crosby
Limited edition – hardback
£10
This book brings together for the first time the stories of those Channel Islanders who were on board the RMS Titanic when she sank in the north Atlantic in the early hours of 15 April 1912. There were 29 Channel Islanders on board: 19 of them had a clear connection with Guernsey and ten with Jersey – there were passengers and crew from both islands.
The book is not so much about the rich and famous passengers, whose stories have been told often in books and films, as about ordinary Channel Islanders who's live were suddenly caught up in an unexpected disaster and who touched history as a result.
CHEERS!
Drinks and Drinking in Jersey Through the Ages
By Alasdair Crosby
£9.95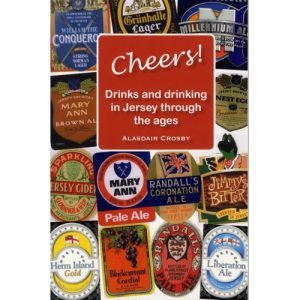 This social history of the production and consumption of alcoholic drinks in Jersey traces the story of drinks and drinking in the Island from prehistoric to modern times.
At its best, the enjoyment of moderate drinking is a welcome temporary remission from the cares and stresses of daily life. From the mead enjoyed by the early inhabitants of the Island, to the cider of later years and the beer, wine and spirits of modern ties, alcohol has always been part of Jersey people's daily life. The history of its production and consumption is an integral part of the history of the Island, which it is the ai of this book to chronicle.
ITALY'S OTHER ISLAND
The Italian Community and the Making of Modern Jersey
By Hamish Marett-Crosby
£10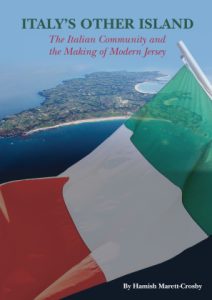 This book is an affectionate look at the Italian influence on Jersey from the start of the large influx in the 1950s to the 1970s when they were seen as the public face of the Island's catering industry. This is observed largely through Italian eyes and theresult is a snapshot, not only of the times, but also of the legacy ;eft to the Island by these young men who came to Jerseyduring this period
IRREGULAR SOLDIER
By Colonel M G M ("Bing") Crosby OBE MC
£5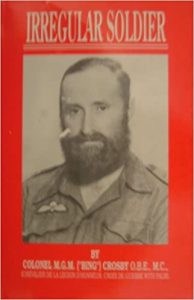 Being born with two gammy legs, Michael ("Bing") Crosby's youthful desire to join the miliary services was not met with much enthusiasm by the various medical boards he encountered. But at the outbreak of warm 'Bing' was able to take advantage of oversights and rushed procedures, and in a story that rivals 'Reach for the Sky', he was able to demonstrate to the Army that courage is not limited by physical disadvantage.
His very irregular army career too him first of all to Norway and afterwards, as a member of SOE, to North Africa, Occupied France and Burma – and after the war, to Korea.
The number of different campaigns and theatres of war in which he fought is enough in itself to make an Irregular Soldier much more than another 'one man's war' story. His unique record is written modestly, with great humour and with a complete absence of any military pomposity.
1781: THE BATTLE OF JERSEY AND THE DEAH OF MAJOR PEIRSON
By Louise Downie and Doug Ford
£5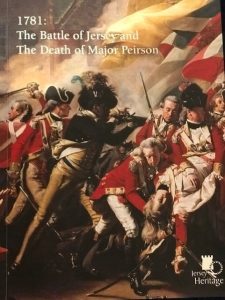 Although the Battle of Jersey lasted just 15 minutes, it has defined Jersey's characters for over two centuries. The book provides an intriguing insight into the events of the day.
TRACES OF WAR ON THE DUNES
German Prisoners of War in Jersey, 1914-1919
By Heather Morton
£12.95
Here is the story of Jersey's little-known WW1 POW Camp and the life and times of those connected with it. There are also spin-off stories linked to the Camp and its location. The Camp opened in March 1915 and finally closed in in October 1919.
This is a book to enjoy, dip into, take on a site visit and share with others, it will be of interest to those who live in the Island, as well as those who come as visitors.