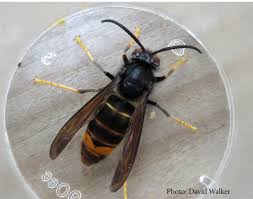 This week is 'Asian Hornet Week' (7 – 11 September), during which the British Beekeepers Association is promoting an awareness campaign encouraging people to look out for and report sightings of Asian hornets.
Beekeepers, here and in the UK, are concerned about Asian hornets, a non-native, invasive species that eats honeybees and other insects beneficial to our native ecology. They can have a diverse and far-reaching impact: by reducing diversity among pollinators, on human health by their stings and destroying fruit and other crops.
Since 2017, the Environment Department has worked in collaboration with the Jersey Asian Hornet Group to successfully control Asian hornets in Jersey. The first hornets were reported in August 2016 and are believed to have flown over from France on an easterly wind.
Alastair Christie, the Asian Hornet co-ordinator, said: 'The volunteer members of the Jersey Asian Hornet Group have done an incredible job of developing methods and successfully implementing them to control Asian hornets by tracking individual hornets back to their nests. Out techniques have been copied by the UK authorities, and more recently, are being used in Belgium.
'I am extremely grateful to the public of Jersey who report Asian hornet sightings. The vast majority of reports are made by the public and not beekeepers or others with a particular Asian hornet interest. The public and their awareness are our key weapons in this battle. Without the reports we cannot act upon them and put our tracking expertise to use to find the nests.'
Asian hornets can be recognised by their darker colour, a yellow orange band across their backside, a bright pale-yellow belt at the waist and the yellow lower half of their legs. They are larger in size than a wasp.
So far this year, 37 nests have been reported or tracked by members of the Jersey Asian Hornet Group. This time last year the count was 54. The wet winter helped to control Asian hornets, but it is through the sustained efforts of volunteers working with Environment which will help to prevent hornets being established in Jersey.
Members of the public are being reminded to be vigilant and report sightings. Anyone who suspects that they have seen an Asian hornet or a nest can report it by emailing asianhornet@gov.je, attaching a photo if possible. You can also call Alastair on 441633, or download the free Asian Hornet Watch App. If anyone suspects an Asian hornet nest, they should never approach or disturb it.
For more information about Asian hornets, how to identify and report them, visit gov.je/Asian hornet.