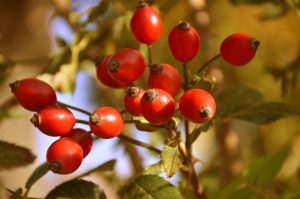 The recipe is from Sally Roberts, who lectures on herbs and plants at Samarès Manor. Her article on herbs will appear in the autumn issue of RURAL magazine, due to be published at the end of September.
500gms fresh rosehips
10 cloves
2 or 3 cinnamon sticks
1 litre of water
250gms sugar
Rinse the rosehips under the tap, then gently crush them a little – place in a saucepan. Add the cloves and the cinnamon and water. Bring to the boil, then turn the heat down to as low as possible and simmer very gently, uncovered, for 20 minutes.
Strain the liquid into another saucepan, then add the sugar. There should be the same amount of sugar to liquid, so if not, add a little more. Stir to dissolve the sugar, bring to the boil, lower heat right down again, and simmer for 10 minutes.
Cool, then filter into warmed and sterilized bottles to store.
The syrup will keep for up to a year, but once opened, store in the fridge.
You can, of course, use other nutritional spices – I have used cardamom and ginger too – and these, along with cloves and cinnamon, are deeply warming and antiseptic too.
Take a couple of teaspoons a day, or you can dilute 1 part syrup to 5 parts water to drink as a cordial.
The syrup on its own is delicious drizzled over pancakes, porridge, ice-cream, rice pudding or natural yoghurt.
The rosehips should be ripe and soft when you collect them – from late August through to November.