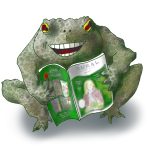 A strategy for teaching and learning Jèrriais has been launched at a reception held by L'Office d'Jèrriais and the Government of Jersey.
Deputy Kirsten Morel , the Assistant Minister with Responsibility for Culture, writing in a foreword to the Strategy document, states: 'For the first time in my lifetime, it feels as though we're making real progress in the development of Jèrriais and whist there is still a long road to travel before we can say that the language's future is secure, there are exciting signs that the goal is actually achievable.
'The 2022-25 strategy builds on the work of the 2017-2019 Jèrriais Plan, which led to significant growth in the number of learners of all ages and the launch of La Fête du Jèrriais and the translation of three children's books, which have been distributed to over 3,000 children.
'We can expect to see a range of initiatives in the coming years that will help to deliver on its five themes and will ensure that Jèrriais remains a living language that is relevant to Islanders in the 21st Century.'
Among these initiatives are an early-years programme in schools and on-line lessons for adults and younger students.
The strategy's vision is that Jèrriais will be continue to be spoken, shared, supported and sustained.
Professor of Linguistics Paul Birt is quoted in the Strategy document: 'There are few languages I know with such a richness of expression, some of her idioms are poetry… Jèrriais belongs to Jersey, and without it, Jersey would, I believe, stop being Jersey.'