The Music in Action charity has announced the return of the Liberation International Music Festival in Jersey in 2023. The festival will take place from 6 – 14 May and will feature a diverse range of world-class musicians from around the globe.
The festival celebrates the liberation of Jersey and the Channel Islands from German occupation during World War II and showcases the Island's rich cultural heritage through music and history. The festival is an opportunity to experience the best of music, culture, and history in stunning venues and outdoor locations across the Island.
The festival line-up includes renowned classical performers from opera singers Chen Reis to Lucy Crowe, jazz musicians such as Julian Joseph with the world premier of his violin concerto called Islands arranged for jazz trio and violin, and ensembles, such as the Jersey Chamber Orchestra with each bringing their unique style and perspective to the festival. Performances will take place at stunning venues such as St. Ouen's Manor, the Jersey Arts Centre, and the historic Rozel Fort, among others.
In addition to the performances, the festival also includes a range of educational and interactive events, including workshops, talks, and musical walks, where participants can learn about the rich cultural heritage and history of Jersey, and engage with the musicians and experts.
'We are delighted to announce the 2023 Liberation International Music Festival and welcome some of the finest musicians to Jersey,' said James Mews, artistic director of the Liberation Festival. 'The festival is a celebration of our Island's unique history and culture, and we are excited to share it with visitors from around the world.'
The 2023 Liberation International Music Festival promises to be a spectacular celebration of music, culture, and history, and a unique opportunity to experience the beauty and warmth of Jersey's people and landscapes.
Advanced booking is recommended for all of the Festival events and tickets can be purchased through the website www.musicjersey.com or from Eventbrite online.
Further information – Musical Walks in Stunning Gardens
The festival's amazing musical experiences include a Musical Walk around two stunning gardens in Jersey – Rozel Fort and St Ouen's Manor on 9th and 14th May 2023.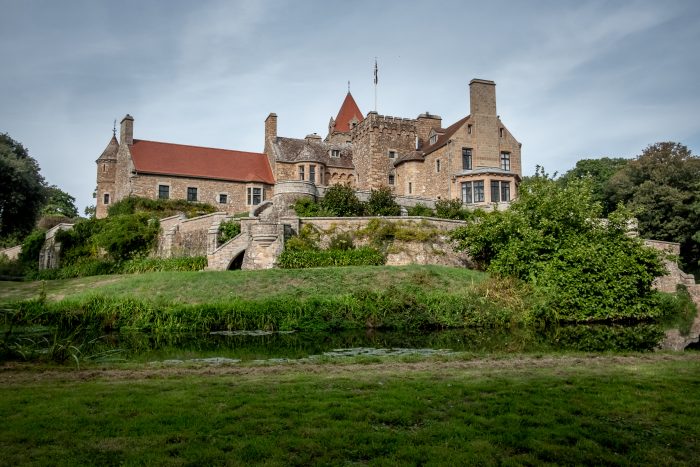 The musical walk around Rozel Fort on 9th May is a wonderful way to experience the beauty of this stunning garden and the history of Jersey while enjoying live music.
The walks take participants on a journey through the stunning landscapes and historical sites surrounding Rozel Fort, a historic fortification with vast grounds. Along the way, live musicians led by violinist Harriet Mackenzie perform a range of music genres, from Bach and Handel to tango music, adding to the overall charm and ambiance of the walk.
The historical aspect of the walks are equally impressive. Participants learn about the fascinating history of Rozel Fort and its significance to the Island's wartime past. Local historian Ian Ronayne and actress Flora MacAngus leading the walk offer engaging commentary and anecdotes that provide a rich context for the music and the surroundings routed in the occupation in the second world war.
On 14 May, walkers guided by the Seigneur of St Ouen's Manor, Charles Malet de Cateret, gather in the Rose Garden and can learn about its history spanning nine centuries while being serenaded by international soloists Harriet Mackenzie (violin) and Eva Hsiesh (marimba). Again, with music spanning the ages by Piazolla, and Bach, this experience will be truly magical and celebrating Jersey's heritage and history, as well the magical flowers and plants in the Manor grounds. Buy a VIP ticket and enjoy a luxurious hamper so that you can picnic in the Rose Garden before the event commences.
Overall, Music in Action's musical walks around during the Liberation International Music Festival are an enchanting and unique experience that combines music, history, and natural beauty. They are highly recommended for anyone who wants to explore Jersey's rich heritage and enjoy a memorable musical journey in stunning surroundings.
Artist Profile Harriet Mackenzie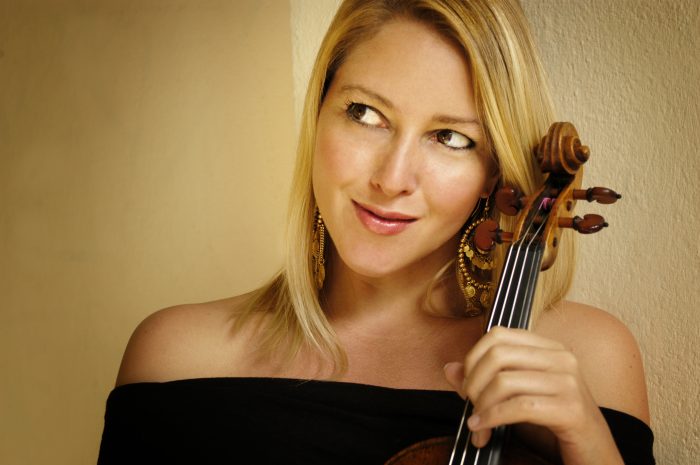 Violinist Harriet Mackenzie is an internationally renowned concerto soloist and has performed across five continents. A highly accomplished musician known for her stunning performances and innovative collaborations across a range of musical genres, her music is characterized by her virtuosic playing, expressive phrasing, and a deep emotional connection to the music she performs.
Mackenzie has performed as a soloist with leading orchestras and ensembles around the world, including the Royal Philharmonic Orchestra, the London Mozart Players, and the English Symphony Orchestra. She has also made several acclaimed recordings, including "Bach to the Future," which features her own arrangements of Bach's solo violin works, and "Carnival," a collection of virtuosic violin works from around the world.
In addition to her solo work, Mackenzie is an avid chamber musician and has collaborated with a diverse range of musicians and composers. She has worked with composers such as BAFTA award winning composer Christopher Gunning, Deborah Pritchard and David Matthews, to bring new and exciting works to audiences.
Mackenzie's playing is known for its versatility, with influences from classical, folk, and world music, as well as contemporary and experimental styles. She has a particular affinity for music from Eastern Europe and the Balkans and has worked with musicians from these regions to explore the rich musical traditions and incorporate them into her performances.
Overall, Harriet Mackenzie's music is a celebration of the beauty, diversity, and emotional power of the violin. With her technical mastery, expressive playing, and collaborative spirit, she is a unique and inspiring voice in the world of classical music.
Who is the promoter, Music in Action?
Music in Action is a Jersey charity that educates and inspires the children of Jersey and provides therapeutic help to the elderly and infirm. It creates opportunities for memorable musical experiences on Jersey, and provides training opportunities for young, aspiring musicians to fulfil their musical ambitions and potential. All profits from the Festival go towards their educational mission.