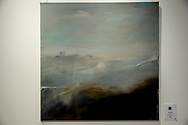 The awards evening was held on Thursday evening 16 July, as part of the Jersey Summer Exhibition at CCA Galleries, Hill Street.
The winning picture in the 2020 –RURAL Jersey Landscape Awards was Celina Borfiga's Rocco Tower.
Runner up was Anna Le Moine Gray's Soir d'Hiver – St Aubin.
The winner of the third place was Robert Allen's Tidal Expanse.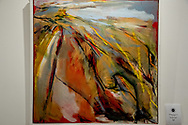 The competition was sponsored by BCR Law, which sponsored the first prize (£600) to the winning artist and the third prize (£150) to Robert Allen. The second prize was sponsored by the National Trust for Jersey, and consisted of a cost-free weekend at its self-catering Le Catel Fort, Grève de Lecq.
The prizes were presented by the managing partner of BCR Law, David Benest, and by the marketing and events manager of the National Trust for Jersey, Donna Le Marrec. The refreshments were sponsored by the Victor Hugo Wine Company.
David Benest and Donna Le Marrec, together with Sasha Gibb of CCA Art Galleries International and Alasdair Crosby of RURAL magazine comprised the judging panel. The event took place on Thursday evening, 16 July.
Unfortunately the winning artist, Celina Borfiga, was not at the awards evening at the CCA Art Galleries there – she has had to self-isolate because of CV 19. Neither was the runner up, Anna Le Moine Gray, who now lives in Brittany and for obvious reasons could not travel to Jersey as she had planned.
The RURAL Jersey Landscape Award is now in its second year. All art works representing traditional Jersey landscapes that have been selected for the Jersey Summer Exhibition are automatically entered.
RURAL magazine's editor, Alasdair Crosby, thanking the sponsors and also the artists who had contributed their works to the Exhibition, said: 'It is often maintained that the location of the "soul" of any community, great or small, is in its traditional, typical countryside.
'The soul of Jersey – meaning its essential characteristics and character as a place and as a community – seems more likely to be found in its countryside, its coastline, its old farmhouses and secret valleys, than in, for example, the International Finance Centre or its incessant building development.
'One mustn't go overboard on this theme: a Jersey farmer once told me that where I might see a lovely view he saw his own factory floor – which is, of course, very true. The countryside is as much an artificial man-made construction as any inner-city or built-up environment.
'But it is an artificial construction that, on a crude level, not only attracts visitors and thus benefits the local economy, but also uplifts the spirit, provides inspiration, consolation and relaxation and, in general, helps us all, especially through its representation in the arts, to direct us all in the direction of the good, the true and the beautiful- which should also be the aspiration of any self-respecting publication, including RURAL magazine. And holding this event, which brings together the arts and the countryside, is for us, a step along this road. '