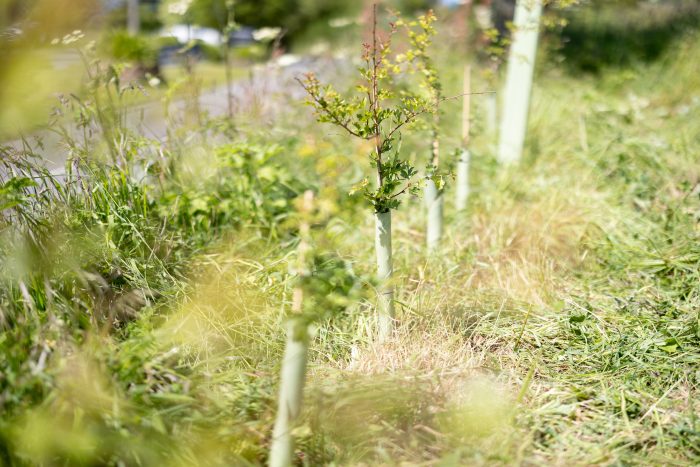 Three of Jersey's utility companies have been supporting the National Trust for Jersey's campaign to plant and restore the island's hedgerows. Teams from Jersey Electricity, JT Global and Jersey Water have not only funded, but volunteered their time to create the largest continuous grid of hedge corridors in Jersey, by planting and maintaining an additional five miles around the island in St John.
The 'Green Grid' partnership has enhanced the existing grid of over 37 miles of hedgerows which will greatly assist Jersey's wildlife, landscape and natural resources to flourish.
As part of 'Volunteers' Week' (1 to 7 June) the Green Grid partners had a very successful couple of days clearing 1,555 hedging whips over a total of 1.2 kilometres with the assistance of 51 members of their staff.
Werner Bornman, Director of Technology at Jersey Electricity, commented: 'This collaboration has brought about a great sense of camaraderie between the three utilities, as we have worked together in support of the National Trust for Jersey. As key partners providing essential infrastructure and services to the Island, it has been great to share our resources to protect and preserve our natural environment.'
Daragh McDermott, CEO of JT Group, said: 'When we first spoke to the National Trust about supporting this project, we were really excited by its potential. We knew it would be a great opportunity for our people to join together with teams from the other utility companies to really make a difference for the Island's environment and biodiversity. That's exactly how it worked, with 92 people from JT taking part, and together creating the largest continuous grid of hedge corridors in Jersey. We are used to providing essential infrastructure in other ways, this was a welcome change.'
Helier Smith, Chief Executive of Jersey Water, added: 'It has been really positive to collaborate with the other utilities and the National Trust for Jersey on this green initiative to help restore and protect our natural environment. Everything we do at Jersey Water is for Osland life and with this project we have demonstrated our commitment to working together for a sustainable future.'
The partnership was due to last for this year, but it is hoped if and when more land becomes available for planting, that the project will continue for as long as it is needed.