Donna Le Marrec of the National Trust for Jersey gives an update on the trust's hedge planting project in conjunction with The Jersey Royal Company.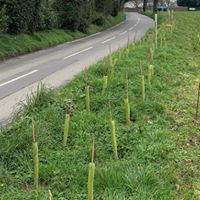 Ten miles of hedgerow were planted last winter and over the summer a wonderful team of volunteers have natured and tended to over 20,000 native saplings that make up the miles and miles of hedgerow.
Work has now started again in earnest to plant a further 10 miles of hedgerow in partnership with The Jersey Royal Company and six members of its team.
Planting this winter will be inland and to the south of the work carried out last year, running from Jersey Zoo through to La Hougue Bie and Queen's Valley. The contacts and knowledge of The Jersey Royal Company's managers has been invaluable in connecting landowners with the trust's Project Coordinator, Conrad Evans.
Approximately 10,000 whips have been planted to date with the balance of the stock due to be delivered next week. Conrad said: 'It has been an unpredictable year with the issues thrown up by Covid but progress with the planting has been excellent. Four of the Jersey Royal Company's staff were part of the project last year so continuity in the workforce has certainly paid dividends.'
Funding has come from three main sources this year. The States of Jersey Environment fund via the Countryside Enhancement Scheme, The Roy Overland Charitable Trust, and £12,000 sponsorship raised from members of the public through the Hedge Fund scheme.
The Trust aims to plant over 30 miles of hedgerow. Hedges provide vital corridors between habitats and provide nesting, feeding and roosting opportunities for birds and bats, small mammals, reptiles and amphibians. 100 metres of mature hedge can absorb 120 kg of CO2 4every year and is a wonderful pollen source for invertebrates as well as protecting against soil erosion and protecting crops from extreme weather.
Gifts of hedgerow at £5.00 per metre can be purchased from the trust either by ringing it on 483193 or at 16 New Street during late night shopping on a Thursday from 19 November and on Saturdays in November. Sponsorship is a fantastic way to both support the work of The National Trust to protect wildlife and our beautiful natural spaces and is an ideal Christmas gift.